Is Kapuso star Sheena Halili overreacting about taking precautions amid the COVID-19 crisis?
On Sheena's lengthy Instagram post, she shared the precautions in their home to avoid COVID-19.
She mentioned that they were following the procedure of her husband Atty. Jeron Manzanero when it comes to disinfecting the house.
The 'transformation' starts when his husband comes home from work, "6PM! If someone is a doorbell, transformation takes place! It was because Mister had been in the work. • All outside items are Sprayan, Lysol, alcohol, wipe wipes with alcohol and direcho at Sterilizer. I had a ready Narin 2 baskets. Basket 1 for her dress, baskets 2 for those she had used like keys, cellphones etc. "
In her lengthy post, it can be notably seen that even his husband's lunch is prepared by her, "Ang baunan, sprayan ng alcohol then ibabad sa warm water. •Pinapabaunan ko narin ng food si Jeron para lang alam ko saan at sino ang nag prepare ng lunch niya. "
https://www.instagram.com/p/B_UtXrDlmI4/?utm_source=ig_web_copy_link
Given Sheena's very clear precautionary steps, she shared that she would not get tired of it, just to be sure of the safety of her family, "Araw-araw di ako mapapagod gawin ito para lang mabigay ko ang best ko, na malinis at komportable ang bahay namin."
But some netizens consider this 'OA,' that she might be over-reacting.
Netizen, @amorludszuweit told her, "Hahaha OA masyado."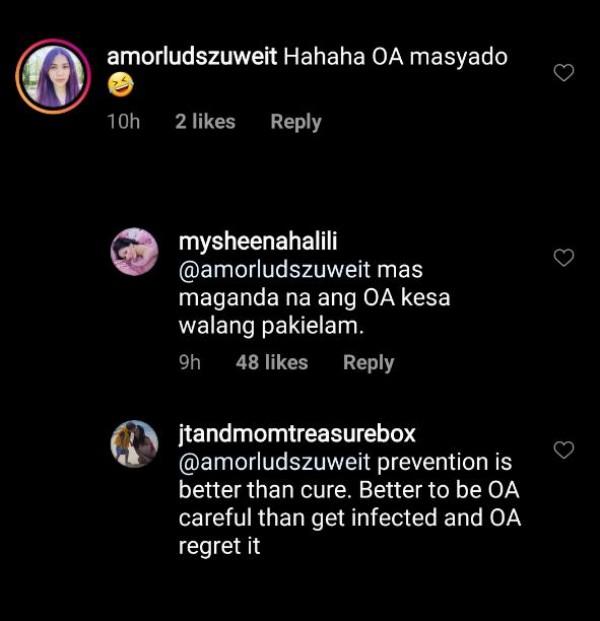 But @mysheenahalili rebutted that it's much better to be OA instead of doing nothing,
"Mas maganda na ang OA kesa walang pakielam."
Getting paranoid in this time of crisis can be called the 'new normal,' and netizens couldn't agree more after COVID-19 disease gets out of control given the increased number of positive cases and the alarming rise in the country's death count.
Even singer-songwriter Kyla shared her anxiety recently with her followers on Twitter about the continuing COVID-19 crisis.
"Kung may PPE lang ako, yun talaga suotin ko para mag grocery. Sa panahon ngayon, wala na yata akong pake sa magiging itsura ko the paranoia I had to go through these past few days was just  yoko naaa ma feel ever again"
Kung may PPE lang ako, yun talaga suotin ko para mag grocery. Sa panahon ngayon, wala na yata akong pake sa magiging itsura ko 😭 the paranoia i had to go through these past few days was just 😭 yoko naaa ma feel ever again 😫

— Kyla (@kylaessentials) March 31, 2020
same with me every time i go out to buy food so paranoid the next day waahhh di lang pala ako nagiisa sa ganitong pakiramdam

— Coco (@simplejoly1) March 31, 2020
It's just sad that even if we are all protected from COVID 19 we cannot escape the anxiety it brings. We are drove to create new habits such as sanitizing door knobs, remote control, etc.

— 아론 (@brionesaaronme) March 31, 2020
Comments