SAGIP Representative Rodante Marcoleta went viral for his recycled allegations against ABS-CBN. One of his accusations is that former ABS-CBN chairman Eugenio "Gabby" Lopez III is not a Filipino.
But, a lawmaker who once headed the immigration office, Cagayan de Oro City Rep. Rufus Rodriguez said that Lopez is a Filipino citizen.
Rodriguez, who was an immigration commissioner from 1998 to 2001 and a former dean of the College of Law said, "Lopez is a Filipino citizen from the beginning since he was born in the United States in 1952, he was, under US law, an American citizen by virtue of his birth on American soil. He was also a Filipino since his parents were both Filipinos."
The issue of citizenship against Lopez was raised again by sectors opposed to granting ABS-CBN a new 25-year Franchise but because of this claim.
This just shows that ABS-CBN did not violate the constitutional mandate that any mass media company should be 100-percent owned by Filipinos.
ABS-CBN also gave out a statement attesting that Gabby Lopez is a Filipino citizen.
"Lopez was born in 1952 to Filipino parents, Eugenio Jr. and Conchita (nee La O'). Under the 1935 Philippine Constitution which was in effect at that time, he is automatically a Filipino citizen."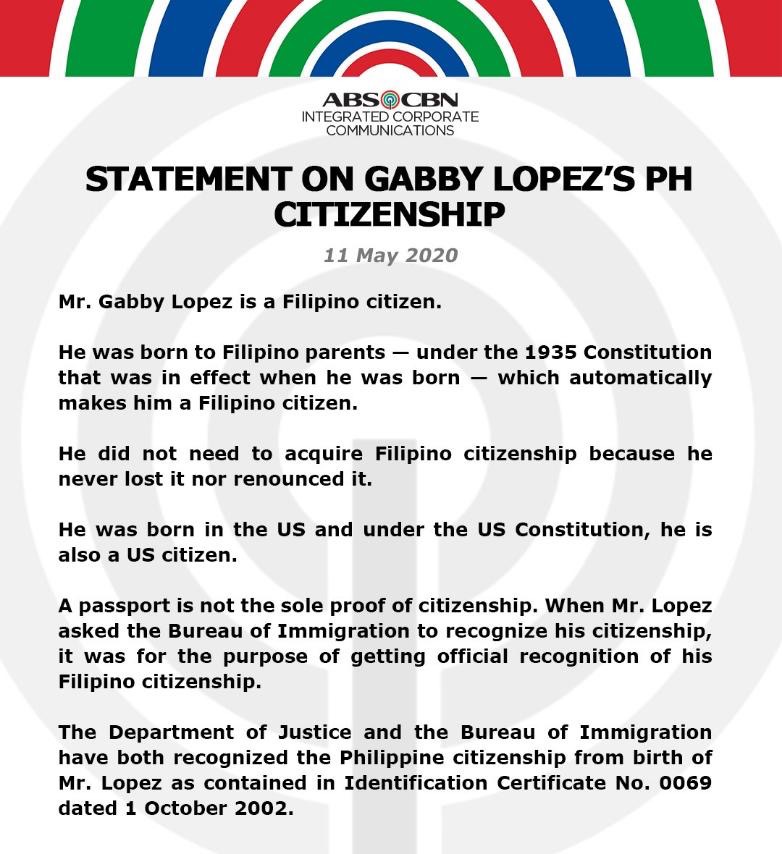 Even ABS-CBN President and CEO Carlo Katigbak already explained this when Senator Ronald Dela Rosa called for clarification about the supposed U.S. citizenship of Lopez.
Katigbak said that López holds a Philippine passport, confirming that he is a Philippine citizen.
"Gabby Lopez is a Filipino citizen. Tatay niya po is a Filipino at may hawak din po siyang Philippine passport."
Nevertheless, Atty. Mario Bautista, ABS-CBN general counsel, said the media company would provide officials with the requisite documentation to prove Lopez's Filipino citizenship and that ABS-CBN has not breached any legislation.
ABS-CBN's suspected violations, primarily regarding foreign ownership and operating procedures, emerged after Solicitor General Jose Calida filed a quo warranto petition seeking to revoke the network's franchise.
Comments