On the Instagram account of Alex Gonzaga, she posted a video of herself and sister Toni jokingly fighting with the caption, "Not fighting!!!! I miss teasing you seve now ikaw na lagi nang-aasar kay tata sa videocall! This was 2 yrs ago pa."
As seen in the video, Alex and Toni jokingly pushed each other and Seve (son of Toni) didn't find it amusing.
Alex's "frenemy" Luis Manzano immediately commented on her post.
https://www.instagram.com/p/CAuBXRIDihn/?utm_source=ig_web_copy_link
"Si Toni nakikita ko nakipaglokohan… pero ikaw nakita ko ang tunay na galit at poot sa mata mo laban may Toni."
"Bistado ka.. kaya Toni, wag kang matutulog."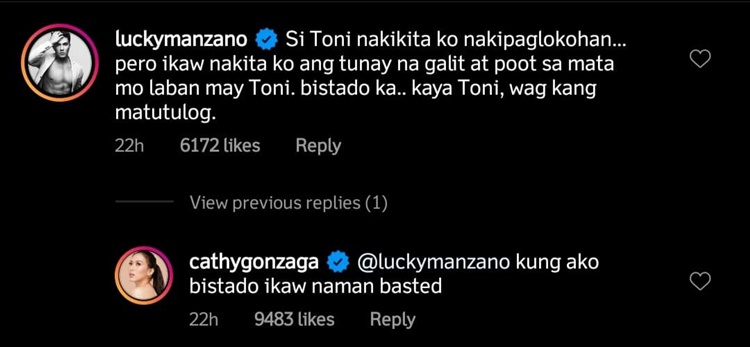 This wasn't the first time Luis made jokes on Alex's posts on Instagram, like when YouTube vlogger Alex announced her engagement to her fiancé, Lipa City councilor Mikee Morada.
Luis saw this as an opportunity to poke fun at Gonzaga about Morada's proposal, "Baka nagtali lang ng sintas, tapos biglang ganyan reaction mo kaya na pressure? Yun lang naman akin."
In an interview with Cinema One's CinemaNews, Luis and Alex revealed how they really feel about each other amid the jokes they throw at each other. 
Luis described Alex as "one of my favorite people on this planet", while Alex stated that, Luis is like a brother to her.
"I wasn't blessed to have a brother. So parang si kuya Luis and naibigay sa'kin ni Lord… Or ni Satan? Sino ba nagbigay sa'yo?"
Alex added, "I'm very happy na 'yong friendship namin is beyond showbiz."
They've been friends for more than a decade now.
Comments