Former Queen of All Media Kris Aquino finally revealed that her expected television comeback was postponed because the producer wanted another host for the show.
This year, fans expected Kris to have her TV comeback and she already confirmed a talk show on the Kapatid network titled Love Life With Kris.
However, once again her comeback has been delayed. Her latest announcement about her show's current status on TV5 generated different reactions from her fans.
A netizen @nevsgt if the rumors were true, that the problem was her and not of TV 5 network.
"Sabi po ikaw ang [may] problema not [TV 5]."
Kris frankly replied with no hesitation and revealed, "@nevsgt yes, the problem was me – hindi nila ako bet."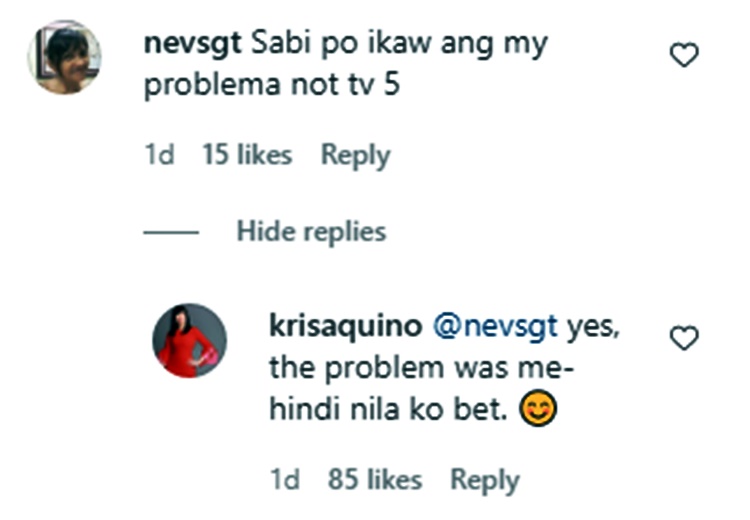 On her Instagram account, the actress revealed, "This is a life update post I wish I didn't have to make, BUT it's something I'm facing up to in order to truthfully move on… my hoped for TV comeback isn't happening."
She also shared that the producers chose another host that is more 'viable' than her, "The producer chose somebody else he and his team felt was more viable. No sugar coating from me, you're getting the honest truth."
Despite the cancellation, she is now more hopeful and realizes we shouldn't dwell on what we can't get and just be grateful for the opportunities that are before us.
"I would like to believe that I'm now glass half full type of person – I no longer wish to focus on what's not given, rather I am so very grateful for blessings, and YES, our health is the most precious one," she wrote.
Comments