LONDON, U.K., December 2020– The year 2020 has been challenging for everyone around the globe as different countries face and battle the Covid-19 pandemic, while also dealing with different natural and man-made calamities.
Despite this, the spirit of giving lives on as ABS-CBN Europe Foundation CIO sells "Ikaw Ang Liwanag at Ligaya" face mask covers for the benefit of the victims of typhoon Ulysses (Vamco) in the Philippines.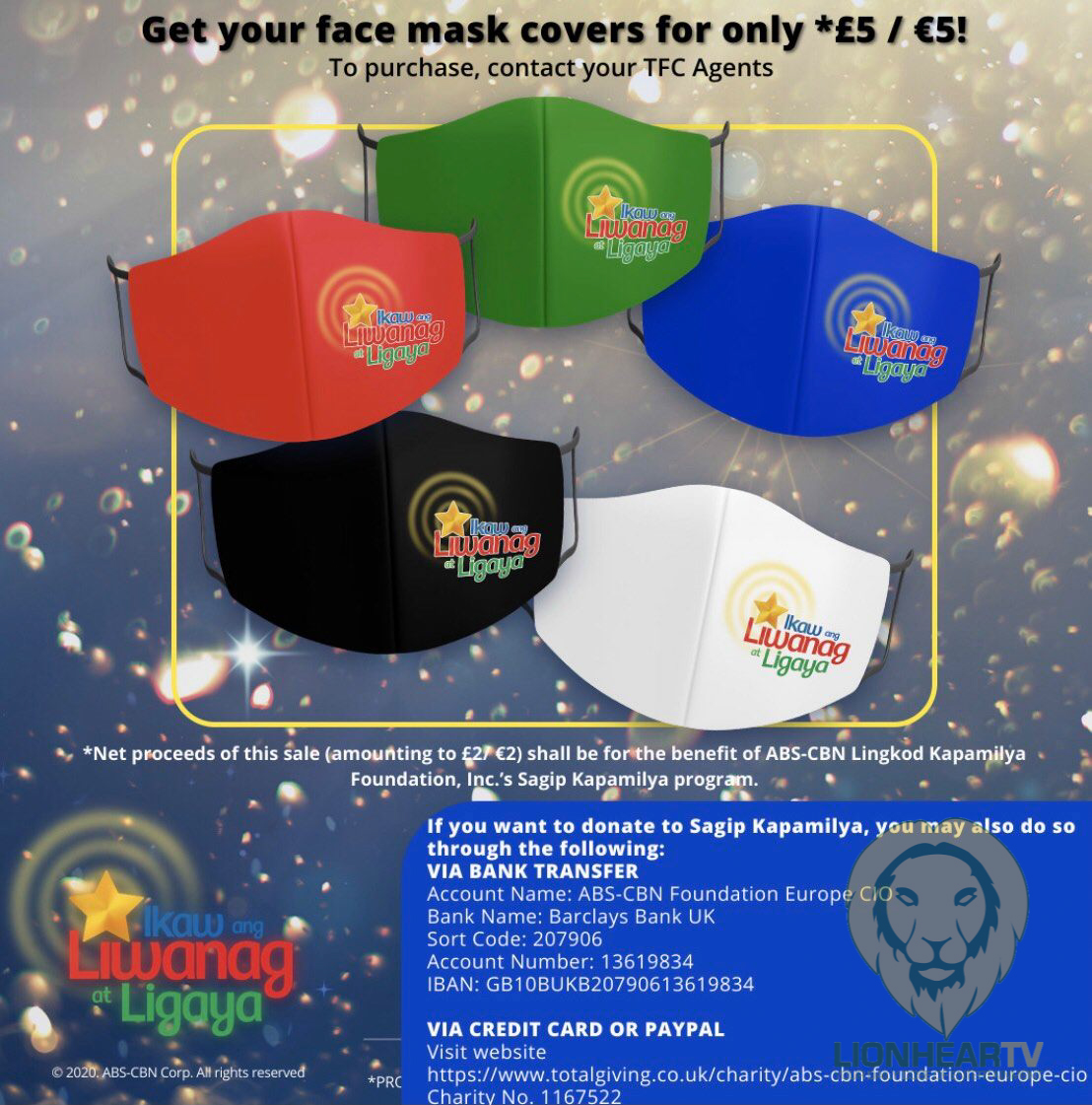 At least 67 people were killed, and local authorities estimated about 3.8 million people were severely affected when typhoon Ulysses (Vamco) hit the Philippines on November 11, 2020. To aid the Filipino families affected by the typhoon, ABS-CBN Lingkod Kapamilya Foundation Inc.'s Sagip Kapamilya program distributes the basic needs of the victims, which was made possible through the donations made to the foundation.
With ABS-CBN Europe Foundation CIO's selling of "Ikaw Ang Liwanag at Ligaya" face mask covers, the Filipinos overseas get to help their fellow Filipinos in need while also keeping themselves and their families safe by using the face mask covers.
"Ikaw Ang Liwanag at Ligaya" face mask covers comes in five colors: red, green, blue, black, and white, which you can buy for only EU 5/ GBP 5 by contacting the following TFC agents:
U.K.: Wynchu Importante, +447500846609
Lolita Boddy +447973469450
Ireland: Liezl/Rodel Carreon, +353861769572
Karl Perocillo, +353879305658
Norway: Marco Camas, +4745543369
Denmark: Evelyn Nielsen, +4553695388
Germany: Nito Endozo, +4915221331539
Manny Saldana, +4615771332762
Italy: Ambassadors (Milan), +39 0284344638 / +393384689580
Gilbert Villanueva (Rome), +3937371100012
Gemma Flores (Naples), +393358087458
France: Mar/Anna Manhic, +33676998115
Jen Guimbaolibot, +33624660991
Spain: Roger/Lolita Rafanan, +34 931822952 / +34672968956
Austria: Aries Fortuna, +436763573492
For those who want to donate to Sagip Kapamilya via bank transfer, below are the details:
Account Name: ABS-CBN Foundation Europe CIO
Bank Name: Barclay's Bank UK
Sort Code: 207906
Account Number: 13619834
IBAN: GB10BUKB20790613619834
While those who want to donate via credit card or Paypal, visit the website https://www.totalgiving.co.uk/charity/abs-cbn-foundation-europe-cio
Charity No. 1167522
Keep the spirit of giving alive this holiday season, purchase now your "Ikaw Ang Liwanag at Ligaya" face mask covers—protect your loved ones while extending a hand to people in need.
Comments