The Philippines has finally secured 25 million vaccines from the Chinese firm Sinovac.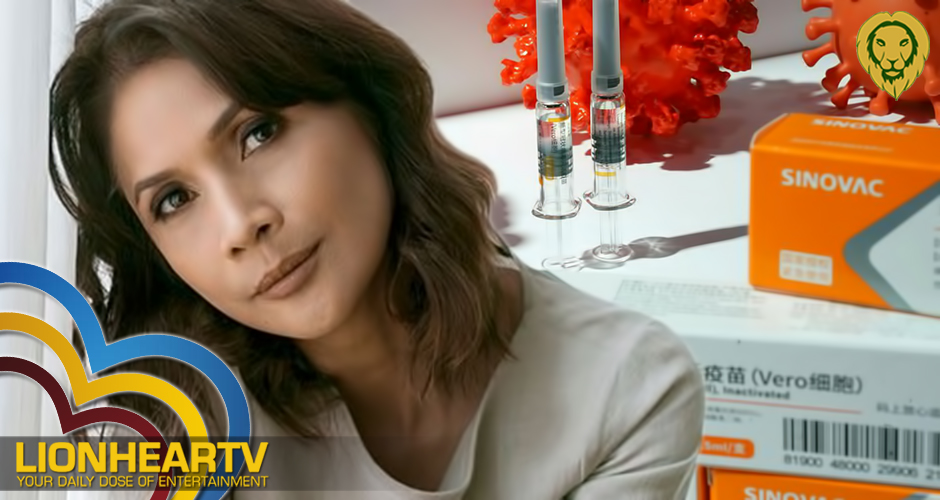 However, the procurement of the vaccines would take up until the end of 2021 to complete. This came from Presidential Spokesperson Harry Roque who showed a schedule for the arrival. The first batch will arrive this February amounting to 50,000 doses.
"Ang paunang darating po ay 50,000 doses lang ng vaccine galing sa Sinovac, pero at least, magsisimula pa rin po tayo," Roque said.
Actress Agot Isidro considered this schedule as part of politicians' strategies for the 2022 election.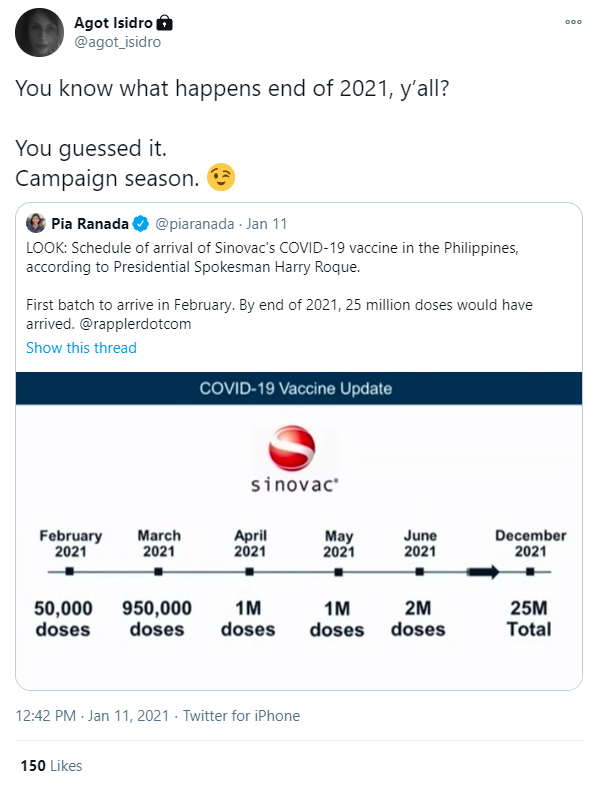 The vaccines serve as their ticket to gain the voters' support as per Agot's tweet.
This was also mentioned by the actress when lawmakers decided to make amends with ABS-CBN by passing and supporting the bill submitted by Senate President Tito Sotto to revive the network.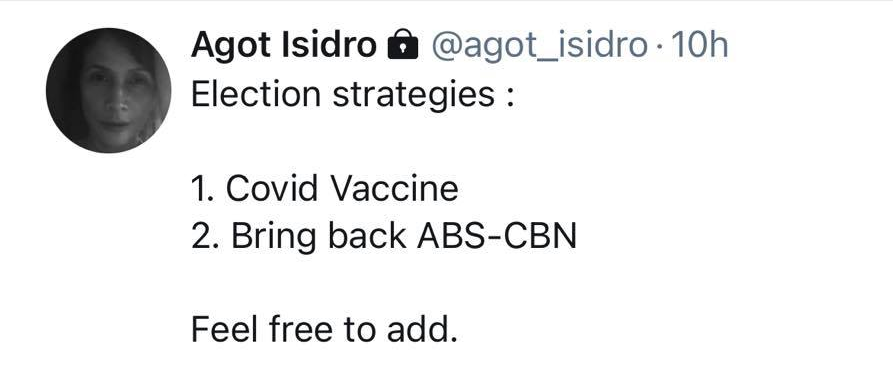 Fear of Sinovac
There are 73 known side effects of Sinovac. This was revealed by Tao Lina, a vaccine expert. High blood pressure, loss of vision, and loss of taste were just among the long list of side effects. Although it was included in the user guide, doctors didn't pay attention to it.
Adding to the 73 side effects, there is a fact that China's Sinovac vaccine is not that effective. It is reported that it has an efficacy of 50%. Moreover, it is considered to be the second-most expensive vaccine ranging between P3,904 and P4,504.
Senators also questioned why the DOH chose China's vaccine. Having a 50% efficacy is no joke as there is also 50% chance of not being completely immune against the deadly coronavirus.
Senate Majority Leader Juan Miguel Zubiri and Senate Minority Leader Franklin Drilon in separate statements expressed their concern regarding the effectiveness of Sinovac.
According to Zubiri, the safety, efficacy, pricing, and ease of distribution and implementation of a vaccine must be put into consideration.
"All these factors must be harmonized to make sure we deliver to our people the vaccine that is cost-effective but is efficient and deliverable. When we say efficient that means a high efficacy rate," said Zubiri.
Drilon also agreed with Zubiri, emphasizing that Filipinos' lives are at stake. Therefore, the government must ensure that the vaccine will be truly effective.
"We're talking about the lives and the future of Filipinos here. We cannot accept 'that will do' when it comes to vaccines," he said.
Though it was reported that in Turkey, it was rated with a 91% effectivity, the result may vary from other trials. Sinopharm's vaccine was stopped by Brazil as one of its tests was essentially put to a stop due to a security scare last November.
Adding to the price, side effects, and effectivity issue is the fear of people due to the Dengvaxia scandal. It is the anti-dengue vaccination program by former President Benigno Aquino III. The vaccine's maker, Sanofi Pasteur, admitted that there is a side effect that puts individuals without prior dengue infection at greater risks if they received Dengvaxia shots.
With this, it caused people to doubt that China's vaccine would also not have the same effect as the Dengvaxia knowing that it could cause 73 side effects.