Agot Isidro has had enough of President Rodrigo Duterte appointing his allies to government positions.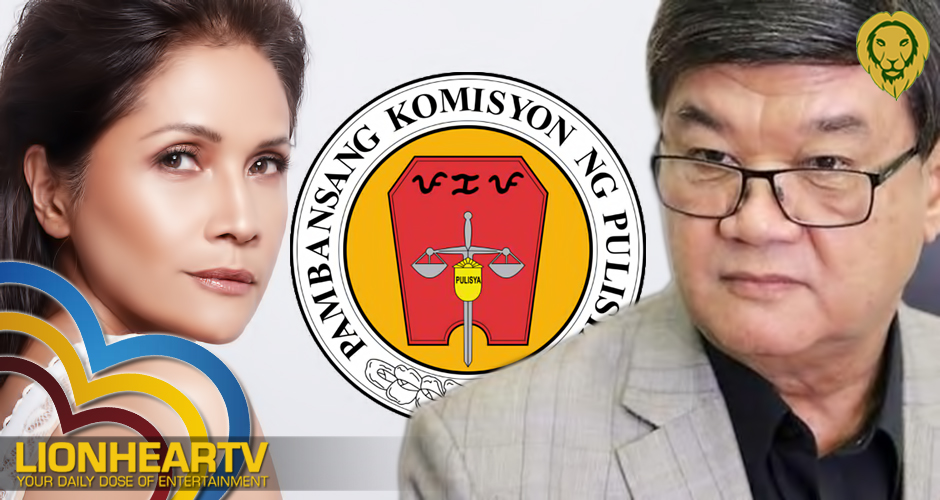 This time, the actress was shocked that Vitaliano Aguirre was appointed by Duterte as National Police Commission's newest commissioner.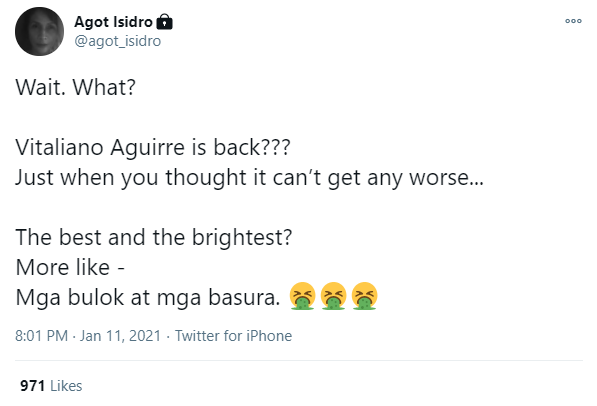 In her tweet, she expressed how this administration is just recycling officials by putting them in other government positions, as he did with Aguirre.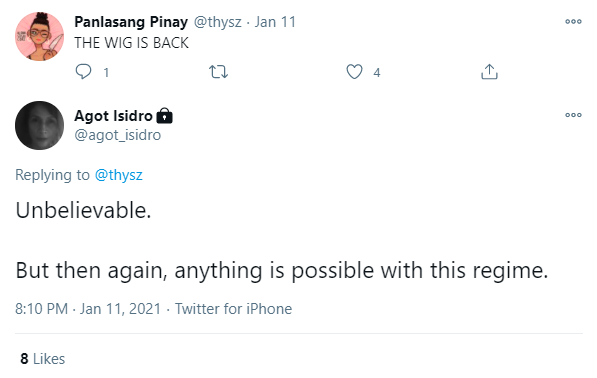 The news that Aguirre will now be in charge of disciplining police officers and investigating irregularities disgusted Agot as the former resigned from his previous position due to several controversies in the Department of Justice.
Last Monday, January 11, President Duterte again appointed Aguirre, an ex-lawyer of cops involved in the Davao City death squad and a former justice secretary, as a Napolcom commissioner.
"Mr. Aguirre served as Department of Justice (DOJ) Secretary during the early years of the Duterte administration. This bodes well in his new position to make the police service competent, effective, credible, and responsive to our people's needs," said President Spokesperson Harry Roque.
This was done after the death of Napolcom vice chairman and executive officer Rogelio Casurao last January 2.
Some senators were disappointed as well with Aguirre's appointment.
Senator Risa Hontiveros questioned how the former justice secretary could clean the image of the PNP when he uses conspiracies theories as a form of argument.
"Paano nya gagawing credible at efficient ang PNP kung lantaran ang hilig nya sa pagpapakalat ng conspiracy theories? Baka lalo lang bumaba ang tiwala ng mga mamamayan sa PNP dahil sa appointment na ito," said the senator.
She also said that she doesn't trust Aguirre.
"Wala akong natitirang tiwala, ni katiting, kay Former Justice Secretary Vitaliano Aguirre," Hontiveros said in a statement.
Meanwhile, Senator Leila De Lima also took a swipe at Aguirre's appointment saying that Pres. Duterte should head the National Solid Waste Management Commission since he is good at recycling.
"Duterte should appoint himself to the National Solid Waste Management Commission. Magaling talaga siya mag recycle ng basura. #zeroWaste," De Lima said.
Why Aguirre?
Senate President Tito Sotto stated that Aguirre is "highly qualified" for the position.
Aguirre resigned as justice secretary when he faced several issues in the DOJ as well as the dismissal of charges against self-confessed drug lord Kerwin Espinosa and Peter Lim by the DOJ prosecutors.
He is also a fraternity brother of Pres. Duterte and one of his lawyers during Duterte's time as mayor of Davao City.
Aguirre also lawyered an ex-cop who owned the infamous Laud Quarry. Bienvenido Laud's quarry was rumored to be the location of mass graves of victims of death squads in Davao City during Duterte's time. Laud was also part of the Davao death squad as confessed by its former members. In 2009, he then sought to block any attempt by law enforcers to search the Laud Quarry for human remains.
When he became a justice secretary, he claimed that the bones found in the quarry belonged to Japanese soldiers killed during World War II.
Comments