Celebrate the new year with a new Toyota! Toyota Motor Philippines (TMP) is making car purchase lighter with enticing deals and freebies on Toyota models from January 7 to 31, 2021.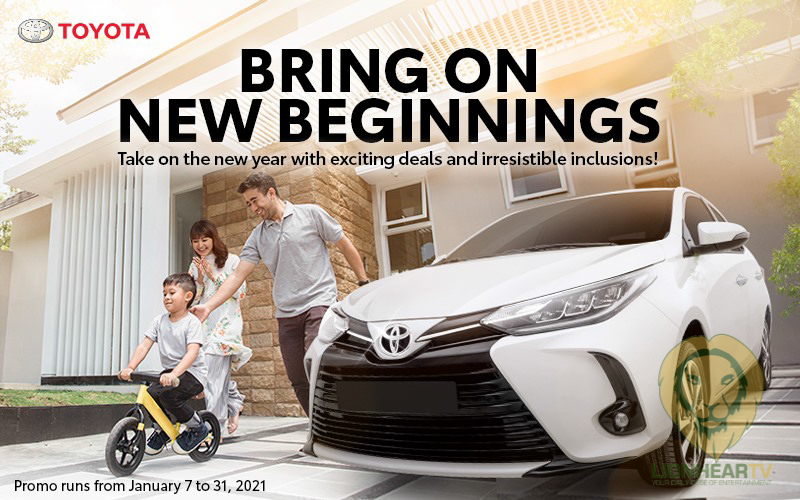 Get up to P70,000 discount when you purchase a New Vios, P60,000 on an Innova, and P50,000 on a Fortuner, Corolla Altis, or Hiace Commuter Deluxe. Other well-loved models such as the Wigo, Avanza, and Rush get outright cash discounts on participating variants as well. Flexible all in low down or low monthly schemes are also available on the above-mentioned models.
Selected models and variants get freebies such as Periodic Maintenance up to 20K KM and/or one year comprehensive insurance, and 5-year warranty for a brand new Toyota Vios G, E, or XLE. On top of these offers, customers looking to trade-in their old vehicle for a Toyota can get up to P40,000 rebate which can be used to purchase accessories or availed with other existing offers.
Balloon Payment Plus, Toyota Financial Services PH's new finance product which offers light monthly payments, Periodic Maintenance inclusion, and guaranteed resale value, is also offered for the Vios, Corolla Cross Hybrid, New Fortuner, and New Hilux.
For more details on the Bring on New Beginnings promo, check out For more information, visit https://toyota.com.ph/promos/newbeginnings and https://toyota.com.ph/balloon-payment-plus for Balloon Payment Plus packages. For more information on any Toyota model, our vehicles can be viewed at https://toyota.com.ph/showroom.
Comments