President Rodrigo Duterte on Thursday said that women had no ability to run a country.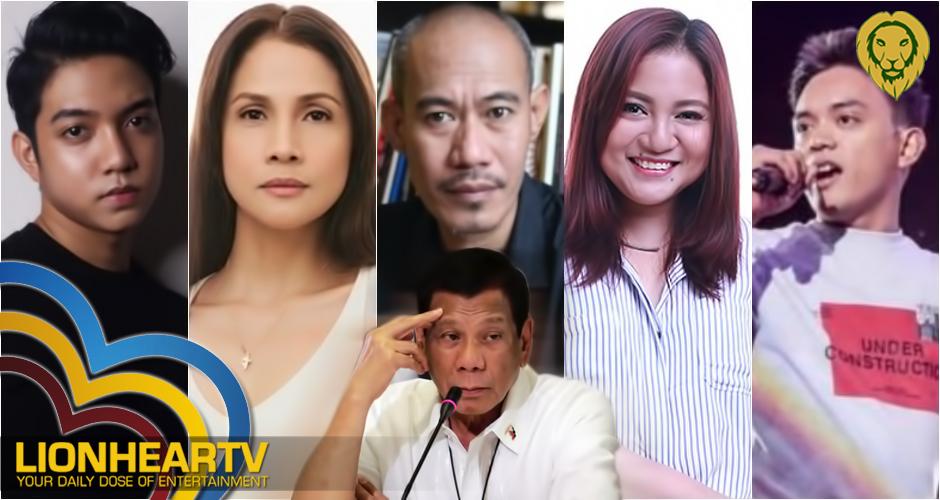 This was in line with the speculation that his daughter, Mayor Inday Sara Duterte is gearing up for the presidential race in the 2022 election.
He dismissed such rumor stating that this line of work is not for women. He also added that the emotional set-up of a woman is different than that of a man.
"Hindi ito pambabae. Alam mo, the emotional set-up of a woman and a man is totally different. Maging gago ka dito. That is the sad story," he said.
This resulted to celebrities reacting to his statement, calling him sexist.
Actress Agot Isidro slammed the statement of Pres. Duterte by showing an article from Forbes showing leaders from other countries who were led by women. Those countries were considered to have the best COVID response among other nations.
Famous writer Jerry Grácio also took the remark of Pres. Duterte as offensive towards women. In his tweet, he also compared the leaders who were women in handling the Covid-19 situation. He stated the women that Pres. Duterte is looking down on are far more competent than he is.
'Yung New Zealand at Taiwan, babae ang leader, okay ang response sa pandemic. E, si Tanda, ano na na-accomplish niya? Hanggang ngayon, drowing ang bakuna.

— Jerry B. Grácio (@JerryGracio) January 14, 2021
Francise Baraan IV also agreed with the tweets of Agot Isidro and Jerry Grácio. In his tweet, he mentioned the names of the capable leaders who were not men.
Duterte made another sexist, mispgonistic remark.

He said women are not fit to be President or national leader.

FALSE.

FACTS:

Jacinda Ardern
Tsai Ing-Wen
Cristina Fernandez de Kirchner
Ellen Johnson Sirleaf
Theresa May
Margaret Thatcher
Angela Merkel
Indira Gandhi
CORY AQUINO

— Francis Baraan IV (@MrFrankBaraan) January 14, 2021
Director Antoinette Jadaone chimed in against the inappropriate remark of the president. In her tweet, she agreed with Rappler writer Pia Ranada who called the Chief Executive "sexist".
"Sexist" Yes call a spade a spade @piaranada! https://t.co/zszG92c4Yv

— Tonette, Tonette (@tonetjadaone) January 14, 2021
Actor and writer Juan Miguel Severro also agreed with how the Rappler journalist called the president.
Yes. Ganito. https://t.co/JHFFga8Fqn

— Juan Miguel Severo (@TheRainBro) January 14, 2021
Actor Kyo Quijano also joined celebrities who were vocal in calling out the President. In his tweet, he asked if a dog is allowed, referring to how netizens and other critics of the administration call Duterte as a "lapdog of China".
pero aso pwede? gagukaba https://t.co/FiFhpYOYJF

— KYO (@kyoquijano) January 14, 2021
Blogger Rod Magaru wished that there was an app like the one in Netflix's series Black Mirror where a person has the ability to censor anything.
"Hindi ito pambabae" Sexist Dut/er/te pertaining to Philippine Presidency.

Is there an app like the one in Black Mirror where you can block the face or sound of anything unpleasant, disrespectful or gory when you watch TV?

— Rod Magaru 🍥 (@rodmagaru) January 14, 2021
Meanwhile, another Rappler journalist Bea Cupin compared the emotional capability of men with women. In her Twitter post, she wrote that men are very emotional and impulsive. Although it was to be a form a joke, it is indeed a reality especially that the President is now being called a sexist.
grabe men are so emotional and impulsive in their words! charhttps://t.co/Mn7sMTDxYd

— Bea Cupin (@beacupin) January 14, 2021
Journalist and former member of the Bangsamoro Transition Commission Samira Gutoc shared her belief regarding the statement of the president. In her Twitter she wrote that the ability to lead a nation is not based on gender but on the individual's ability to be an effective leader.
Naniniwala po ako na hindi nakasalalay sa kasarian o gender ng isang tao ang kakayahan niya para maging isang magaling na Presidente. Mas matimbang yung puso, malasakit, talino, at integridad kaysa dyan. #LabanLang https://t.co/AcCh1S1eCL

— Samira Gutoc (@GutocSamira) January 14, 2021
Now, with the sexist remark of Pres. Duterte, many have been claiming that the next leader of the Philippines will be a woman.
Twitter personality PinoyAkoBlog retweeted a tweet predicting the gender of the next president—a woman.
Amen. https://t.co/9eAS3yivrf

— PinoyAkoBlog (@PinoyAkoBlog) January 14, 2021
Comments