Kapamilya programs ASAP Natin 'To and FPJ Da King are set to air on the free-to-air TV channel, TV5, starting this Sunday, January 24. The rumor about the said partnership broke out early this week, and confirmation from both TV5 and ABS-CBN on Thursday sent waves of excitement to fans, especially those who've been deprived of access to the ABS-CBN programs, after the network's broadcast license was terminated last year.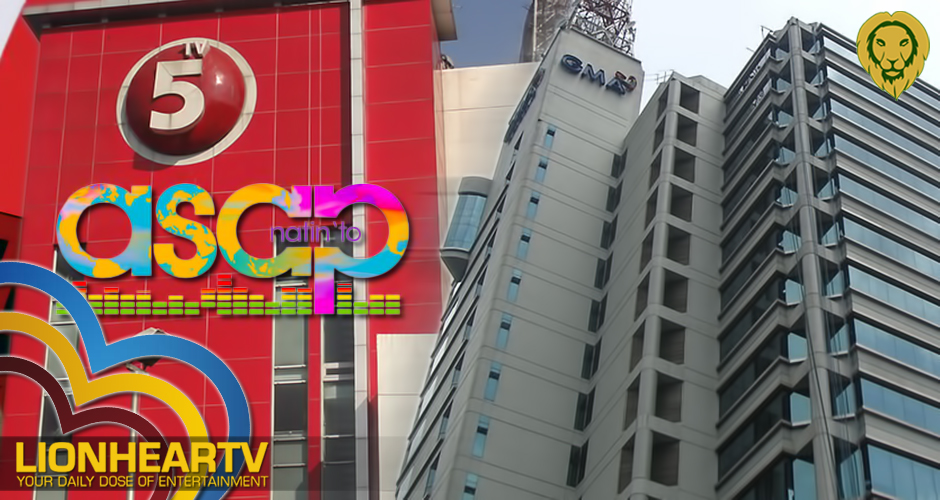 It is not much clear about the extent of the deal yet, and what other Kapamilya programs are set to air on the Manny V. Pangilinan-owned tv station, but if the rumors are true, a number of TV5's important time slots will be given to the Kapamilya content provider.
The said partnership is reportedly made possible by Albee Benitez's Brightlight Productions, whose own –produced Saturday Night Live, bade farewell, last January 17. ASAP Natin 'To, its former rival during the last three months, is to replace the slot the now-defunct show vacated, a week after it gave up competition. The said production house is also reported to be the one responsible for any upcoming Kapamilya show that will debut on the Kapatid Network.
Following this development, the chance of seeing flagship Kapamilya programs like FPJ's Ang Probinsyano and It's Showtime on TV5 now no longer remains a remote possibility. So what can this mean to both ABS-CBN and TV5 —and to GMA Network, which has been lording the rating game for more than six months now, in the absence of a strong contender like ABS-CBN?
Beleaguered TV5 may likely be the one to benefit more from the deal they sealed with ABS-CBN, which has been slowly recuperating, following its shutdown in May, last year. Brightlight Productions, whose reported hundred-million losses lost in producing shows for TV5, will also be spared from incurring further losses.
With its current capacity, and through its limited free tv presence and cable television and online services, ABS-CBN is no doubt able to pose a significant threat to GMA Network, as recent viewership figures reveal that some of the current Kapamilya programs—especially FPJ's Ang Probinsyano—are inching closer to their Kapuso counterparts.
Many of the Kapuso programs today have been enjoying double-digit leads, but as ABS-CBN expanded its presence through the availability of A2Z Channel 11 to digital television boxes, its viewership share has been picking up.
It is interesting to note that A2Z Channel 11's reach is limited in Metro Manila and other adjacent Luzon provinces.
Now with its partnership with TV5, Kapamilya programs can now be watched by ABS-CBN patrons in its former bailiwicks, including Baguio, Ilo-Ilo, Bacolod, Cebu, Davao, and Zamboanga, where TV5 operates relay and affiliate stations. This can only boost the ratings of currently airing Kapamilya programs, as well as TV5, which will most likely welcome new viewers.
Both ABS-CBN and GMA Network have recently unveiled an impressive line-up of shows for the year, and there is so much anticipation for many of these programs, particularly for GMA Network's Voltes V Legacy, and ABS-CBN's Darna: The Series.
Should the TV5-ABS-CBN's block time deal expand further to allow the Kapamilya Network to air its Primetime Bida programs on the Kapatid Network's primetime block, then closing GMA Network's glaring gap in tv ratings, will be much easier for ABS-CBN.
Can GMA Network hurdle this threat? Is the rumor that suggests the only reason why GMA Network brought back its pre-pandemic primetime line-up, is the sustained upward trajectory of ABS-CBN's viewership share?
If ABS-CBN's limited reach through A2Z and Kapamilya Channel can scare GMA Network, what more if the Kapamilya Network gets additional reinforcement its partnership with TV5 and CignalTV will conveniently provide? Is GMA Network prepared to defend its place as the no.1 TV Network in the  country? And with fresh franchise application for ABS-CBN already rolling at Congress, what will be the challenges the Kapuso Network inevitably have to face, just to keep its throne? I guess we will see, sooner or later.