Manila, Philippines, January 2021 — In recent years, traveling abroad has become a crucial part of Filipinos' lives. However, with international travel restrictions in place, people are unable to travel abroad and this has impacted individuals' happiness on work, family, and relationships.
Klook, a world-leading travel and leisure platform coins this 'The Wanderlost Syndrome', a collection of wanderlust withdrawal symptoms experienced by individuals due to the lack of travel. To unpack this, Klook commissioned a study with a global market research company, YouGov across 15,323 individuals in 13 markets in the Asia Pacific region, unveiling four main symptoms impacting people in this region. In the Philippines, over 1,000 respondents participated in the survey.
Wanderlost Symptom #1: Filipinos are torn between visiting family and escaping from them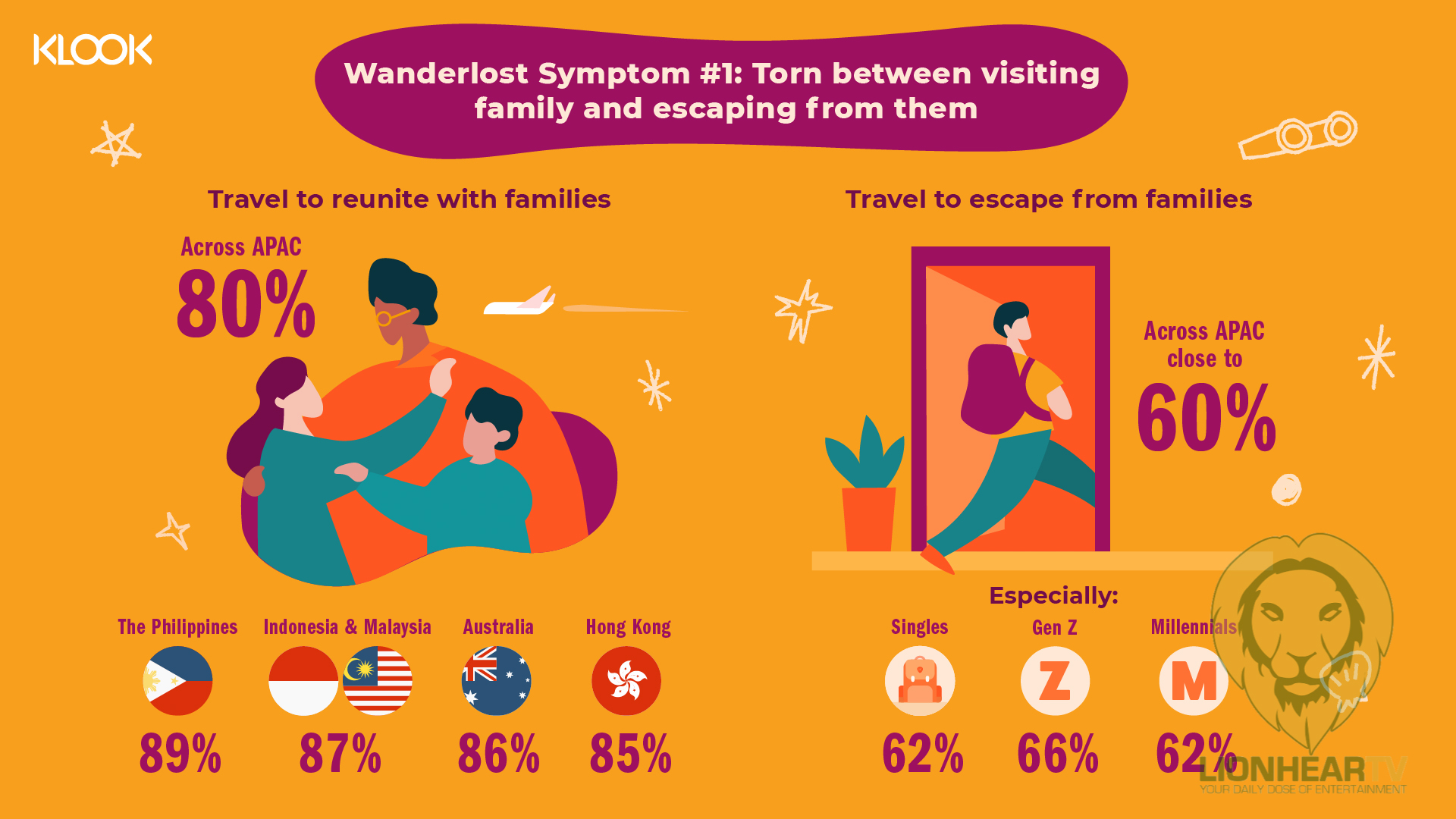 With family at the core in many Filipinos' lives, it comes as no surprise that the Philippines (89%) tops the list of regions who are unhappy about being unable to reunite with their families this year due to wanderlost.
On the flip side, 73% of Filipino respondents also admit that they are keen to travel as a means to escape from their families. This can be attributed to individuals being confined with family members for months due to quarantine measures and wishing for an escape for their own personal time.
Wanderlost Symptom #2: Filipinos are eager to reconnect with friends or make new ones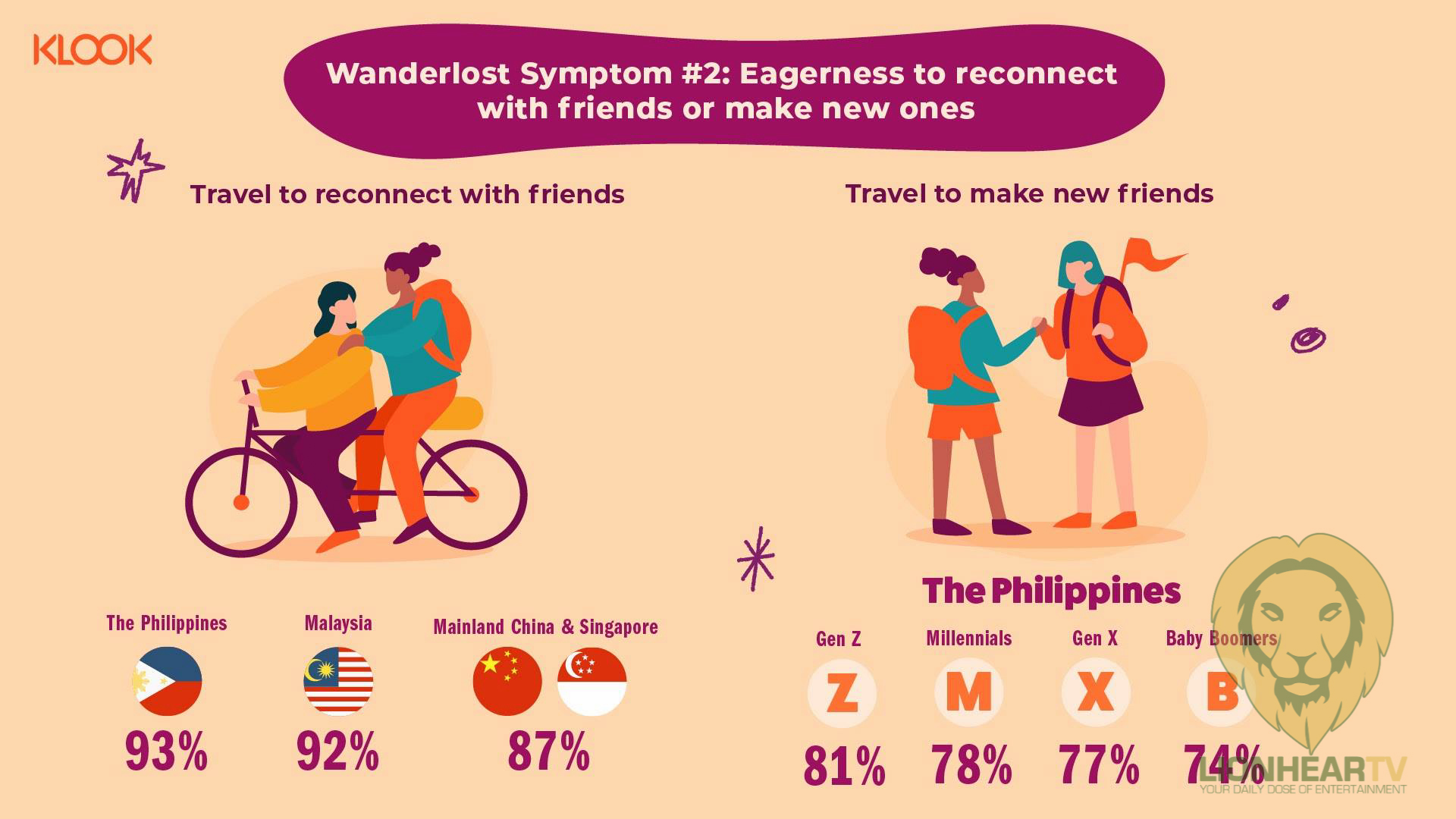 Filipinos who have used travel to connect with their friends and meet new people are eager to travel again. Majority of the respondents expressed unhappiness about not being able to travel with their friends or loved ones to create happy memories. Out of all the markets, the Philippines tops this sentiment (93%) followed by Malaysia (92%) then China and Singapore (87%).
About 78% of Filipino respondents across the region also feel unhappy that wanderlost is preventing them from making new friends. Of all the generations, Gen-Z (81%) feel the unhappiest about this. As a generation that values social currency, this strong sentiment doesn't come as a surprise.
Wanderlost Symptom #3: Filipinos find that de-stressing from work is even harder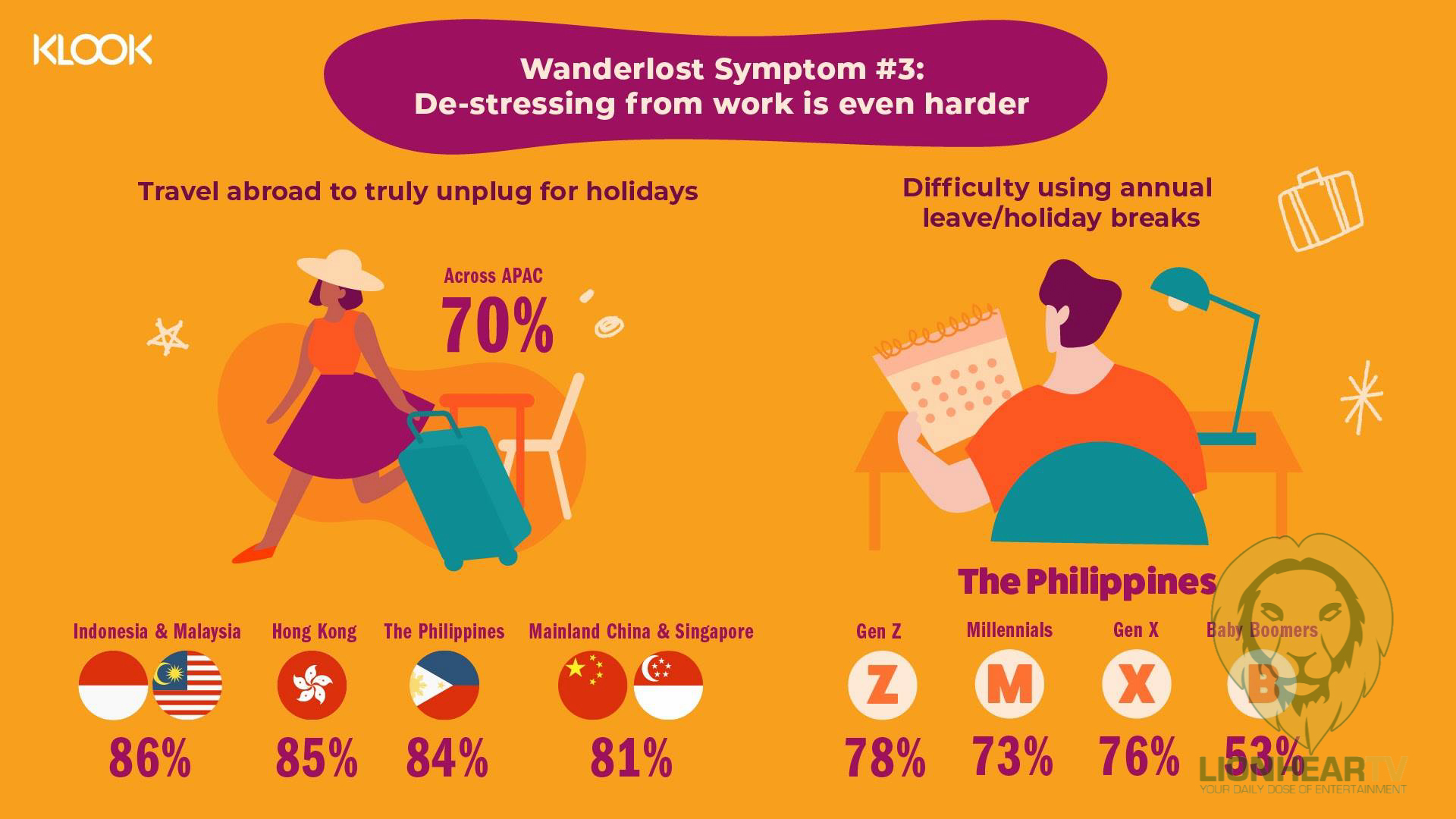 Most respondents in the region have used travel as a way to strike a work-life balance. With the current travel restrictions in place, survey respondents expressed unhappiness about being unable to travel to 'unplug' from work. 84% of Filipino respondents felt unhappy about this, right after Indonesia and Malaysia (86%) and Hong Kong (85%).
Additionally, Filipinos also expressed difficulty in using their annual leave or holiday breaks without feeling like they are 'wasting it'. This is especially true for Filipino Gen-Z (78%) and Gen X (76%). The results indicate that traveling is key to having a proper vacation.
Wanderlost Symptom #4: Pent-up demand and a genuine desire to remedy the wanderlost syndrome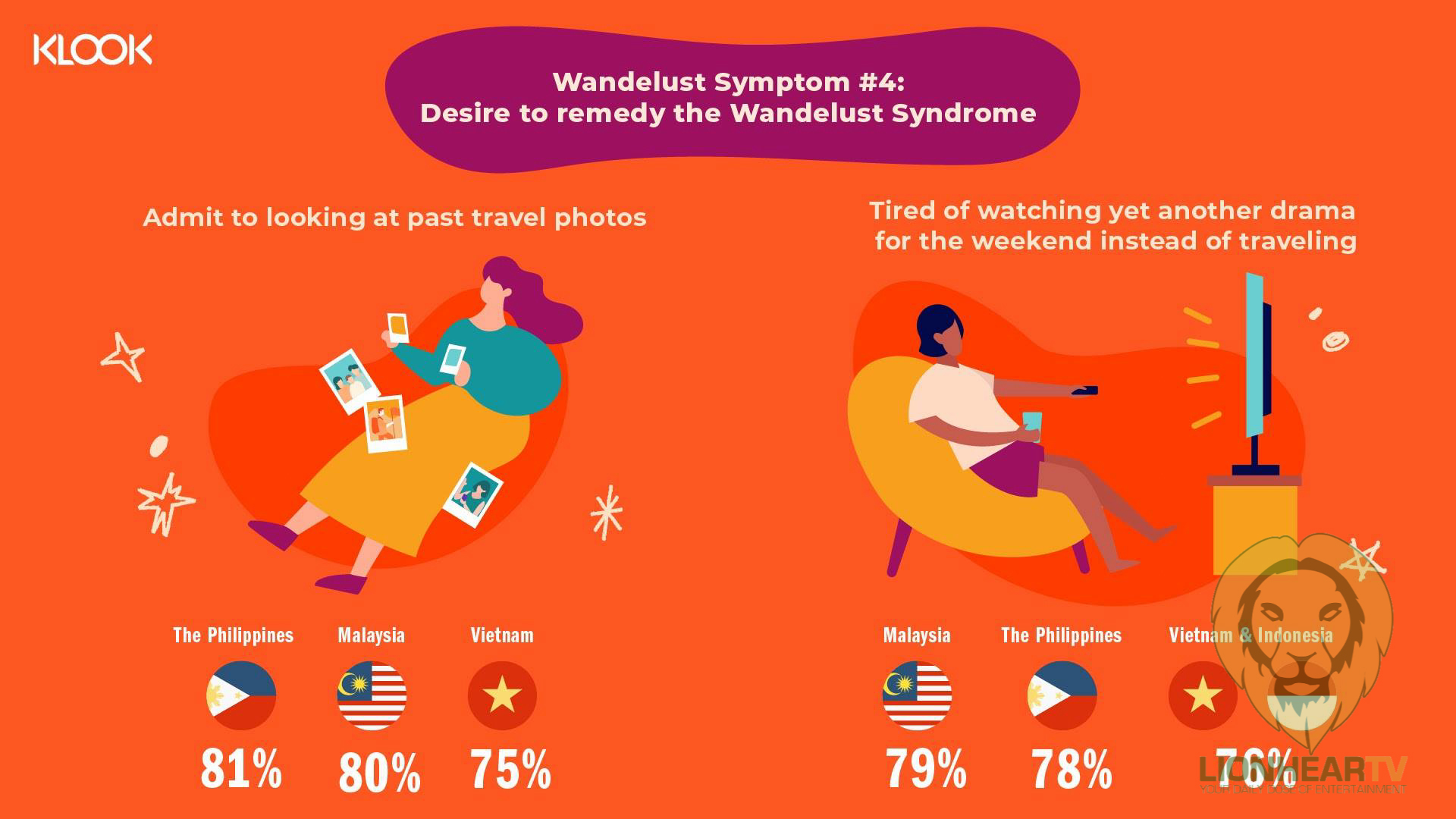 While there are many entertainment options, about 78% of Filipino respondents have expressed that they are tired of watching yet another show or drama during the weekend instead of traveling. The highest across the region, 81% of local respondents have also admitted that they find themselves looking at past travel photos since they can't travel.
Such sentiments indicate that people have a pent-up desire to reconnect, explore, and enjoy themselves again through travel. While cross-border travel remains on pause, an easy remedy is to head out and explore one's backyard. Through partnerships with local tourism organizations across the region, Klook has curated even more unique local offerings on its ever-growing travel and leisure platform. Offering more than 100,000 activities, services, and experiences, Klook has something for anyone looking to rediscover their backyard.
Thrill-seeking Filipinos can experience a fun-filled day in Enchanted Kingdom, Cebu Ocean Park, and Dahilayan Adventure Park. Those seeking a sanctuary away from home can look no further than a staycation and can choose from Shangri-La properties, Anya Resort Tagaytay, Las Casas Filipinas de Acuzar, and more, for their getaway. Filipinos can also experience a relaxing day to unplug and de-stress by visiting Luljetta's Hanging Gardens Spa, Nurture Wellness Spa, and The Farm at San Benito.
"Domestic travel in the Philippines is gradually opening up and we want to be present for the Filipinos who have experienced the shift from wanderlust to wanderlost in the past year," shares Michelle Cruz, General Manager of Klook Philippines. "Despite the absence of international travel, there are many local gems in the country that we can continue to safely explore, from staycations, theme parks, beach resorts, and more. At Klook, we want to empower our customers to re-discover the beauty of the Philippines."
To better remedy these wanderlost symptoms, Klook's newly launched e-gift cards are the perfect solution for your friends and loved ones. Customers who will purchase any e-gift card will receive a discount voucher worth 10% of the e-gift card value they bought. With no expiration and credit card needed, recipients can instantly redeem their e-gift cards and seamlessly check out to enjoy their activity. For more details about Klook e-gift cards, you may visit https://www.klook.com/en-PH/balance/.
Comments