Following ABS-CBN's departure from the free TV competition in May last year, the likelihood that TV5 will finally get a bigger share of the market became increasingly more viable.
There was hope for the Kapatid Network to contend with GMA Network and the now franchise-less ABS-CBN, with ease, and a convenient opportunity to dominate the ratings game came into TV5's view.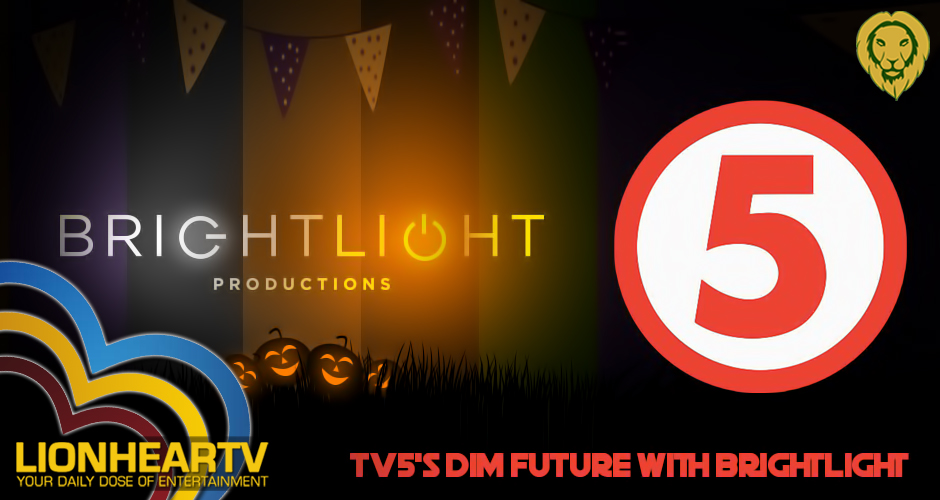 A few months, however, after the MediaQuest Holdings-owned TV network launched a number of big programs (most of which in collaboration with block time partners), the hope to break through stayed dim for the third top-rated TV network in the country.
And as Brightlight Productions programs subsequently bid farewell on air due to low advertisement support and poor ratings and as ABS-CBN slowly reclaims its audience through its limited free TV reach and cable television and online presence, that TV5 will finally succeed to become a major player remains a remote possibility.
Talk shows Chika, BESH! and Usapang Real Life, both bade farewell last week, while musical variety show, Sunday Noontime Live, and SundayKada are reportedly airing their final episode, and season-ender on January 17, respectively.
That said, it's important to note that this isn't the first time TV5 failed in its bid to challenge the other two major networks, with a massive programming overhaul.
Way back in 2010, the then ABC 5 reformatted as the 'Kapatid Network' (present TV5), launching a number of big shows intended to counter flagship programs from ABS-CBN and GMA-7.
The network's multi-billion losses, however, proved that the company miserably failed, having suffered poor ratings and low ad support.
Last year, on the heels of ABS-CBN's elimination as a leading free TV broadcaster, the network again gambled with much confidence, to contend with GMA Network, employing practically the same strategy it used a decade ago.
Now as reports about Brightlight Productions, TV5's leading block timer, losing as much as PhP500million from its partnership with TV5 begin to surface, the fear that the network is again confronting the same problem it succumbed to in 2010, becomes apparent.
To be fair with TV5, the efforts it spent in the past ten years—especially last year—in offering local audiences an array of both scripted and non-scripted entertainment cannot be discounted. It is actually easy to believe that some programs it aired could have succeeded if they were aired on either ABS-CBN or GMA Network, instead.
So what really is the problem? Why is TV5 seemingly stuck in the same loop of failures and mistakes it keeps making over and over again? Maybe our observations can provide some convincing answers.
TV5's free TV reach remains limited
TV5 has its main channel in Manila as its sole originating analog tv station, and while the network maintains a number of affiliate and relay stations across the country, the total number cannot, by any means rival that of the other two networks.
ABS-CBN maintained at least 10 originating TV stations and at least 40 affiliate and relay stations before its shutdown, while GMA Network comfortably stands as the most accessible free TV network in the country through its 6 originating stations and 47 relay stations.
Cignal Entertainment's cable and direct satellite tv services are obviously not enough to help the network expand its viewership, since both ABS-CBN and GMA Network both enjoy the said platforms to reach the same audiences the Kapatid Network tries to please.
TV5's indifference towards demands to expand their free television presence seems to be the biggest problem why many of its shows still rate very poorly, and to keep ignoring this flaw ensures the network's continued struggle to breakthrough in TV ratings.
Heavy reliance on parallel programming, and lack of variety and innovation
Like its 2010 overhaul, again met competition with GMA Network and ABS-CBN with programs of practically the same format. The network invested in shows to rival flagship noontime shows from the two other major networks.
Through its collaboration with Brightlight Productions, TV5 came up with Lunch Loud Loud to go head-to-head with ABS-CBN's weekday noontime show, It's Showtime, and GMA Network's Eat Bulaga. To contend with ABS-CBN's Sunday musical variety program, ASAP Natin 'To and GMA Network's All-Out-Sundays, Brightlight Productions created Sunday Noontime Live (SNL), tapping former ABS-CBN talents as regular presenters and performers.
There is no official press release about these shows enjoying decent ratings yet, but a recent report from the local entertainment site, PEP.ph revealed that only SundayKada, a weekly gag-show, is the only show among the six programs Brightlight launched on TV5, that has been posting satisfying results so far, but lack of ad placements on the show ultimately forced the management to kill it prematurely.
Poor ratings and lack of ad placements have subsequently prompted the production unit to terminate some of its shows, including the Pokwang-hosted talk show, Chika, BESH! and the weekly romantic-drama series, I Got You. Chika, BESH, which also served as a launchpad for Star Magic actress, Ria Atayde, to become a talk show host, went head-to-head with ABS-CBN's Magandang Buhay and GMA Network's Sarap Di Ba? before airing its last episode early this month. I Got You, on the other hand, aired in an inconvenient time slot.
TV5's major problem seems to be its choice in programming. Parallel programming has been repeatedly proven to be ineffective against established flagship programs of both GMA Network and ABS-CBN, and yet, TV5 remains attached to this same strategy.
Most Kapamilya Viewers Chose to Stick with ABS-CBN After Shutdown
The possibility of absorbing a big chunk of the audiences ABS-CBN losing much of its nationwide presence seemed to have excited TV5 execs.
Many Kapamilya viewers, apparently, opted to stick with ABS-CBN and find ways to access the services of the network, which are now largely available via online and digital platforms. The recently reported ratings of local tv shows also suggest that neither GMA Network nor TV5 improved significantly ratings-wise.
Consumer Shift Towards More Contemporary Platforms
The lockdown has undeniably prompted much of the TV viewing public to set their sights online, where a variety of fresh content is readily available. It also didn't help that reruns and replays defined the local TV landscape in 2020, forcing audiences to look at other venues for fresh content.
Unlike GMA Network and TV5, however, ABS-CBN strengthened its bid to capture the booming local streaming market with new shows and movies, delivered largely through its online platforms. TV5 apparently missed this opportunity to enforce its efforts to advance in the free TV competition, as a strong digital presence has been proven an effective complementary platform.
Wrong Market
TV5 appears to be catering to an unresponsive market that cannot meet its aggressive programming with the enthusiasm the network hopes to receive. This problem may be linked to the management's failure to expand the network's reach on free TV, where the biggest chunk of television viewers come from.
The network's failure to respond to the exploding demand in online content and other streaming services seems poised to keep TV5 from reaching audiences who might possibly expand its viewership share.