Pasig City is indeed fortunate to have a mayor like Vico Sotto as he is currently being looked up to as an ideal leader our country needs.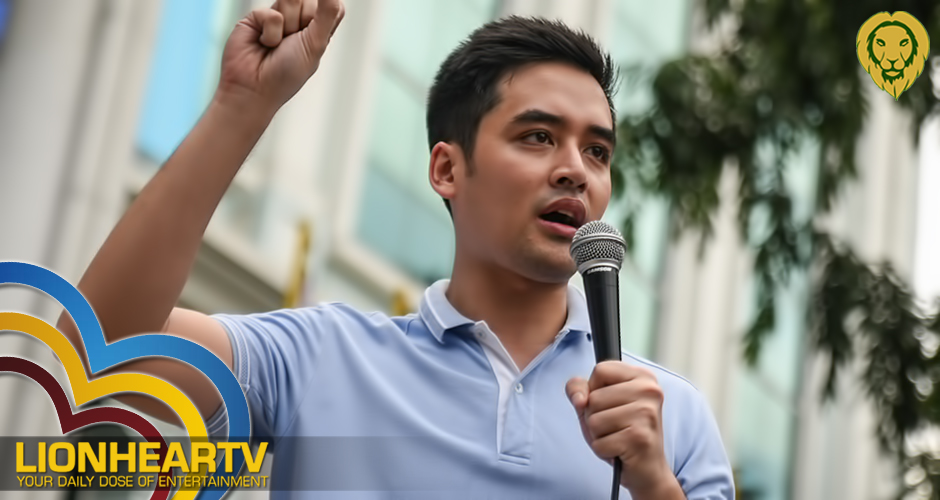 In her latest vlog, Alex Gonzaga featured Sotto who remained consistent in avoiding publicity like putting his face on tarpaulins or other projects. He believes that politicians do not have the right of placing their images in their projects because the funds came from the people's taxes.
"Hindi ako mahilig sa mga picture ko
"Atsaka, pag project ng LGU, bawal maglagay ng malaking pangalan ko. Bawal 'yun. Kasi pera ng taumbayan iyon, e. Bakit ako maglalagay ng pangalan ko?" he said.
Sotto also cleared that the public should not have a debt of gratitude to the politicians once projects are accomplished. Tho, we can be thankful and grateful for good projects they've been doing.
"Ang ibig ko lang sabihin, wala tayong utang na loob sa mga politiko. Puwede tayo magpasalamat na, 'Maganda 'yung proyekto, maganda 'yung programa.' Pero wala tayong utang na loob. Iba 'yun." Vico said.
With this, Mayor Vico again gained admiration from the netizens.
Kabataan party-list representative Sarah Elago tweets and agrees with Vico's stand against putting politician's faces on their project posters.
TAMA! https://t.co/eLI2nUoLsS

— Sarah Elago (@sarahelago) February 21, 2021
PBB Alumnus Justin Dizon believes that Vico is someone who must be idolized by the youth.
Kung gusto niyong maghanap ng iidolohin, look at Vico Sotto.

Young, empowered, patriotic, and compassionate.

You can also be like that! You just have to start somewhere.

— Justin Dizon (@iamjustindizon) February 20, 2021
@ICHAEG0 tweets that "public service should be bare minimum for politicians" and that this is just want Sotto is doing and should not be praised solely for doing his job.
giving public service should be bare minimum for a politician and i don't wanna praise him for refusing to put his name on his projects cause that's the standard but with the amount of corrupt and greedy politicians,,, thanks for doing your job i guess??? https://t.co/yDOBOPViDs

— kris eggs (@ICHAEG0) February 22, 2021
Mayor Vico Sotto is just doing bare minimum yet here we are so dazzled. I guess because we're so used to corrupt, epal, and opportunistic politicians that we almost forget the public service we deserve. He is that single ray of hope for good governance though. 😍 https://t.co/cDRUqODDzJ

— 𝐌𝐢𝐬𝐬 𝐊𝐫𝐢𝐳𝐳𝐲 (@krizzy_kalerqui) February 21, 2021
Filipinos should set Mayor Vico Sotto as their minimum standard when it comes to public office. 👏🏻👏🏻👏🏻👏🏻 @VicoSotto https://t.co/q94pWSrRrz

— Zearrah Kay Anne (@zearrah) February 21, 2021
Netizen @markizophrenia said, "the kind of consistency we need… we need more Mayor Vico Sotto in the years ahead."
The kind of consistency we need💯💪

We need more Mayor Vico Sotto in the years ahead. pic.twitter.com/2AeAiJgb4U

— #SOGIEEqualityNow #PassADBNow (@markizophrenia) February 21, 2021
How I wish there were more politicians/government officials that are like Mayor Vico Sotto. https://t.co/B9Vo8JbkF6

— Yumi ゆみ💮 Sketch comms opened indefinitely (@yumilattea) February 21, 2021
Waking up to Mayor @VicoSotto trending again✨ Nakakagood vibes everytime nag ttrending siya💙 He's the epitome of a good public servant😌 Mayor Vico is the standard😎

— ᴮᴱ Tin ⁷ (@Areum_tin) February 21, 2021
"Wala tayong utang na loob sa mga politiko."

This is what we get when we elect a God-fearing leader who has no other agenda but to serve the people.

Mayor Vico Sotto has the heart of a TRUE public servant. 💓

— ⚖ (@_majc) February 21, 2021
more leaders like @VicoSotto please 🙏 https://t.co/wOUHm3mgK1

— Elvie Ryel Wagan (@EngrYelWagan) February 21, 2021
Since winning against former Pasig Mayor Eusebio and ending his almost 30-year political dynasty, Sotto has been consistent with his policies. In 2019, Sotto right after his Mayoralty win, tarpaulins and posters congratulating his win and greeting him on his birthday with his face were seen posted all over the city. Vico initially thanked his constituent but asked them not to do it again in the future.
Recently, Vico was also praised for not taking credit for the scholarship program offered by the city of Pasig.
Laging tandaan na wala kayong utang na loob kahit kanino (lalo na sa politiko) dahil pera ito ng taumbayan. Na-a-appreciate ko naman kapag may nagpapasalamat sa kin pero naiilang ako dahil di ko pera to.

Mag-aral lang kayo nang mabuti, sulit na ang investment ng Pasig sa inyo.

— Vico Sotto (@VicoSotto) November 6, 2020
Sotto also reminded the scholars that they should not be indebted to the politicians because they are using the taxpayer's money. Vico then advised them to do well in their studies so that the city's investment will be worth it.
In terms of COVID-19 response, Pasig City is also ahead of other cities in the countries. In fact, they are the first city in the Philippines to have an approved vaccination plan.
As of writing, Gonzaga's vlog entitled, "A Day with Mayor Vico" already garnered more than four million views on YouTube.
Comments