PHILIPPINES, February 2021 – Bigo Live, a leading global livestreaming platform, is excited to welcome Youtube comedian Dudut Lang for a one-night only fan interaction livestream session between 9 PM – 10 PM PHT on Thursday, 4 March 2021.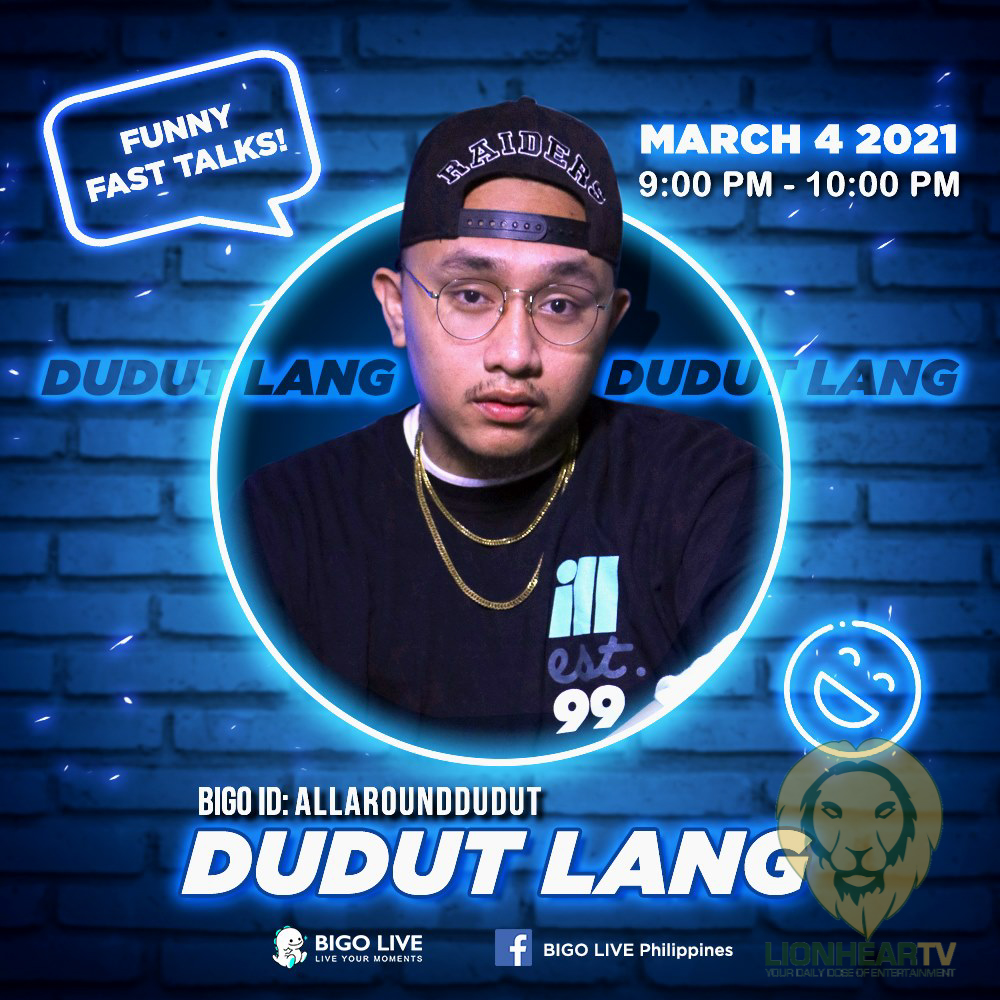 With over 1.34 million subscribers on YouTube, Dudut Lang is one of the Philippines' most popular comedians and content creators. Known for his down-to-earth lifestyle content and relatable sense of humour, he is also part of the content-creating squad known as Team Payaman, which counts Filipino YouTubers Cong TV, Boss Keng and Mentos as members.
During the one-night only event, fans and viewers alike will get an exclusive opportunity to interact with Dudut Lang during a virtual Q&A session on Bigo Live where users will stand a chance to win Bigo Diamonds. In addition to the Q&A session, Dudut Lang will also be hosting a "Funny Fast Talk" segment where he will be translating his unique Pinoy humour onto the livestreaming platform.
Interact with Dudut Lang during the livestream on 4 March
"I am very excited about my first ever livestream session on Bigo live and look forward to hosting an intimate session with my fans. This will be a new experience for me and I can't wait to share the experience with the wider Bigo Live community," Dudut Lang said.
"Since the start of the pandemic, Bigo Live has brought communities together and provided people with a platform to connect, showcase their talents and create content. I am honoured to be a part of this movement, and humbled to be able to do my part to bring laughter and happiness into homes around the Philippines and the world," he added.
To participate in this exciting live stream, simply download the Bigo Live app here and follow Dudut Lang (BIGO ID: allarounddudut). For more updates on the upcoming Dudut Lang livestream, follow Bigo Live Philippines on Facebook here.
Bigo Live continues to create exclusive opportunities for the community to interact and engage with their favourite local celebrities from the comfort of their homes. This collaboration with Dudut Lang is part of Bigo Live's ongoing efforts and commitment to bringing positivity, hope, and joy to users in the Philippines and across the world, in the fight against COVID-19. Most recently, Bigo Live hosted a livestream event featuring fellow Team Payaman member Boss Keng.