GMA Network
Actors: Lovi Poe, Benjamin Alves, Ai-ai de las Alas, Leo Martinez, Nova Villa, Ruby Rodriguez, Jackie Lou Blanco, Winwyn Marquez, Pekto, Ryan Eigenmann, Jelai Andres, Jason Francisco, Kiray Celis, Mahal
Format/Genre: TV Series/Romcom
Premise: For Sensen, whose loans keep piling up, she will do everything just so she can provide for her family…and the economy! But what if she meets Dr. Migs who isn't just a surgeon, but also a financial advisor? Will she be willing to pawn her heart, just so she can fulfill her familial responsibilities, or will she let herself fall and let him own her?
Time slot: Weeknights, 9:35 on GMA Telebabad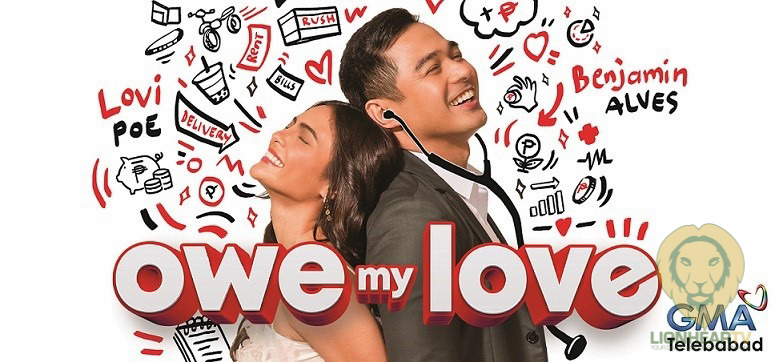 Why You Should See It:
The socially relevant themes of this new Kapuso primetime series, provide a timely and relatable backdrop for the show's characters to thrive
Everyone's getting indebted to this pandemic. This is what the new GMA Public Affairs primetime series, Owe My Love is trying to suggest. Set in 2023, the new show envisions a future where most Filipinos are still struggling to turn things around after the economically debilitating impacts of the covid-19 crisis—job and money-making opportunities are still scarce, and everyone's borrowing money. Owe My Love sheds light upon the stories of regular Filipinos, who, one way or another, have been hit by this pandemic, and have been trying to survive its impacts by making loans.
In the story, Pacencia Guipit (Lovi Poe), or simply "Sensen", is her family's breadwinner. Being unable to evade the effects of the pandemic, she enlisted the help of several money lenders to fulfill her familial duties. To meet dues set by her loaners, she has to accept multiple jobs. One day, she stumbles upon Dr. Migs Alcancia (Benjamin Alves). While their first meeting feels very unflattering, Migs generously offered her his help when one of her loaners tried to catch up with her. A series of unfortunate events further stains Sensen's reputation on the young surgeon—who is actually starting to develop an interest for the peculiar Sensen—which the audiences already know, would only get the two closer, as the trailer suggested.
There is inherent chemistry brimming between Alves and Poe, and it explodes especially during their light and tender moments, and when Poe's character showcases her quirk and mesmerizing energy. It greatly helps that the two Kapuso actors are both beautiful and aesthetically pleasing that the picture they create when they're on one frame, is no less than breathtaking. Their comical moments are also memorable, and it massively works in the presence of strong comic support from comedians who are playing hilarious characters for the show.
Obviously, the fact that this is a GMA Public Affairs project, shows that there is socially-relevant commentary embedded in this show. Funny but pure-hearted heroines like Sensen, who does everything for their families, are a common feature in Philippine media, but her arrival at a time when practically everyone tries to keep their families and themselves afloat by every means possible, is definitely something. It's a reminder of our resilience and our undying spirit, despite our struggles. Of course, Migs and Sensen, and their developing love story, remain the main attraction of this story, but the setting they are in provides a meaningful and timely backdrop, for their characters to thrive.
Owe My Love airs on GMA Network's Telebabad Block, Mondays to Fridays. Watch the Ful trailer below:
Comments