As of March 3, the Duterte administration's debt has swelled to PHP10.3 trillion in January. The current government pointed the reason is due to the pandemic and is trying to procure vaccines. However, some did not feel that the debt was used for the people.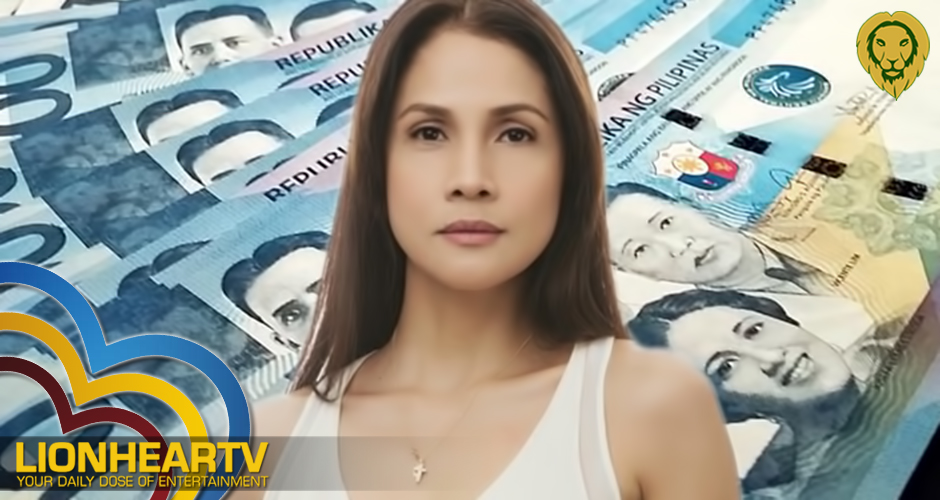 Kapamilya actress Agot Isidro took to twitter to share her opinion regarding the country's growing debt. She raised the question about how did the government use the funds. Whether the Filipino people feel if it were put to good use. 
Given the bloated loans, the actress pointed out that campaign materials such as tarpaulins were scattered in some parts of the country. These tarps bear the image of Davao City Mayor Sara Duterte, whom her supporters are urging to run for the Presidency.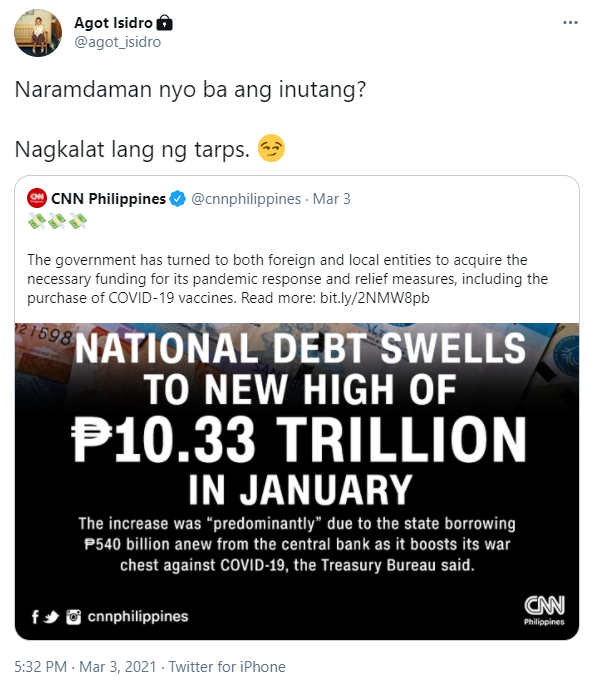 Pointing at the Philippines' debt that got revealed–the singer-actress also tweeted a song of the Beatles titled, Help. She tweeted that the 'song' is the theme song of the country as it needs help.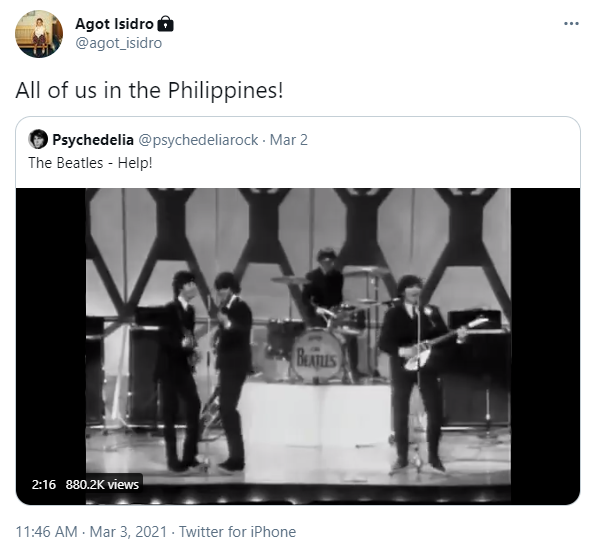 She barfed at Duterte's gesture of thanks to Chinese President, Xi Jinping.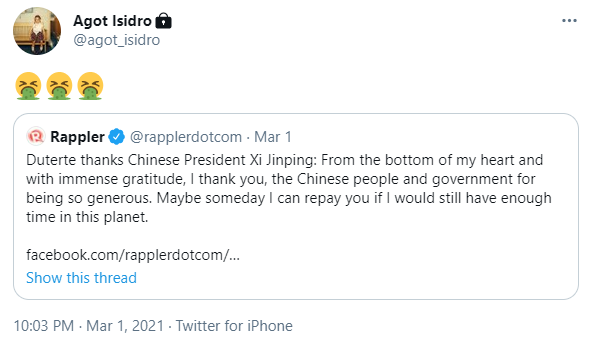 As Duterte's "BFF" donated vaccines to the country, the Netizens probe on the borrowed money's whereabouts.
Writer Jerry B. Grácio irked at how the President felt that he did good despite knowing that the country is swimming in a sea of debt and a vaccine donated by his BFF.
Bilyon-bilyon ang inutang ni Duterte para sa bakuna, donasyon pa lang galing China ang dumarating sa Pinas, late pa. Tas feeling ni Durterte, ang galing-galing niya na.

— Jerry B. Grácio (@JerryGracio) February 28, 2021
@EthelMEspiritu looked for the 2.74 trillion which the Duterte administration borrowed last 2020 to fight the pandemic and its effects on society.
San na yung pera? https://t.co/iierrCCRIj

— ethelMEspiritu (@EthelMEspiritu) March 2, 2021
Twitter user Carlos Cuiapo raised a question about donated vaccines from China, where will the money go?
next question we need to ask:

kung donated ang bakuna, saan mapupunta ang mga inutang para sa bakuna?

— Carlos (@qarloscuiapo) February 28, 2021
Twitter personality PinoyAkoBlog ridiculed how much the administration borrowed and intended to acquiring vaccines. And yet, the only vaccines available were the ones donated by China.
https://twitter.com/PinoyAkoBlog/status/1366304987425296385
@eybarnei suggested that there should be a public database for transparency. Since China donated funds for the vaccines, Filipinos have the right to know about the government's vaccination program.
Nasaan na yung pera na inutang para sa bakuna??? Dapat may public database (wala yung name and exact address) na pwedeng makita yung progress ng vaccination program plus kung may extreme cases ba. https://t.co/6MOWnLay4a

— Emman Barnedo (@eybarnei) March 1, 2021
The country's debt ballooned to PHP10.327 trillion since it turned to foreign and local entities to acquire resources for the government's response against COVID-19. However, with the first batch of vaccines donated by China–the Duterte administration must answer: "where did all the money go?"
Comments