In a testament to its position as one of the most active banks in the corporate fixed-income securities market, EastWest has been named among the top Corporate Issue Managers/Arrangers (Bank Category) in the 2021 PDS Awards.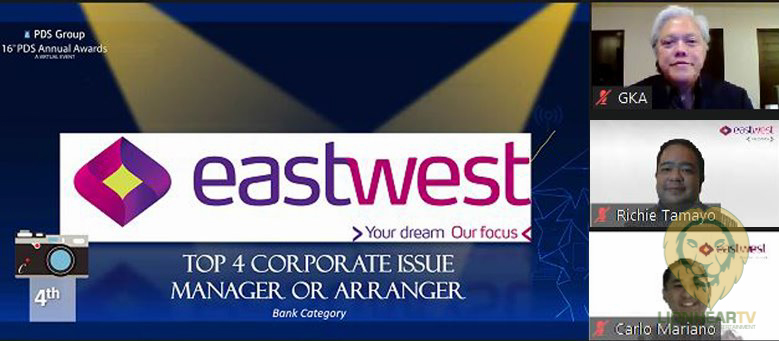 Presented by the PDS Group, the award is given to the most active issue managers or arrangers in the corporate fixed-income securities market for 2020, determined by the volume of corporate securities in which they acted as lead manager.
This successful effort is the result of effective collaboration between various units within EastWest. The bank's Investment Banking Group originates the issue management and arrangement mandates, secures the necessary underwriting approvals, and executes the transactions. Meanwhile, the Trust, Wealth Management, Retail Banking, and Securities, Derivatives, and FX Distribution and Sales Groups all work together to distribute the securities to their respective retail, corporate, and institutional investor clients.
"The success of our deals is dependent on the smooth collaboration among key groups in the Bank," said Rafael S. Algarra, Jr., SEVP and Head of Treasury, Markets and Off-Balance Sheet. "This joint effort makes EastWest able to cater to the ever-growing demands of our clients for alternative investment solutions."
The PDS Group has been giving out the PDS Awards since 2006 in recognition of the financial institutions within its members that have exhibited outstanding performance, leadership, innovation, and overall contribution to the development of the domestic capital markets.