Sharon Cuneta is seemed not pleased with her ex-husband, Gabby Concepcion's recent attitude toward her. According to the post, the latter snubbed the Megastar.
On Sharon Cuneta's Instagram account, she posted a fan-made collage of her, Gabby, and their only daughter KC Concepcion.
The caption referred to KC Concepcion as the best thing the two (Sharon and Gabby) ever had as a couple.
View this post on Instagram
Fans immediately saw the post, and one Netizen commented that the three of them are like happy family.
However, the 55-year-old Sharon reacted. The Your Face Sounds Familiar judge clarified that they are only a 'family' minus the word 'happy.'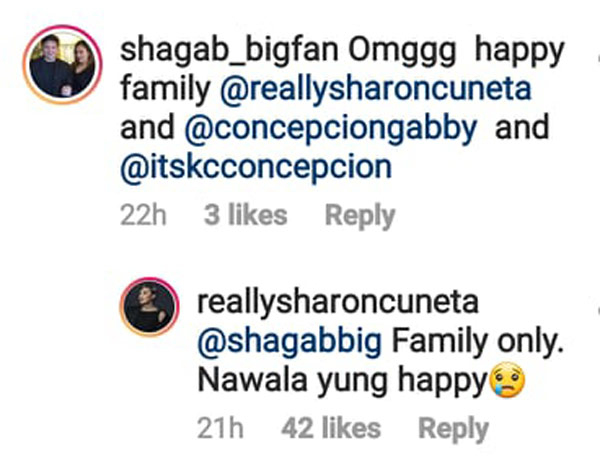 Another Netizen commented and looked for Gabby Concepcio, who even tagged him in the said comment. Cuneta's ex-husband opted to be unresponsive.
Sharon immediately replied and said that Gabby is a snub and wondered he acted such. The last thing she knew, they were on good terms.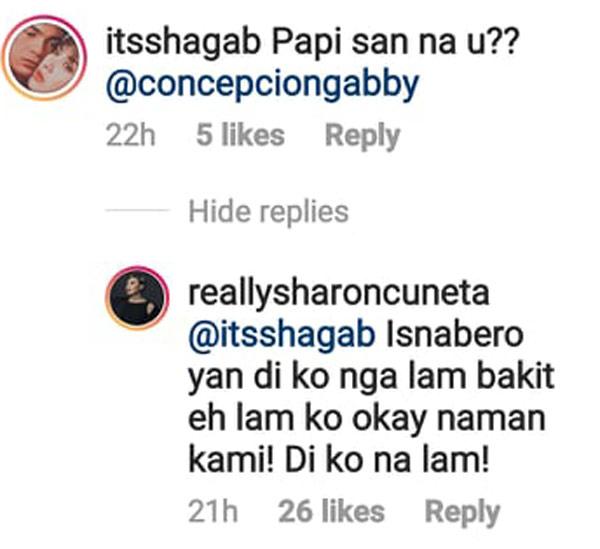 This wasn't the first time that Gabby allegedly 'snubbed' the Megastar. 
Cuneta shared two separate images–where both are with their respective much younger onscreen partners on Instagram.
View this post on Instagram
Cuneta was with Marco Gumabao, her leading man in her comeback film Revirginized, while Concepcion with Sanya Lopez, his leading lady upcoming GMA TV series First Yaya. 
As of this writing, Concepcion has yet to respond to Cuneta's tagged Instagram message and also on the said Instagram post.
In the 80s and early 90s, Sharon and Gabby were one of the most famous love teams. Both appeared in films–Dear Heart (1981), P.S. I Love You (1981), and many more followed.
Their romance blossomed into a full-fledged relationship. The two married on September 23, 1984, and she gave birth to KC Cuneta-Concepcion on April 7, 1985.
However, the pair split up three years later. Sharon and Gabby are both happily married with their respective partners today.