MANILA, PHILIPPINES, March 2021 – An iQiyi Original and Exclusive, SHE WOULD NEVER KNOW (previously known as "Sunbae, Don't Put On That Lipstick") is about a determined cosmetic brand marketer, Yoon Song Ah (played by Won Jin Ah), who aspires to start her own make-up line one day.
Her love and vigor for her job captured the interest of her colleague, Chae Hyun Seung (played by SF9's Ro Woon); however, Song Ah's reluctance to accommodate younger guys as dating partners makes this pull-push romance between the two exciting for fans who've followed it since its debut. The story comes to a close this coming March 9 on iQ.com.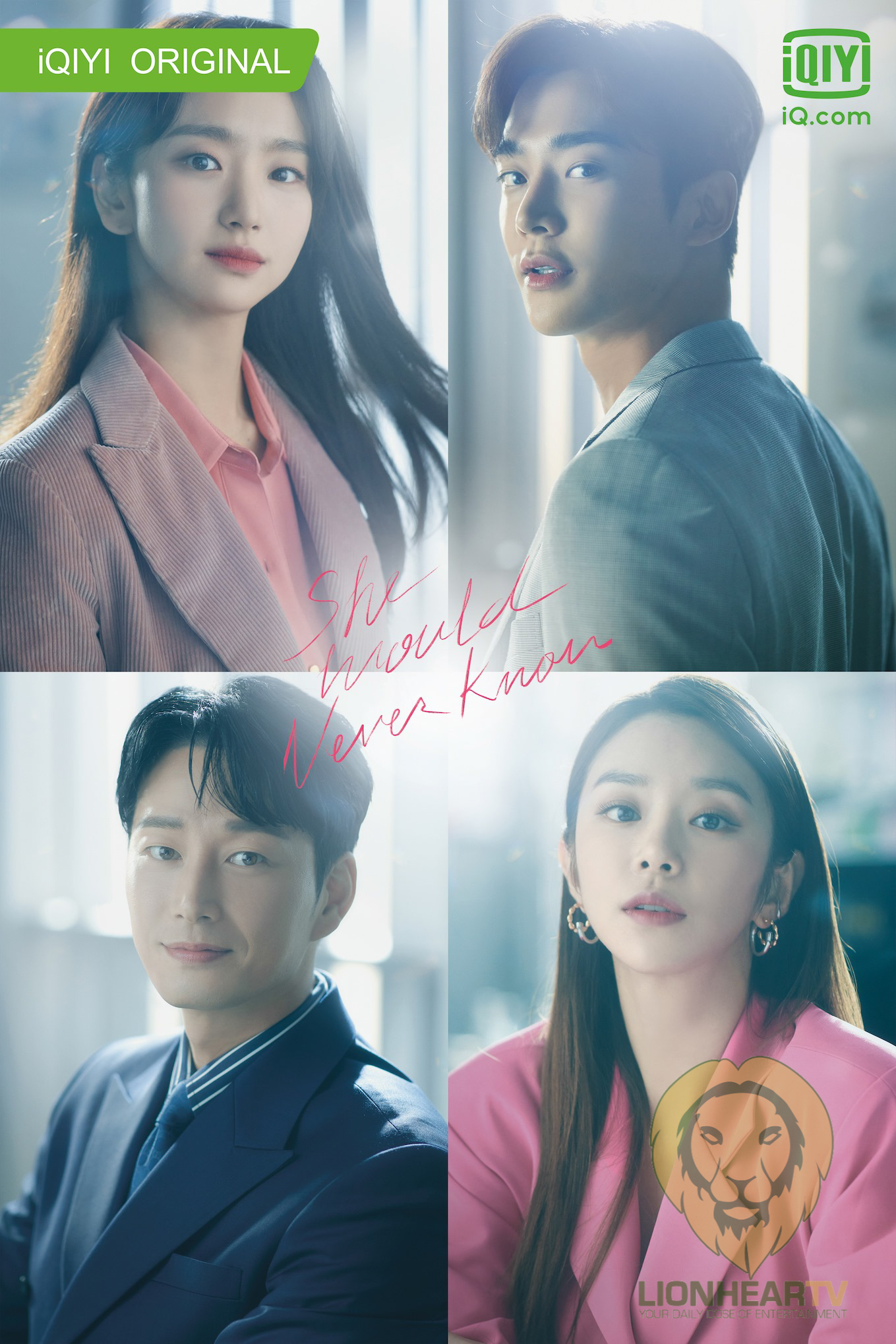 Before the show wraps up, lead stars Won Jin Ah, SF9's Ro Woon, Lee Joo-bin, and Lee Hyun-wook share their personal experiences in filming the series and in working with each other. Check out their answers in this exclusive interview with iQiyi:
I. Won Jin Ah as Yoon Song Ah
1. Can you share more about your role in She Would Never Know?
I play the role of Yoon Song Ah, who works at a cosmetics company as a professional brand marketer. She dreams of having her own cosmetics brand one day.
2. How did you prepare for the role as a cosmetic brand marketer? Have you conducted any special research?
As I was unfamiliar with the role, I sought a lot of help during the preparation. I found quite a few vlogs on YouTube that were made by beauty youtubers and cosmetic brand marketers themselves. Also, thankfully, the production crew arranged a meeting for me with current cosmetic brand marketers. They were more dignified and honest than I imagined, very impressive. They know what suits them and how to groom up appropriately when expressing their individuality. In a sense, Song Ah would also have a mindset of being the face of "KLAR", so I tend to be more attentive to the makeup, hairstyle and dressing that create who Song Ah is, hoping that every single detail could well reflect the love and passion Song Ah has for her career.
3. What do you find attractive and charming about your role? Can you draw any similarities between yourself and your role? What did you learn from your character?
I think Song Ah's advantage is her "kindness" that can neither be looked down on nor roughly treated. She is proud of her job, thinks and acts independently without going with the stream, and all this makes her very cool. Meanwhile, she tends to be infinitely clumsy and dull when it comes to personal issues with her family and romance. She's particularly charming as she is kind of "looking strong with soft heart" style who can't stand someone else being treated unfairly but can silently bear whatever comes to her. She is trustworthy and sensible with everything, but on the other hand, that would draw sympathy, comfort and embracement.
What Song Ah and I have in common is that we are both ambitious of work and ambitious of doing it right. Song Ah even skipped work to be at "KLAR" store, and so am I who like to work nonstop.
4. What made you accept the invitation to appear on "She Would Never Know (Senior, don't put on that lipstick)"?
At first I was attracted to the intense and provocative title. After the script reading, I felt empathy twice – once with the story that calmly and serenely explains the emotions which could be fully experienced in real life, the other once with how Song Ah was overcoming hardships. I was attracted by the reversal between title and content, it was the best opportunity for me to take the role in this charming drama.
5. What's your impression of Ro Woon and your working experience with him? How would you grade the chemistry degree between you two?
I thought he might be a bright and healthy guy since he is very active in various areas. But during our working together, I was surprised by his solemnity and carefulness. He has an in-depth mindset and very open-minded. On the other hand, he also has a bit of ambition for being humorous, making jokes and getting funny with around, thus creating a happy and lively shooting set. I felt a sense of responsibility as an actor from him.
The chemistry degree should be graded by the audience, so I'd prefer to grade how happy it was working with Ro Woon, and it's 100 points out of 100 points!
6. Which is the most interesting and impressive scene in the drama that you would like to share with the audience?
I'd like to pick the first scene in the first episode, where Song Ah and Hyun Sung were having a meeting. It clearly presents their relationship as a kick-start of the drama. "To somebody's credit, (Hyun Sung) very remarkable, isn't he?" "To Senior (Song Ah)'s credit." These lines explain that they are senior-junior relationship at workplace. However, in the last scene in the first episode, when Hyun Sung wiped the unsuitable lipstick off Song Ah's lip, their relationship suddenly started to change. It was very impressive that the contrast between opening and ending alone could demonstrate the story flow.
7. As the drama is based on a novel, people might have certain expectation of each character before the drama. Do you have any tips on making your depiction of the character shine through?
It's not a character that I conceived by myself. Instead, I'd rather say it was created by the director, staff and actors together. We had discussion previous to shooting in order to keep up with a balance of Song Ah and all the characters. As is known from the filmmaking, we always share prompt ideas freely at the shooting place. I'm grateful to the director and staff for making an open place where we could have full exchange of opinions until we fully understand each other.
8. The drama is more of a mature romance than a romantic comedy. What is special about this love story compared to other dramas?
With Song Ah and Hyun Sung sharing their stories and wounds with each other, the simple senior-junior relationship at work between two became equal as romantic relationship. I find it very special. Also, I feel the support from audience on them growing and developing by cultivating love and finding selves.
9. As a cosmetic marketer, are you good at makeup? What is your must-have item in your makeup pouch?
I'd prefer "5-minute makeup" in real life, because I'm a bit unfamiliar with the procedure of applying cosmetics, and don't like it when it takes time. I like something simple. Haha. Even so, my must-have item is (same with the drama title) lipstick! Lip color is the key point. I have many lip products with similar colors. I would apply the same lip product to cheeks to function as blusher as well.
10. Now you wear masks when you go in and out, how do you prevent the makeup from getting on your mask. How do you usually care for your skin?
I think giving up on makeup is more skin friendly when you wear mask, so I would intentionally give up on makeup recently. As a plus, the preparation period is shortened as well. When I get back home, I would carefully do the cleansing to ease the stuffy skin during the daytime.
II. SF9's Ro Woon as Chae Hyun-seung
1. It is your second time playing lead role in a drama, from playing a student to an office worker this time round, has the level of difficulty increased? How did you prepare for this role? Do you feel more confident compared to the first time?
At first, I was curious about the meaning of "growing up", so I read a lot on philosophy and psychology, and consulted many people as well. Finally, I realized that people's perspective might be different even though we live in the same world. In addition, I practiced phonation and pronunciation a lot to express my lines more accurately. I also read the script with a creative and innovative spirit.
2. You described your character Chae Hyun-seung as someone who is capable at work and doesn't seem to have any flaws, except for not being good at expressing his true feelings. He was content to keep his love for Song-ah a secret until he found out her boyfriend may be two-timing her. How is Hyun-seung's personality and way of dealing with love similar or different from yourself in reality, and which parts about Hyun-seung do you hope you can be more like him? What do you find attractive and charming about your role?
Actually, I don't know how the real me will handle love. I don't really know what kind of person I am as well. I just accept Hyun-seung's love as what it is. The title is unique and has a sexy air. The character of Chae Hyun Seung is somewhat of a fantasy character so when I first heard the title I thought it was sexy.
3. What's your impression of Won Jin-ah and what do you feel about being her colleague? How would you rate the collaboration between you two?
A lot of ideas happened to me while I was reading the script. When I expressed them during filming, I found that unnie Jin-ah is a very open and flexible actress. I believe that is what they call the best colleagues.
As for Jin-a, she's very charismatic. When we're on set, I've never worked in an office before, so I always have a lot of questions. Before we start shooting, we eat and talk , and she thinks about how we could express things better with me. She's a good senior.
4. In your first collaboration with Won Jin-ah, what scenes did you like the best in your rival shows to time?
My favourite one was the scene where we chatted in the barbecue restaurant. (This was in episode 3)
5. Rather than romantic comedy, it seems that this drama shows a more mature romance. What makes the love story special compare to others?
There's no difference. If you have to say something, it may be different to those who are falling in love.
6. Were there any unforgettable moments during the shooting? What's the most interesting thing/moment in the drama that audiences can look forward to?
To be honest, each and every moment was unforgettable. All scenes were special. I hope all of them could stay in my memory.
7. Since this is a series set in a cosmetics company – as a man, what are your beauty secrets and what are things you find really important to looking and feeling good?
Love yourself. People imagine and think, making endless possibilities. Therefore, the most important thing is to love yourself. Won Jin Ah takes on the role of Yoon Song Ah, who works at a cosmetics company as a professional brand marketer. She dreams of having her own cosmetics brand one day.
III. Lee Joo-bin as Lee Hyo Joo
1. Could you share more about the character you play and some highlights/interesting aspects of your role in She Would Never Know?
The role I played is called Lee Hyo Joo, who is the granddaughter of the founder of KLAR, the company brand name in the show. She has everything and always looks so confident and fearless, but she doesn't quite know how to love others. That's why she would hurt herself while hurting her loved ones. She is a character struggling between the extremes of reason and instinct.
2. You play a photographer in the drama who is very attractive, how are your photography skills in real life and what do you think are your charming points as an actress?
People around me always say I am notoriously bad for taking photos, though I think I'm not that bad, they all say it was just so-so.
3. You mentioned that you want to be remembered as a young and rich lady previously, what is your definition of it? How did you prepare for this role?
What's difficult, I think, is that I need to figure out and visualize the story line of Hyo Joo, which is not presented in the script. It is a challenge for me to express so many deep and strong emotions in the drama.
4. You have starred in many romantic comedies, how is this drama different?
The character Hyo Joo is not a villain but she needs to express strong feelings in many scenes, which are no less intense than a villain would do. It was interesting to me that she would scream out loud and let off steam totally oblivious of others in the show.
5. What do you think about the complicated love in She Would Never Know?
I think it fully portrays what is likely to happen and feelings we have in our real life.
6. Which scene do you like the most in She Would Never Know, or what is the most interesting part about the drama that you can share with the viewers?
What impressed me the most was the scene in which the KLAR staff were all dining or working together. It makes me wonder how fun it is to work with such a group.
7. What attracted you to accept the offer to star in She Would Never Know?
I think the name of this drama (in Korean it reads Sunbae, Don't Put on That Lipstick) is quite novel and Hyo Joo's cool and confident character is rather appealing to me as well.
8. Were there any unforgettable moments during the shoot?
There was a scene in which Hyo Joo was shouting out of the bar all alone in the snow. Though it was just a shot, I felt at that moment I was getting into that character completely as if I were her. That scene was filmed over and over again, and I'm catching a cold from it and cannot even say a word the next day. Still it was a whole new experience for me, so I remember it quite clearly.
9. As the drama is based on a novel, people might have certain expectation of each character before the drama. Do you have any tips on making your depiction of the character shine through?
The relationship between Song-ah and Hyun-seung in this drama is ordinary, but their feelings are delicate and persuasive, which might be the show's quality. Their stories are not that different from those in realities. Plus, plots like office romances are prone to become conventional if not elaborated well, but from what I've seen, it portrays quite well of how these two people engage with each other from just coworkers into a more intimate relationship.
IV. Lee Hyun Wook as Lee Jae Shin
1. Playing an office worker in the drama, is it less taxing as compared to your previous roles? What's charming about your character?
Rather than charming, it is in a way, driven by the desire of human beings, I think it's a character that anyone under materialism has thought about at least once in their imagination.
2. Share with us your role in this drama and what attracted you to take up this role?
In some ways, Lee Jae-shin is the most conflicting and narrative character in the drama. He awakens due to his childhood memories, he is a character who only looks forward to success. Therefore, he hurts himself without knowing it.
Rather than offering an appearance, I met with the production team for the first time through an audition and meeting. They were such good people and they trusted me a lot. I was lucky to work with these people.
3. As someone who chooses to hide his pain in the drama, are you similar to your character in any sense?
I don't usually say that I'm having a hard time seriously and I try to solve it by myself. I don't like depression or stagnation caused by me, so I try to keep my mood from becoming an attitude. Maybe these aspects are similar to Jae-shin.
4. Were there any unforgettable moments during the shoot? Were there many NG takes?
At that time, I was busy filming that I didn't know, but I think I relied on a lot and worked happily on this kind and warm scene. Now that I think about it, every moment was warm and unforgettable for me.
5. According to the first week's broadcast, Lee Jae-shin hid his engagement and secretly dated Song-ah for 2 years. Were you angry with the character when you read the script? What would you like to say if you could say something to Lee Jae-shin?
Regardless of the reason, deceiving my lover itself is not only angry, also I can only be seen as a bad guy. The most upsetting thing about the character Lee Jae-shin was his actions after the secret of the marriage secret hidden from Song-a being discovered. But, on the other hand, he really loved Song-a, so he thought it would have been harder to say, so I want to say that he is a sad piece of trash.
6. What is the most interesting scene to share with viewers in the drama?
Perhaps it is the part where Hyun-seung and Song-ah's hearts are shared with each other. It's a moment containing core and starting point and our destination of our drama.
7. As the drama is based on a novel, people might have certain expectation of each character before the drama. Do you have any tips on making your depiction of the character shine through?
In a way, the existing character was more device-liked. However, in the drama the production crew and the author made Lee Jae-shin a narrative character rather than a consumable character, it may be unfortunate, although I don't think Song-a and Hyun-seung are not perfect match, I tried to be faithful to the script by making it a humane character.
8. Rather than a romantic comedy, it seems that this drama shows a more mature romance. What makes the love story special compared to other dramas?
It seems that both straightforward and fairy-tale parts coexist, so it seems more mature than the romance we knew before. Rather than conclude that it is a simple love story, it is better to think that it has expanded and deeply draws human relationships and love.
9. From zombies to soldiers to Lee Jae-shin, you have chosen a wide range of characters. Is there any dream role that you want to try next?
Rather than playing a dream role, I want to try black comedy these days. Rather than setting something down, I want to continue to try and challenge new acting and do everything if there are interesting characters.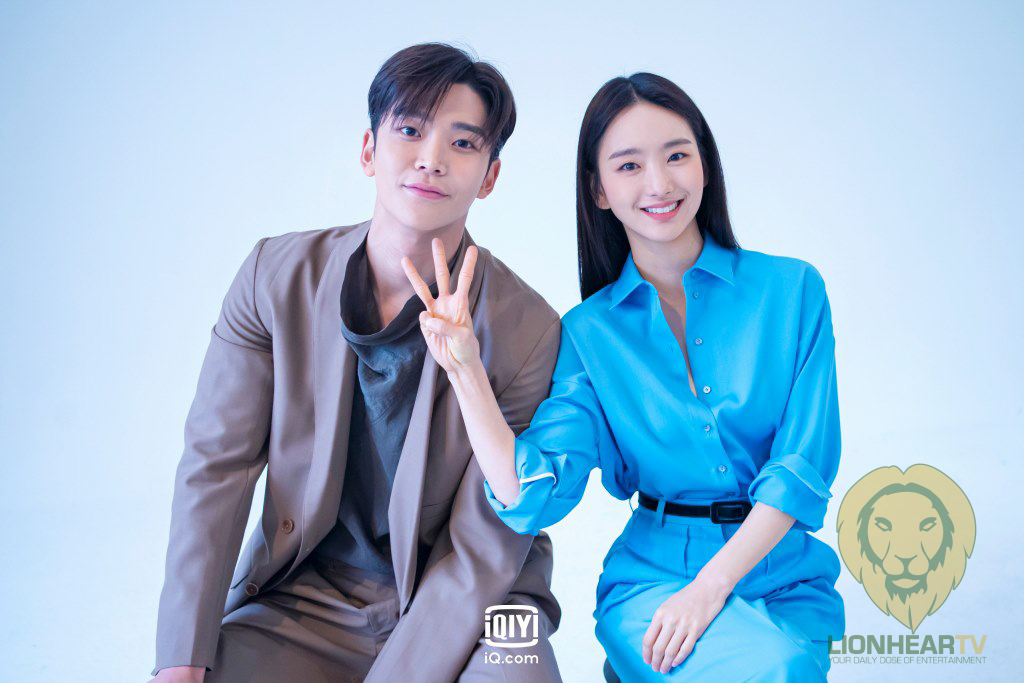 Viewers can access the show for free on iQiyi International's website at iQ.com or on the platform's free mobile application that can be downloaded from the Apple Store or Google Play Store. For access to new episodes as they drop, viewers have the option to sign up for weekly Standard VIP subscription at PHP49, or monthly Standard VIP account at PHP99 or a Premium VIP account at PHP249.
Comments