The Lost Recipe stars Thea Tolentino, Mikee Quintos, Paul Salas, and Kelvin Miranda had fair shares of lessons that they've learned from the experiences that brought them to their lowest points in life.
In the media conference of The Lost Recipe, Thea Tolentino was first to share how 2018 made her frantic and gave her doubts in life.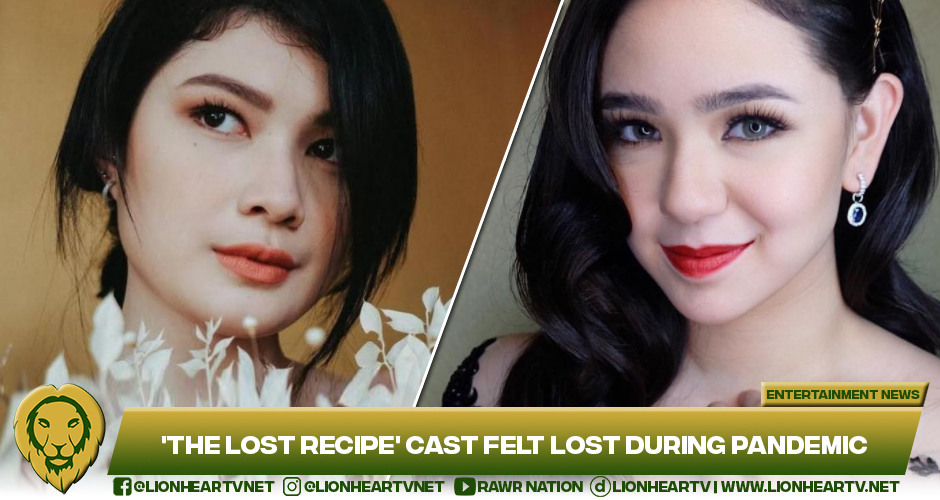 "Last 2018, akala ko 'yun na 'yung lowest ko na experience and ang ginawa ko lang dun is parang inalis ko lang 'yung sarili ko. I'm living in my head 'di ko ginawang truth ang thoughts ko kundi mas pinaniwalaan ko na lang 'yung actions I've been praying to God tapos last year sa mental health ko."
It came to a point that she questioned her worth as an actress and ask herself if acting is the only thing that is giving her worth in life.
"Nag papanic ako gigising ako may anxiety ako. I questioned myself kung anong pa bang [kaya] kong gawin, sa pag arte kaya ko bang mabuhay ng wala 'tong trabahong 'to. Hanggang ngayon I'm still looking for answers."
Thankfully, the actress survived as she was able to find new hobbies that distracted her from these thoughts. She even thanked The Lost Recipe which led her to find her new hobby which is cooking.
"Nahila ko 'yung sarili ko lumabas don sa thoughts na 'yun and I look for other things like new hobbies para ma distract ako. Gaya ngayon, dahil sa the Lost Recipe natuto na akong mag luto."
The same goes for Mikee Quintos, the COVID-19 pandemic led her to find her new hobbies such as composing songs and singing.
"Ito na ba 'yung peak ng buong buhay ko, ayun na 'yung sa mga isip ko ng dahil sa pandemya. Nakatulong sa akin 'yung pag pe-paint, ganyan, at nag explore ako mag sulat ng mga kanta."
Dealing with the same situation as Thea, the actress also questioned her line of work and she also had a hard time choosing between her studies and her passion for acting.
"Di ko inexpect at all tapos dahil sa pandemic 'yung effect sa akin nung crisis, pinagsasabay ko nga po kasi 'yung pag-aaral at 'yung passion ko ito, ang pag aarte.
"Yung crisis ko is 'yung saan ko ba talaga gusto saan ko ba ibibigay 'yung energy ko, I was lost, I felt lost. Like everyday wala akong guide, wala akong purpose parang kinu-question ko 'yung thoughts ko na umaabot na ito na 'yun?' "
For Paul Salas, he recalled his past experience in acting, he felt 'lost' when he wasn't able to do a certain scene that even took days before he finally did it.
"Ako po 'yung nasa 16 'ko nag karoon ako ng drama at more mature roles kasi ang hirap po mag switch from child actor to mature roles. Nag karoon po ako ng opportunity tapos puro big stars pa 'yung kasama ko, tapos naalala ko may before 'di ko magawa 'yung isang eksena siguro umabot kame ng isang araw."
Paul Salas advised, in this kind of circumstances, one should be relaxed and find the very reason on what keeps you forward.
"So parang ako sobra akong na down doon, parang ako nga 'yung pinili nila tapos 'di ko nagagawa. Pero mas mahirap po pag nagiisip ng ganun eh, 'yung masyadong nag ooverthink, para sa sarili mo mas hindi mo magagawa kaya na realize ko na bakit hinde ako mag relax. Isipin ko bakit ako nag simula sa showbiz, kung ano 'yung passion ko, so relax and gawin mo."
Finally, Kelvin Miranda learned that acceptance is one of the hardest lessons to learn in life, from all the  trials that he experienced in the past years.
"Ang natutunan ko is acceptance, pinaka mabigat na matutunan sa buhay nung papunta ako doon. Lahat ng napagdaanan ko kailangan ko i-accept lahat ng bagay ng nangyari may purpose, may reason kung bakit yung nangyari maniwala ka lang palagi sa desisyon mo, 'yun 'yung natutunan ko sa buhay."
The Lost Recipe is currently in its final week on GTV. During Twitter Philippines' first three days of service, it was also a constant topic in the top trending topics. The Lost Formula improved ratings not only for GNTV's primetime block but also for the Top 20 Urban Phils as a whole (based on Nielsen NUTAM overnight data).