ABS-CBN business news correspondent and ANC anchor Michelle Ong earned praises from netizens after she valiantly corrected Dr. Ted Herbosa of IATF in an interview.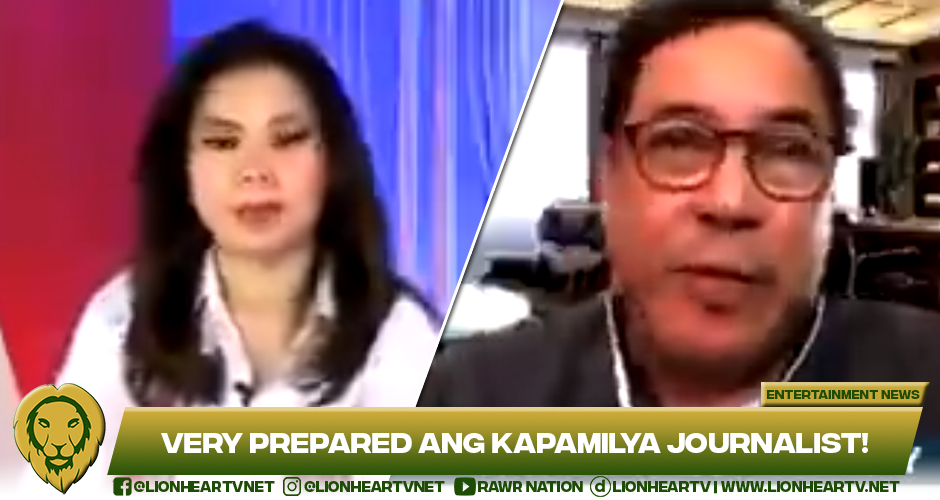 On Tuesday morning, March 30, Special Adviser to the national task force against COVID-19 Dr. Herbosa guested on ANC's Market Edge, anchored by journalist Ong.
Ong spoke to Dr. Herbosa via zoom in line with the continued spike of COVID-19 infections in the country, which hit the highest single-day tally of 10,016 cases on March 29.
During the interview, they also discussed the country's current stocks of Remdesivir (Veklury), an FDA-approved antiviral drug for the treatment of COVID-19.
Ong described a scenario wherein doctors tell their patients to source the drug on their own because they don't have the medicines. She then asked Dr. Herbosa if the DOH shouldn't have kept these medicines on hand.
"But here's what else we're seeing Doctor. You can't get into a hospital. When you do get lucky and get in, they tell you 'We don't have Remdesivir or the other drugs. Source it on your own.' So, you have to call the supplier yourself and there is no medicine. And you start to ask, shouldn't the DOH have stockpiled these medicines?" said Ong.
Dr. Herbosa responded that they had stockpiled the medicines. He also added that he knows for a fact that the people who are selling it have it available, and he explained further about the drug.
"Yes we did. We stockpiled the medicines and again, Michelle, in a disaster or a pandemic, the needs outweigh the resources. That's why there's a pandemic, that's why there's an epidemic. If there was none we wouldn't be talking even because the government would be unable to supply the Remdesivir.
"The Remdesivir by the way, I talked to the.. I know for a fact that the people that are trading it, they have it available. The problem is people think it's really a drug. It's still experimental. So, you still need to get a bureaucratic red tape, which is called the compassionate use authority from our FDA.
"So, that's why what's done is the doctor has to sign a form, the hospital has to sign a from, and the patient has to concur. But it's quite expensive as well it's not a cheap drug. It's really effective in decreasing your stay in the hospital if you have severe disease," Dr. Herbosa explained.
He believed, however, that it would be a problem if the government had to store costly drugs rather than offering assistance to the general public.
"So, its useful. It's here but it's expensive. So to ask the government to stock it and then not give any 'ayuda' or social amelioration, then we'll have problems. So we really have to allocate the available funds of government," he said.
Ong, on the other hand, remained firm in her assertion that Remdesivir was not available, despite the Special Adviser's claim to the contrary.
"Doctor, I'm gonna have to push you a bit on that because a lot of the doctors are already prescribing Remdesivir but there is no drug. You have to look for the drug yourself and if you're lucky, you get it or you fall in line," Ong stated.
To which Dr. Herbosa answered, "No, it's available. No, no. We published it."
The Kapamilya journalist then countered his response and firmly said, "I called the supplier, Sir. I did call the supplier."
Dr. Herbosa seemed to react with a wry smile and uttered, "Wala na? That's why you did."
Ong then shared, "Yeah. They said you have to wait, and they're not even sure when the next supplies coming in. Maybe next week or the week after."
To which the doctor agreed with a nod and said, "So, it's really a problem of the need versus the supply. So, I think that's a matter of what we call in a disaster medicine, a supply chain problem. That's not a problem of response. That means even the companies were caught unaware as to the amount of Remdesivir that they need to supply."
Netizens then praised the ANC news anchor for her assertive response against the Philippine government adviser.
Twitter user Menard Cuenca shared a video clip of their interview and applauded Ong for doing her research.
Kudos to you @michelle_d_ong

— Menard 🌟 (@menardcuenca) March 30, 2021
Mike Navallo, an ABS-CBN reporter, also expressed his thoughts on Ong's interview with Dr. Herbosa.
So it's really a problem of why we have this shortage in the first place. https://t.co/ljL6c9q6yd

— Mike Navallo (@mikenavallo) March 31, 2021
The Special Adviser's ignorance, according to a Netizen, is the reason for the country's mishandled pandemic response.
Adviser yan ng IATF ha 😂🤣 alam niyo na reason kung bakit nagkanda letse letse ang handling ng pandemic MISMONG SPECIAL ADVISER NG IATF mali mali At hindi alam ang ngyayare sa mga GAMOT haha mga demonyo!
Buti pa ung news anchor alam na my shortage bopola tong dr na adviser na to

— Ldenver (@Ldenver4) March 31, 2021
A Netizen praised the news anchor for being able to connect with the supplier in contrast to the government, which, according to the netizen, has incompetent representatives.
buti p ung anchor natawagan ung supplier pero ung ung gobyerno nga nga hays mga nka upo nga nmn ngayon from top to bottom puro incompetent

— xp3ctat0r (@xp3ctat0r) March 31, 2021
A Netizen noted that such news anchors rarely assert their interviewees, who are just spinning the viewers' heads.
Bibihira mga gantong news anchor na nakikipagbutataan sa mga interviewee nila na halatang nambibilog lang ng ulo ng mga viewers. Good job Ms. @michelle_d_ong 👏👏👏

— ᜋᜍ᜔ᜃ᜔o ᜀᜈ᜔ᜆ᜔oᜈᜒ (@engr_sam07) March 31, 2021
According to a Netizen, Michelle Ong should be a member of the IATF because she undoubtedly knows better than the consultant.
Honestly, Michelle Ong should be part of IATF. She obviously knows more than the consultant.

— Vincent A. DeJesus (@banana_feelings) March 31, 2021
A Netizen said that the journalist's sweet personality is endearing, but she needs to mature and grow.
The Netizen also described her as a brave ABS-CBN anchor.
i love michelle being sweet but yeah she needs to mature and grow. ganyan ang abscbn anchor e mtatapang

— Saint Denise (@SaintDenise4) April 1, 2021
Some Twitter users even throw shade at a Kapamilya journalist for speaking the truth of power in a transcript-like manner.
Take notes, @Joseph_Morong. This is how you speak truth to power, hindi 'yung puro transcription lang.

— Ryan C.V. Lintao (@ry_lnt) March 31, 2021
Naku, dapat kasi kay Joseph MoreWrong na lang siya nagpa-interview para softball questions at pucho-pucho ang format.

— BrujaDeputaAdmlnisTraitor (@BrujaDelDemonio) March 31, 2021
Michelle Krystle D. Ong is a business correspondent and anchor for ABS-CBN News Channel (ANC), the Philippines' leading business news channel.
She graduated from the state-owned University of the Philippines with a bachelor's degree in Broadcast Communication. She went on to the Ateneo de Manila Graduate School of Business to complete her master's degree.
She co-hosted ANC's morning news and talk show Early Edition with Christian Esguerra, Lexi Schulze, and Migs Bustos in 2017.
 Ong is currently the anchor for ANC's program Market Edge, which airs weekdays at 9:00 in the morning. She replaced 24th Asian Television Awards Best News Presenter Cathy Yang on August 6, 2020.
Comments