Celebrities and netizens didn't let Duterte's latest remark go unnoticed.
On Twitter, several social media personalities and celebrities have shared their sentiments over Duterte's recent remark about wanting to have a magic wand to be able to solve the country's problems.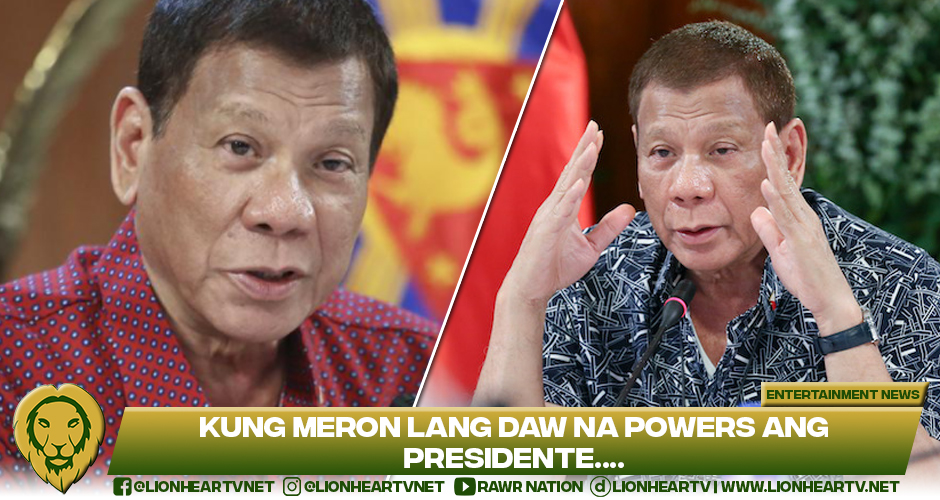 Senator Leila De Lima in her tweet slammed Duterte's latest antics saying he better resign in his position if he feels he cannot do anything about the country's problems.
De Lima added we are here in this situation because of Duterte's poor management and decision-making.
Kung ayaw ni Duterte pahirapan ang Pilipinas, sana dati pa siya nagresign. We're here because of his mismanagement and poor decisions. https://t.co/9RKp7EUMDW

— Leila de Lima (@SenLeiladeLima) March 30, 2021
Kapamilya actor-host Enchong Dee also echoed De Lima's sentiment saying Duterte has been given so much power with the billions of budget to address the pandemic and yet we're still stuck with the same problem for over a year now.
What magic wand are you saying?!

The reality is we have to live with the fact that you are our president – that is your magic wand!

We gave you & your minions 1 year & billions of pesos to solve it and look where we are now?!

Stop using flowering words to cover your failure! https://t.co/sQect1CdtU

— Enchong Dee (@enchongdee777) March 29, 2021
Social media personality @krizzy_kalerqui meanwhile shared an edited ABS-CBN News artcard which ended up reading "Ako ang magpapahirap sa Pilipino" based on Duterte's statement saying He will be the last person to cause hardship for his fellow Filipino.
Fixed it for you. https://t.co/LO6AbfMH08 pic.twitter.com/3CaWMOYaeo

— 𝐌𝐢𝐬𝐬 𝐊𝐫𝐢𝐳𝐳𝐲 (@krizzy_kalerqui) March 29, 2021
Human rights lawyer Atty. John Molo also took to Twitter to share his sentiment blasting Duterte. Molo then enumerated several powers bested by the constitution to presidents which Duterte should have used to address the country's problems.
The President says "if only i had the power" to end this.
Here's a list:
Article VII, Constitution
Emergency Powers under Bayanihan 1 & 2.
Billions in loans.
If a President feels he can't deliver, the Constitution has an answer to that as well.

— John Molo (@iamJohnMolo) March 30, 2021
Netizen @lahingpinoy meanwhile compared Duterte to Vice President Leni Robredo. In the tweet, the netizen shared a picture of the Office of the Vice President's Swab Cab initiative with a caption blasting Duterte for asking a magic wand when all he needs is to be like Robredo who's actually working.
Si Duterte magic wand ang solusyon sa pandemic. Tigil mo na kapapanood ng Harry Potter.

Ang kailangan mo Duterte ay isang VP Robredo. Teka sino ba talaga presidente. pic.twitter.com/qJXXzRhuzY

— LAHING 🇵🇭 PINOY🌐 (@lahingpnoy) March 29, 2021
Here are other reactions from the netizens.
"DUTERTE: Kung nandyan lang sa akin ang magic wand na maalis agad ang problema natin, gagawin ko. Pota lahat na nga ng emergency powers binigay sa'yo, pati ba naman magic wand. Agawan mo pa si fairy godmother shuta ka." @helterskelltr
https://twitter.com/helterskelltr/status/1376543991160655877
"Pota lahat na binigay kay Duterte emergency powers, inutang na pera para sa vaccines tapos ngayon magic wand naman gusto" @nikomfrancisco
Pota lahat na binigay kay Duterte emergency powers, inutang na pera para sa vaccines tapos ngayon magic wand naman gusto

— Niko Francisco (@nikomfrancisco) March 30, 2021
" resign kung nahihirapan kana lol" @jeosongsaja
https://twitter.com/jeosongsaja/status/1376796777722961921
Comments