During the said GMA Network's anthology series I Can See You: #Future media conference, stars Aiko Melendez, Kyline Alcantara, and the show's director Dominic Zapata shared their thoughts about vocal celebrities who use their platforms in speaking out their minds.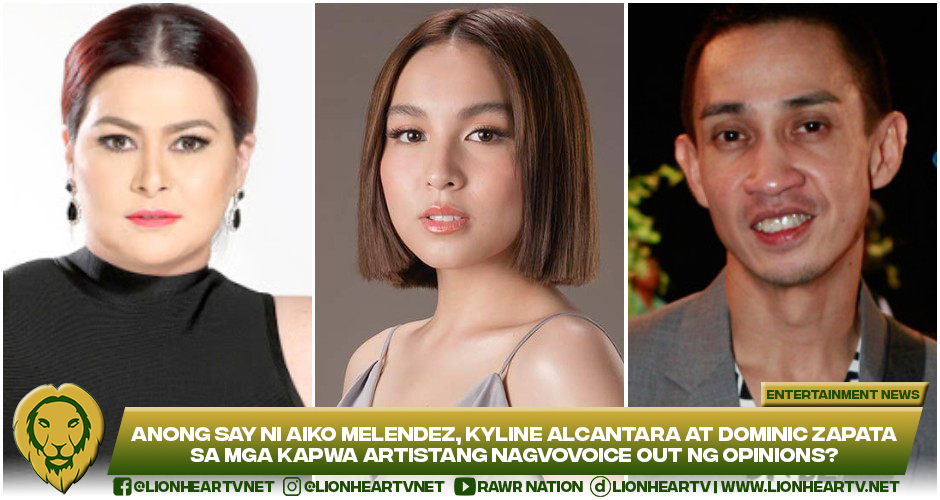 Melendez acknowledges the fact about celebrities and influencers voicing out their concerns online does help. However, she points out that there are amenable ways of expressing people's thoughts on social media. 
"Being a celebrity or an influencer; it'll help our country if we voice out. But in such a way, there's limitation. I believe kasi na when you are calling out the government for something that they have done, na hindi na please yung kagustuhan mo there's always a nice way of saying things. 
"Added pressures won't help the government," said Melendez.
As for Alcantara, she agrees with Melendez that it does help when celebs voice out their concerns. However, she urges her fellow personalities to be responsible and to take time and know both sides of the argument.
"Feeling ko, it can help. Kasi hindi lang naman po kami celebrity eh. Kumbaga mamamayan din naman po kami ng Pilipinas. 
"Pero siguro, when you voice out siguro, you have to be more responsible. You need to know both sides," Alcantara added.
As for Director Zapata, he said that he doesn't have social media. However, if he does have a platform, he bears in mind how his posts can impact those around him.
"Wala ako sa social media no. 
"If I have that platform, first of all, I'm a very opinionated person. Before I start posting something, una eh aalamin ko, who will it affect? Immediately affect.
"You are no longer just responsible for yourself. You are also representing someone, or an organization, or a family," shared director Zapata.
He also points out how it will affect GMA Network, the company he represents, highlighting the responsibility that comes with his job as a director.
"I also work for GMA. So when I say something, I also represent the network. I might put them in a weird situation. And, I have to be aware of that because it's also part of my responsibility." 
Zapata offers advice to celebs who want to inspire change through their social media presence. He discussed that some celebrities only reach those people who have the same values.
"Marami jan na nag-popost eh yung nakukumbinsi mo lang eh, yung pareho ng opinyon sayo. Wala kang nacha-change.
"Tapos yung mga gusto mong baguhin ang pag-iisip hindi mo nababago, nagagalit mo lang sila.
"Siguro, when the next time you want to post something, you have to be aware of what it is you want to achieve in the long game para may nangyari sa post mo, at nagamit mo yung platform mo ng maayos." 
As of March 31, 2021, the Philippines have 747,288 confirmed cases since the pandemic started in 2020. 
The country experienced a resurgence of COVID-19, with March having daily numbers up to 10 000. As a result, Metro Manila, Bulacan, Cavite, Laguna, and Rizal reverted to Enhanced Community Quarantine (ECQ). 
In response, celebrities and personalities posted their reactions on social media.
I Can See You: #Future aims to provide a commentary on how people use social media these days. 
Miguel Tanfelix and Alcantara top-bill the newest episodes of the anthology series. Alongside them are Melendez, Gabby Eigenmann, Mikoy Morales, and Dani Porter, and directed by Director Zapata, I Can See You: #Future airs this April 5, 2021, right after First Yaya on GMA Network.
Comments