Presidential Spokesperson Harry Roque on Monday, April 5, had claimed that Covid-19 testing is virtually free.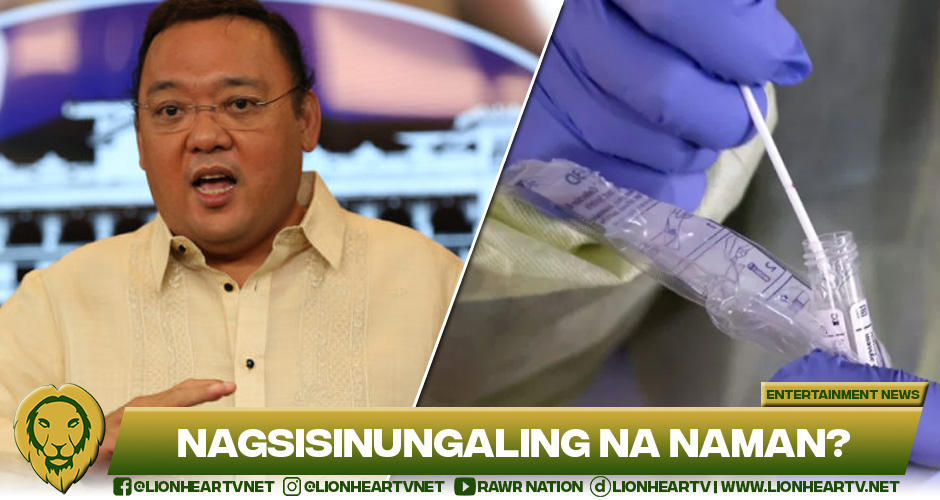 However, many netizens do not believe Roque. In fact, the Secretary has been called out to share how he got infected by the coronavirus. It can be recalled that on March 15, Roque claimed that he tested positive for Covid. He then said that he is asymptomatic and currently in isolation while attending press briefings. But he was exposed as he was not in a regular isolation center. Instead, he was in a posh hotel.
With all the lies the Secretary became known for, his statement during an interview with Karen Davila in ANC's "Headstart," was kind of malicious for many netizens. During said interview, Roque was asked by Davila what is the government's response to the calls of Vice President Leni Robredo and Marikina Second District Rep. Stella Quimbo to hasten free Covid testing.
Davila also echoed the public's concern that the testing became a business as private laboratories have conducted examinations.
Roque insisted that Covid testing is free. It is the government's plan all along to make testing available for everyone.
"Part of what we want to offer people is free diagnostic, including PCR tests. Now, I want to point out that testing is virtually free. If you are an economic frontliner, a medical frontliner. If you had exposure or if you had symptoms," answered Roque.
"So it is only asymptomatics, without exposure, who want to be tested, that will have to pay the required fee. But all you have to declare is you have been exposed, you have close contact, and that will be paid by Philhealth," he added.
Roque then took a swipe at Robredo for calling out the Duterte administration in terms of free testing.
"So I don't know what VP Robredo is saying. Because we have this protocol. That is why the Philippine Red Cross has been billing Philhealth billions and billions of pesos. Because it is the government that shoulders PCR testing," said Roque.
'TESTING IN PH IS VIRTUALLY FOR FREE FOR ANYONE WHO HAS A CHANCE OF GETTING COVID19'

Sec Harry Roque responds to VP @lenirobredo & @TeacherStellaQ to ramp up free testing in PH, "I dont know what VP Leni Robredo is saying" #ANCHeadstart pic.twitter.com/zPYsNM8xNJ

— Karen Davila (@iamkarendavila) April 5, 2021
Human rights advocate Philip Jamilla clapped back at Roque's statement. Jamilla said that the Secretary was tested 35 times just so he could have leisure time. Meanwhile, ordinary workers have to pay in order to get tested.
Harry Roque got tested for COVID-19 more than 30 times. He claims that testing is "virtually free," which only means our taxes were used for his more than 30 tests just so he can go swimming and scuba diving—while ordinary workers have to pay thousands of pesos to get tested.

— Philip Jamilla (@pmjamilla) April 5, 2021
For the exact number, Harry Roque was tested at least 35 times. It is so easy for him to get tested (and, as per his own words, for free) and he will never know the immobilizing anxiety of possibly contracting the disease at some point while having not enough money to get tested.

— Philip Jamilla (@pmjamilla) April 5, 2021
Journalist Barnaby Lo also contradicted Roque. The journalist has shown proof that in order to receive free Covid tests, a person must have symptoms first. Hence, Roque's statement is contradicting to what is actually happening since it is not free for everyone.
The two places I had inquired – our barangay and NKTI – both told me to get free testing you must have symptoms.

So it's not free for all Filipinos who think they may have been exposed to COVID-19. https://t.co/E92D25sA2I

— Barnaby Lo (@barnabychuck) April 5, 2021
A netizen also proved the journalist's comment on Roque's claim. The netizen said they have to shoulder the PCR test numerous times that her father was investigated for possible exposure to Covid.
Ay true sir. Sa ilang beses na nacontact trace father ko we had to pay for his pcr tests. Ang pr nila dito sa city namn basta contact trace ng pos ay sagot ang test. Wala nga followup ung contact tracing. For the safety of the household inunahan nalang namin yung cont team.

— grAce 🍀 (@gr4ceL4nd) April 5, 2021
And not just Jamilla and Lo who do not believe Roque, many netizens have also contradicted Roque's statement that Covid testing is "virtually free." In reality, many have paid thousands of peso just to get tested.
hehehe false. if i didnt have an hmo, i wouldve paid for my covid test despite being symptomatic. di nyo talaga alam ang ganap on the ground ano? https://t.co/No50DCnPaS

— karl (@kbomolina) April 5, 2021
I still paid for my swab test out of pocket because my HMO didn't cover it. My dad was positive but since we didn't have direct contact and I didn't have symptoms, I had to shoulder the cost. Wtf is this guy saying?! Kapagod na talaga sila. Ugh.

— Kian (@kiamoy028) April 5, 2021
Was exposed to someone who got covid a while back and the sheer thought of having my family to go thru just 1 test per person already broke me because of how expensive it is. Cant stress enough how this govt is anti poor and duque just flaunts our money as if it was hard earned. https://t.co/9coj3LlvzX

— Gabbie 🌱 (@gabbiealayu02) April 5, 2021
HONESTLY THO some of the people I work with have been sick for days now and they don't want to report it bc they'd be forced to skip work without pay. The mgmt SHOULD be responsible for symptomatic employees' RT PCR but they were just told to manage it at home w/o any testing https://t.co/udUfdvSxkE

— Mara (@maramons) April 5, 2021
Meanwhile, a netizen shared that they did not have an exit swab test to ensure that they were negative for the coronavirus. The reason is that the test kits were insufficient. As a result, they were forced to undergo self-isolation once again.
https://twitter.com/greenwittsxcz/status/1378902430381867016
Roque had been discredited by many netizens, proving that there was no free PCR test for the masses being exposed to the deadly virus. With his statement, and many refusing to believe him, is there really free Covid testing for Filipinos?
Comments