I Can See You: #Future casts Gabby Eigenmann, Mikoy Morales, and Miguel Tanfelix reacts to celebrities who are vocal on social media.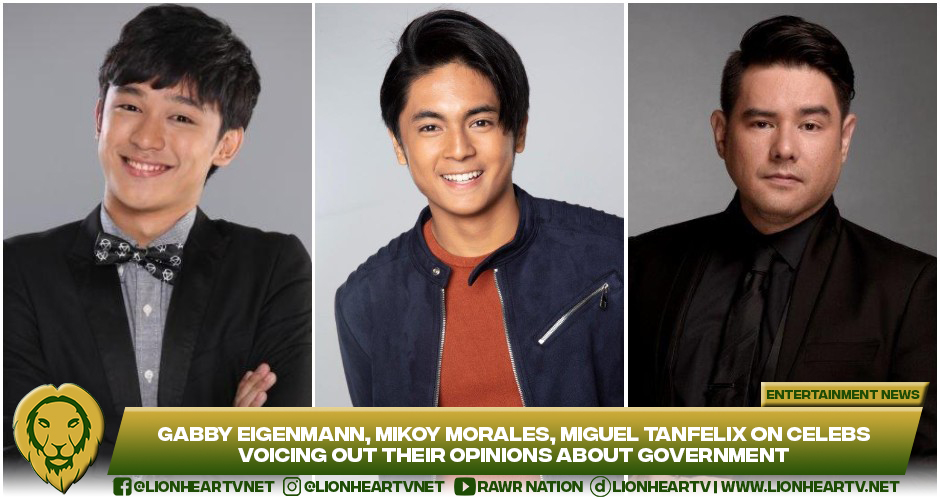 In the media conference for GMA Network's anthology series, Eigenmann, Morales, and Tanfelix shared their thoughts on vocal celebrities who use their platforms.
Eigenmann first points out that celebrities do help when they voice out. However, their reach remains limited to their followers.
"Yes, it's true. It helps if you voice out, but at the end of the day, sakop mo lang ang taong sumusubaybay sayo," said Eigenmann.
He then points out that some choose to stay back and wait on how they will treat the situation.
"There are other people who chose to stay back, sit back, not just watch, how to attack, not attack but paano ba natin ito tratratuhin," said Eigenmann.
Morales, on the other hand, celebs have difficulties in inspiring change through social media posts alone. However, he highlights that their efforts do address relative issues interconnected with their advocacies.
"Palagay ko yung geniune na paggamit ng mga public figures ng platform, hindi nya mababago yung pamamalakad sa atin ngayon. Para kang nagbubuhos ng timba ng tubig sa dagat eh."
"Pero, in a way. It does address other relative issues na interconnected sa issue," said Morales.
Tanfelix highlights that anyone can start a movement. However, he points out that people should know right versus wrong when starting their initiatives.
"Kahit sino. Anyone can start a movement. Make sure na tama yung ginagawa mo," said Tanfelix.
Afterward, he added that celebs should practice their advocacies, movements, and what they post in real life.
"And, make sure na ginagawa mo mismo yung movement na yun, hindi lang sya pinopost mo. Sa mga celebrities din. Hindi lang sya pinopost mo para sa mga followers mo. Make sure na ginagawa mo sya sa totoo mong buhay," said Tanfelix.
As of March 31, 2021, the Philippines have 747 288 confirmed cases since the pandemic started in 2020. The country experienced a resurgence of COVID-19, with March having daily numbers up to 10 000. As a result, Metro Manila, Bulacan, Cavite, Laguna, and Rizal reverted to Enhanced Community Quarantine. In response, celebrities and personalities posted their reactions on social media.
I Can See You: #Future aims to provide a commentary on how people use social media these days. Miguel Tanfelix and Alcantara top-bills the newest episodes of the anthology series. Alongside them are Melendez, Gabby Eigenmann, Mikoy Morales, and Dani Porter. Directed by Director Zapata, I Can See You: #Future airs this April 5, 2021 right after First Yaya on GMA Network.
Comments