As the country memorialize the 500th anniversary of the Battle of Mactan, Presidential spokesperson Harry Roque said that President Rodrigo Duterte is his "modern-day Lapu-Lapu."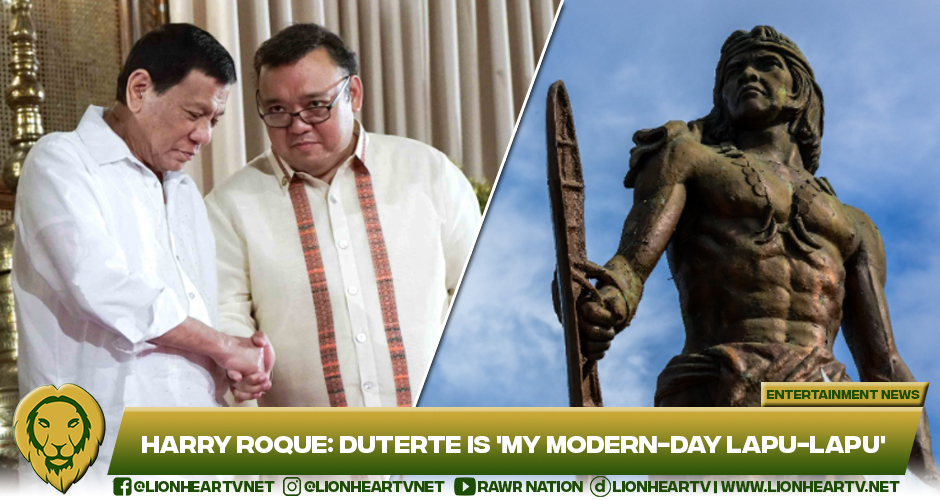 During a press briefing, Roque compared Duterte to Lapu-Lapu in terms of his independent foreign policy.
"President Rodrigo Roa Duterte is my modern-day Lapu-Lapu, lalong-lalo na po sa kaniyang polisya na independent foreign policy," he said.
"Ibig sabihin po n'yan kaibigan nating lahat, wala po tayong kaaway, wala po siya sinasantong mga dayuhan."
However, Roque's comparison did not sit well with Netizens.
Kadiri pagka-TH nitong kuhol na ito. Nakapangingilabot! https://t.co/93ytr0Cnsw

— Ma'amSyj🇵🇭 (@MaamSyj) April 27, 2021
GRIEVOUS INSULT TO LAPU2! Why heap praise on PRRD when the occasion is to highlight Lapulapu's heroism & bravery? So discomforting & inappropriate! If SPOX has nothing else to say, then no sense in saying anything! More of a lapdog,patronizing his Master regardless of anything! https://t.co/j3uZfBFN37

— KAI-TSAR (@jjj_tsar) April 27, 2021
The disgrace on Lapulapu's name and his legacy. Baho ng bibig mo Roque! https://t.co/xtrfK0oQaA

— ELLIE🌿 (@namaejudo) April 27, 2021
Writer-actor Juan Miguel Severo quipped that Duterte is a catfish, not a Lapu-Lapu (grouper), a type of fish.
He's a hito at best. https://t.co/gWaFu6Rh4j

— Juan Miguel Severo (@TheRainBro) April 27, 2021
@easy_jonathan threw shade by his imagery of a 'modern-day Lapulapu.'
Modern day lapu-lapu.

Steamed with sesame oil and soy sauce. Chinese style.

Deboned, too. Spineless, in other words. pic.twitter.com/7G7ZYFhS17

— Jonathan E. Sy (@easy_jonathan) April 27, 2021
Some of them noticed the irony of comparing Duterte to Lapu-Lapu.
Ironically, your Lapu-Lapu can't even defend the West Philippine Sea 🤡

— Remph🇵🇭 (@TheJeppSetter) April 27, 2021
Wag kami roque si lapu-lapu nakipagdigma sa mga kastila upang ipagtangol ang pilipinas sa dayuhan yung kinokumpara mo tuta sa dayuhang singkit

— ジJayD. (@kienjiel) April 27, 2021
@ViktorvonGerden said that to compare Lapu-Lapu to Duterte, who tolerated Chinese invaders–is an insult to the Mactan leader.
Lapu-Lapu is recognized for driving away the Spaniards led by Magellan.

Duterte is recognized for tolerating Chinese incursion and kowtowing to his "best-friend" Xi.

Roque comparing Duterte to Lapu-Lapu can be taken as an insult to the hero's memory.

— Viktor vonGerdenheim (@ViktorvonGerden) April 27, 2021
While Lapu-Lapu fought for our sovereignty against Spanish oppressors, Duterte is giving away our territories to the Chinese invaders.
Naku, Harrieta. Lapulapu fiercely fought against colonization of the PH by foreigners while your poon gave away our seas & reefs to China. pic.twitter.com/SN3G5KMiA5

— patricia🌴 (@pinaysipatricia) April 27, 2021
They also noted the bravery of Lapu-Lapu, while Duterte has no guts to fight for our territories.
Read up Roque. Review you history. Lapu-Lapu, despite having limited and sophisticated weapons, fought for Mactan.

The big sloth in Malacañang, just sleeps and say "wala tayong magagawa dyan" Di natin kaya ang China.

That's not the character trait of Lapu-Lapu. Big NO.

— CQBeltran (@CqBeltran) April 27, 2021
Si Lapu Lapu naka Bahag…. Yung isa walang Bayag

— D_goldenrule (@D_goldenrule) April 27, 2021
Kung nabubuhay si Lapu-lapu, ano kaya ang reaksyon niya sa pagkumpara kay Duterte sa kanya? Sino kaya ang una niyang tatagpasin, si Roque o si Duterte? Di ka na nahiya @attyharryroque sa mga bayani natin na extraordinary ang katangian compare to the traitor & inutile Duterte!

— HGT_PH (@ordalaTsGH_) April 27, 2021
Time and again, Roque never fails in delivering cringe-worthy statements–a great sign of idolatry to Duterte.
Comments