Several Netizens chided the Department of Health over its plan to create and distribute COVID-19 home care kits, an initiative already being carried out by the Office of the Vice President.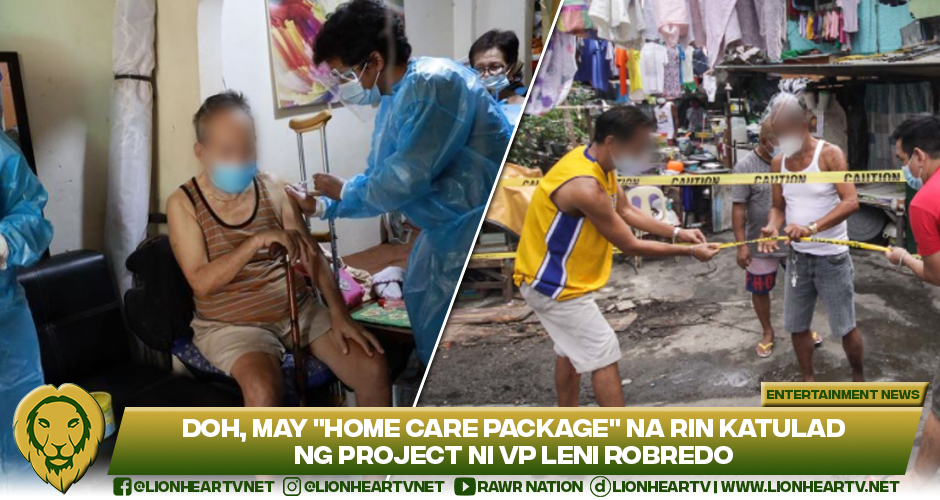 According to DOH Usec. Ma. Rosario Vergeire, the department is planning to implement the Office of the President's proposal to create COVID home care package for patients who will choose to isolate themselves in their homes to address overcrowded hospitals and isolation centers.
"The Office of the President mismo ang nag-meeting sa amin tapos sabi nila, 'yung home care package, gawin niyo 'yan para 'yung ating mga kababayan, if they wish to stay home or if they are asked to stay home, they are confident because they have this kit," Vergeire said in an interview on ANC.
Vergeire, however, added that it is still in the planning stage due to issues with the financing mechanism.
"It's going to be linked to our financing mechanism through our social health insurance kaya medyo po nagtatagal tayo nang kaunti pero immediately naman po ang utos sa atin para maipatupad. Inaayos lang po natin 'yung financing mechanism," she said.
Netizens and social media personalities called out the DOH for its 'seeming' lack of urgency.
Former IATF adviser Dr. Tony Leachon in his tweet slammed DOH's lack of urgency when people are suffering and dying.
Sense of urgency is needed. People are suffering and dying at home. https://t.co/JlY1Xh2tT3

— Tony Leachon MD (@DrTonyLeachon) April 26, 2021
Other Netizens, meanwhile, threw shade on the DOH. They said the Office of the Vice President already implemented the project.
Netizen @bumabagyo advised the DOH to borrow the project from the OVP since they are already working on it.
Ito po o, nadevelop na, hiramin niyo na lang.😊 https://t.co/94FBO1UtBz pic.twitter.com/xdVs3Fl2bm

— BA (ᜊ) (@bumaBAgyo) April 26, 2021
Same with @levyreyeslive, who said why not just replicate the OVP's care package since it is already working and that people need it urgently since many people are already dying.
OVP Leni already has a home care package, why not jist replicate what's working or augment it? While they're developong their own people are dying. Sana bilis bilisan naman nila pag kilos. They always want to equate covid with war pero napakabagal naman umaksyon.

— Levy Reyes (@LevyReyesLive) April 26, 2021
@victorgerden also told the Administration for copying OVP's project and said [obviously] Duterte took the hint from VP Leni's initiative.
Robredo initiated the Bayanihan E-Konsulta program which provides teleconsultation and free kits for home quarantine patients.

Now, Duterte orders the DOH to develop kits for home quarantine patients with a guide on how to seek medical consultation through telemedicine platforms pic.twitter.com/IsMhJsMRYc

— Viktor vonGerdenheim (@ViktorvonGerden) April 26, 2021
@pscd87, meanwhile, shared the same sentiment and said while the OVP is already implementing it, how come the DOH is still in the planning stage.
Nagawa na ni VP Leni, sila nasa devt stage pa lang? Dapat nga dati pa yan ginawa kesa sa pa yardstick yardstick ng bossing nila sa palengke.#inspiredbyleni

— 💙 TWISH 💙 (@pscd87) April 26, 2021
@chacicorn and @coalknee05, on the other hand, reminded the Administration of their previous claim that they're 10 steps ahead in addressing the pandemic, but are now they are copying the OVP's initiative.
10 steps ahead daw sila pero nakuha lang nila ang idea kay VP Leni.

— chachicorn (@chachicorn) April 26, 2021
Malacañan 10 steps ahead or a hundred times behind?

(April 11, 2021 'twas announced that) OVP distributes Covid Care kits to Covid-19 patients

(April 26, 2021) DOH said it is DEVELOPING a home care kit for mild Covid Cases

Ganon kahirap yun DOH kaya DEVELOPING pa?

— Niccotto (@coalknee05) April 26, 2021
Comments