Filipina singer Nina Girado, simply known as Nina, gave the Netizens a treat as she held a three-hour-long free concert via facebook live on Monday, April 5.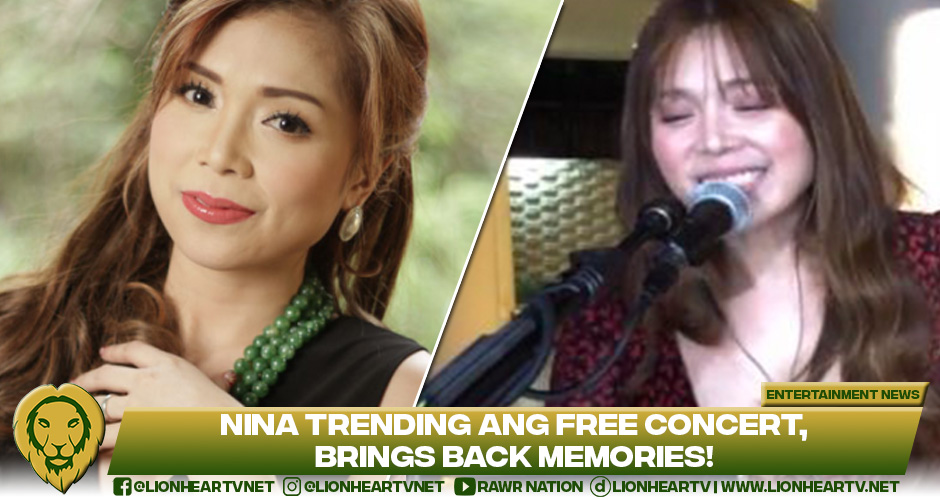 Her digital concert was a success as viewers reached more than 20 thousand people. The stream received more than 50 thousand likes on facebook with more than 20 thousand shares.
The Diamond Soul Siren sang her hit songs such as Love Moves in Mysterious Ways and I Love You Goodbye.
She also sang song requests from the Netizens which included hits like Jealous, Someday, Foolish Heart, and a cover of Olivia Rodrigo's Driver's License, among others.
Nina's virtual concert then trended on twitter as Netizens used the hashtag #NinaLive to show their support for the singer.
One netizen noted that Nina's virtual concert was what everyone needed especially during these times saying: "#NinaLive is the ayuda we never knew we needed."
#NinaLive is the ayuda we never knew we needed.

— Robbin M. Dagle (@RCDagle) April 5, 2021
Netizens made a trip down to memory lane as they mentioned that Nina's concert allowed them to reminisce the past as they went sentimental.
suddenly felt the urge to scroll down all the way to the earliest photos stored in Google Photos, and went all senti while listening to #NinaLive 🥺 pic.twitter.com/dcgoWQKKRO

— 🥟 (@dialougue_) April 5, 2021
Fanboying moment when Nina greeted me last night. Di ako makamove on. Pati sa Foolish Heart at Someday 🥰#NinaLive pic.twitter.com/vMgKS2mn3J

— Rhap Salazar (@rhapsalazar) April 6, 2021
Dedicated to you know who: "Someday, someone's gonna take your place." #NinaLive https://t.co/xeOoEI11bV

— Teddy Casiño (@teddycasino) April 6, 2021
GUUUUUUUUURRRRRRRLLLLLLLLLL. I remember the old high school me, trying to hit that note (oo, all about me).

— what are they distracting us from? (@psychokenetics) April 5, 2021
Other Netizens complimented the singer and thanked her as well for serenading their night with her free concert. People commended Nina's vocal capacity as she sang for about 3 hours straight.
You have to give props to Nina and the team for putting up a Monday night show despite the stress and the negativity.

Truly it brought us to memory lane. It gave us chills and good vibes, and also IT REVEALED OUR FREAKIN' AGE. DAMN WE'RE OLD! HAHA! Good job! 👏🏻👏🏻✨✨ #NinaLive pic.twitter.com/seb50cPXCE

— RJ Valencia (@rjvalencia) April 5, 2021
Thank you Nina for the free concert. Ang sarap balik-balikan. ❤️❤️❤️#NinaLive pic.twitter.com/BnM5Sz7Lle

— John Bryan ツ (@iammisterheart) April 5, 2021
Saint Nina of OPM, Heal us. #ninalive ivaaaaa https://t.co/XQwizu27rS

— Lioness 🦁#RegisterToVote2022❌Violence (@loveyoungdream) April 5, 2021
Dedma sa workload na due tonight. Mental health muna. #NinaLive muna! We labyu Nina! pic.twitter.com/YruiqY96ik

— callmejhayzebae (@calmmejhayze) April 5, 2021
Thank you so much for your free concert, Nina!!! I love you. You're a blessing. Thank you for making me feel better. This is exactly what I needed today. ♥️♥️♥️ Diamond Soul Siren Nina #NinaLive on Facebook Live pic.twitter.com/57ygIIkUP4

— Simon Arias (@drunkenyogiblog) April 5, 2021
#NinaFBLive#NinaDiamondSoulSiren#NinaLive

wow.
it's like she filled up MOA. pic.twitter.com/VBRXvEBpFq

— Ducky🦆 (@informedduck) April 5, 2021
Imagine 3 hours of taking requests and singing. And majority jamming lang, which means walang practice, tenga tenga lang labanan. In fairness to Nina's vocal chords and to her band too. #NinaLive

— Oh well! (@JPdHotMESS) April 5, 2021
Meanwhile, other Netizens brought the past issues of Nina into light as they mentioned the singer's issue with her ex-boyfriends Nyoy Volante and Jimmy Bondoc.
Others also quipped about Nina completely replacing the weekly public address of President Rodrigo Duterte.
Nabayaran na kaya ni Nyoy yun utang nya kay Nina?

— AltGMA🌈 (@KafosoMo) April 5, 2021
Basta, hindi ko pa rin mapapatawad si J*mmy B*nd*c nang sabihin niyang mukhang palaka si Nina dati.

— JP Habac (@jphabac) April 5, 2021
Petition to replace Du🐢 weekly public address to #NinaLive every Monday night. https://t.co/xVwWYWGYqM

— ً (@heymundster) April 5, 2021
better than du29+1 weekly address #ninalive #cloy pic.twitter.com/B54qZ5gDiX

— Pogitahhhh (@pogitahhhh) April 5, 2021
Comments