The Maginhawa Community Pantry and other community pantries have been red-tagged, especially Patricia Non, the furniture designer who started it all.
The police force also got involved as the authorities have started checking the backgrounds of community pantry organizers.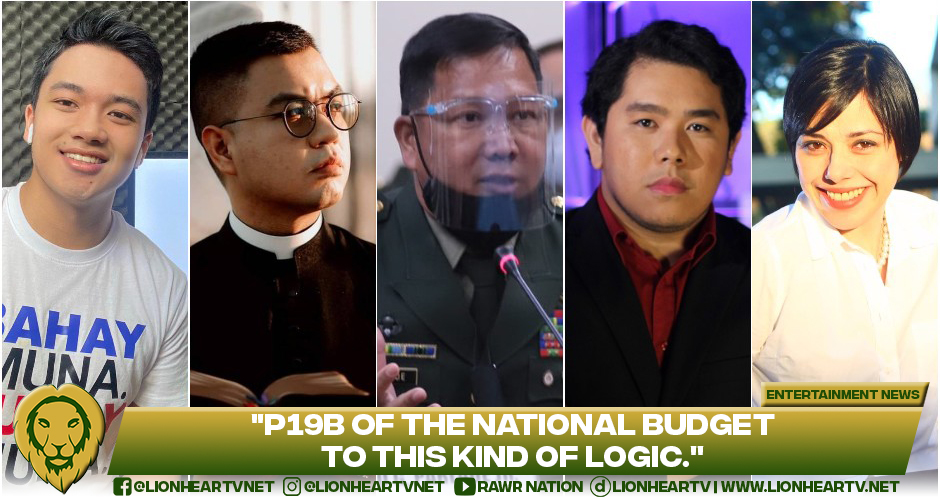 On Wednesday, April 21, National Task Force to End Local Communist Armed Conflict (NTF-ELCAC) spokesperson Lieutenant General Antonio Parlade Jr. assured the organizers not to worry.
During a One News PH interview, Parlade explained that the police are investigating organizers because some of them have 'controversial' backgrounds.
"Kung wala ka namang dapat ikatakot, bakit ka matakot?" he said during the interview.
"'Yan ang palaging ini-insist. I really don't know what is that chilling effect. Ikaw makakaramdam ng ganyan kung meron kang kinatatakot," he added.
But celebrities and Netizens got furious as the spokesperson compared Non to Satan.
"Isang tao lang yan di ba? Isang tao lang, si Patricia di ba? Same with Satan. Si Satan binigyan ng apple si Eve. Dun lang nagsimula yun," said Parlade.
Not just anger, some were also confused by how Parlade compared Non to Satan.
ABS-CBN News reporter Jeff Canoy was confused by the analogy used by the spokesperson.
What pic.twitter.com/K9EoorMqqS

— Jeff Canoy (@jeffcanoy) April 21, 2021
With that being said, Pia Magalona scrutinized Parlade for using analogies incorrectly. She even urged the spokesperson to stop using it.
Stop it with the analogies already, Parlade, et al. You can't even do that correctly. 🙄 https://t.co/QDOt0aWyrV

— Pia Magalona ⁷ #LeniKiko2022 (@piamagalona) April 21, 2021
Journalist Barnaby Lo criticized Parlade for having such contrary statements.
The spokesperson commended Maginhawa Community Pantry, but he also continues to red-tag Patricia Non, without any evidence.
Gen. Parlade says he lauds the Maginhawa Community Pantry but continues to red tag Ana Patricia Non w/o evidence.

"From the little knowledge that I know of Ana, kaya niya gawin iyon, kasi member siya ng ganito… isa tao lang siya, same w/ Satan, binigyan ng apple si Eve." https://t.co/Nj02yh76Rp

— Barnaby Lo 吳宗鴻 (@barnabychuck) April 21, 2021
Meanwhile, former PTV-4 host Jules Guiang was infuriated by Parlade's statement that he even called the general "demonyo."
Demonyo https://t.co/PFEl9vE3Lp

— Jules Guiang (@julesguiang) April 21, 2021
In another tweet, Guiang assumed that Parlade is paid to say stupid things on television. In the out-of-this-world analogy, Guiang felt that the general's paycheck must be good to allow himself and his stupidity to be immortalized on the Internet.
He must have been paid so good to say stupid things like that on TV. I mean imagine your stupidity being immortalized on the internet. pic.twitter.com/Pe3GTNi2VB

— Jules Guiang (@julesguiang) April 21, 2021
Writer Jerry Grácio got irritated by how Parlade compared Non to Satan. With the recent controversial statement from general, Grácio asked to defund the agency to where Parlade belongs to.
Ang kapal ng mukha nitong si Parlade na ikumpara si Patricia Non kay Satan!

Ano ba ang ambag ni Parlade kundi man-red tag. Puwede bang kasuhan na ito?

& please, defund the NTF-ELCAC para 'yung pondo gawing ayuda sa mga tao. https://t.co/BQrfT62ZeO

— Jerry B. Grácio (@JerryGracio) April 21, 2021
A twitter personality was so furious that he even said that the one considered to be Satan right now is Parlade himself, not Non.
WTF is wrong with this gurang's brain and his logic is shit? Kung may satanas ngayon sa mga nangyayari na to ikaw yun. IKAW SI SATANAS, PARLADE.

— ricci (@ricci_richy) April 21, 2021
Due to his anger, photographer Niccolo Cosme even cursed Parlade for comparing Non to Satan. Cosme even called the spokesperson "bobo!"
TANGINANG BOBO NITO. UGHHHH NAKAKA GALIT!!!!

— Niccolò (@niccolocosme) April 21, 2021
Former health adviser Tony Leachon also has a say with how Parlade tried to link Non to the communist movement.
He criticized the general by saying that he cannot recognize the situation of the country, where food is part of the crisis. Furthermore, Leachon said, "A heartless man dishonors his children, his parents, and his God."
If a man doesn't recognize the implications of depriving the poor and the least in society of food in crisis , he should examine his heart and soul. A heartless man dishonors his children, his parents and his God. https://t.co/v9UsuJRnEh

— Tony Leachon MD (@DrTonyLeachon) April 20, 2021
The lead organizer of Maginhawa Community Pantry shared with ABS-CBN News how authorities asked for her personal information from her and volunteers of the community pantry.
According to Non, the questions became too personal. She stressed that the police should investigate the community pantry, not her.
Non stressed that she set up the food bank was to extend help.
"Tungkol na siya sa akin, kahit hindi na dapat. Kasi ang pangalan niya is community pantry. Tungkol siya dapat sa community natin. And feeling ko, hindi naman dapat pag-usapan yung buhay ko. Lalo na ang gusto ko lang is makatulong. And madami rin ang tumutulong hindi ako," said Non during an interview with ABS-CBN.
When asked by the reporter if she filled out a form, Non denied doing so.
With how the authorities handled things, PhilStar journalist Jonathan de Santos was disgusted at the police for asking such questions.
Yuck The Police https://t.co/Te0ADkeu93

— Jonathan de Santos (@desamting) April 21, 2021
A preacher could not even comprehend Parlade's logic.
Fr. Fiel Pareja condemned how Parlade interpreted biblical events, which, according to Pareja, is dangerous. The priest also cannot understand the connection that the general is trying to establish.
On Tuesday, April 20, Parlade admitted that the counterinsurgency force, with a P19 billion budget for 2021, that they were profiling the community pantries that, according to Parlade, is being exploited by leftist groups.
"Because there are sectors trying to exploit this situation.
"Now, they're riding on these beautiful programs of civil society groups of different sectors. This is it. Because while they're in the community pantries, they're also engaged in propaganda," he said.
But during an interview with The Chiefs, a television program of One News, Parlade said that he is still trying to verify the information about Patricia Non's linkage to any communist groups.
In the meantime, the Philippine National Police (PNP) chief Debold Sinas has ordered an investigation of all the policemen involved in the profiling of community pantry organizers.
According to spokesperson Brig. Gen. Ronnie Olay, the Criminal Investigation and Detection Group (CIDG) will attend to the complaints of the organizers. The Anti-Cybercrime Group (ACG) will handle social media posts against community pantries using PNP social media accounts, including those at the police station level.
"It was the act of getting information from the organizers of the police which our Chief PNP wants to be investigated. Their presence in areas near the community pantries is only to ensure peace and order," said Olay.