The COVID-19 virus is still prevailing all the more in the Philippines. Its presence and cruelty are evident from the resurgence of cases and consecutive deaths of personalities.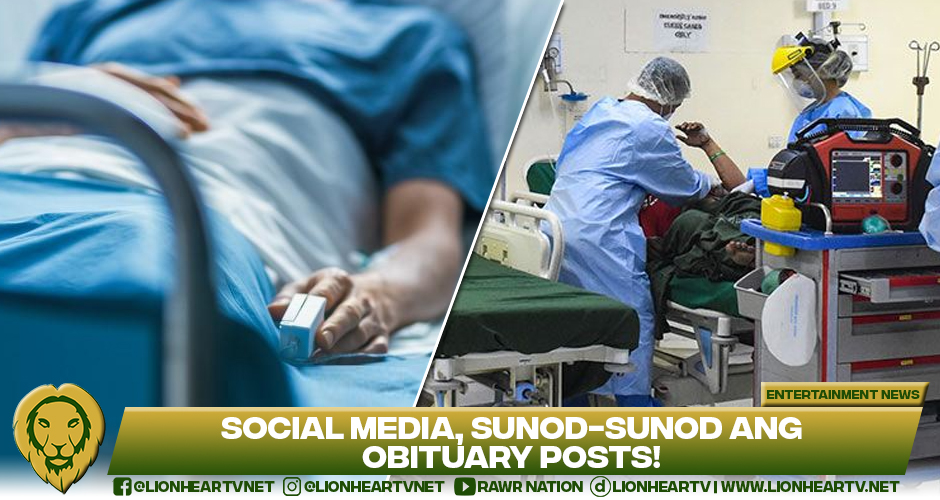 Last week, the music industry lost an icon because of Jukebox Queen Claire Dela Fuente's passing. A few days ago, actress Jean Garcia also announced the death of her mother, Sandra Garcia. Doctor Eduardo Uycoque, a pediatrician, joined other frontliners who died in the service of saving people's lives.
Social media is also filled with obituaries, announcing the deaths of different people.
My social media feed right now is filled with posts of friends, colleagues who lost loved ones due to COVID-19. This pandemic feels like we're trapped in a burning building and the fire is creeping closer every day. The gov't should be accountable for this living hell we're in.

— Mara Cepeda (@maracepeda) April 5, 2021
When people are saying that their news feeds are filled with obituaries, you know that the situation is deteriorating fast. When we cannot rely on govt, just be there for one another. Tayo na lang ang titingin at tutulong sa isat-isa.

— Jejomar C. Binay (@JojoCBinay) April 5, 2021
Paalam, papa :'( pic.twitter.com/OcOxb1wzDH

— Rodrigo de Guzman, LFP (@rcdeguzmanG12) April 3, 2021
My lola died last night. She didn't have any of her children or grandchildren by her side when she went. I had to see her gasping for air through a video chat. I want everyone to know that my lola dying alone was the direct result of this administration's staggering incompetence.

— Patroclus (@Miguelshmiguel) April 3, 2021
Sad day today for the women and men at @manilabulletin https://t.co/9rNOikeVHV

— Tonyo Cruz (@tonyocruz) April 5, 2021
Some friends are battling right now… Tinamaan sila ng COVID-19. Please pray. We have a friend na namatay, nag-iisa. I can't help but cry. Hayyy…

— Mc Richard Paglicawan (@mangyanblogger) April 2, 2021
Akala ba joke lang na paubos na ang ventilators at beds? Last night, all of our IM ER admissions are covid (+), 8 are intubated / crit ill. Last vent na ng hospital yung ginamit sa isang pt. Mare-replenish lang today dahil may namatay sa ICU at wards. It is that bad. #COVID19

— Ron Michael Castillo (@roncastillo3) April 3, 2021
Everyday nalang ako nakakakita ng kandila sa feed ko sa fb hays. Rest in peace sa lahat ng namatay dahil sa covid at kapabayaan ng gobyerno.

— 𝙱𝚊𝚛𝚋𝚞𝚛𝚊𝚝 (@josepharbetol) April 5, 2021
Yung assigned po sa Pateros, namatay po habang may COVID.

Rest in peace po.

Hindi ko po alam ang ginawa niya. Parang may meeting at inspection lang na ginawa.

Isipin niyo: may namatay nang opisyal sa COVID. Excellent response pa rin? https://t.co/FjFbzXEabG

— Peter Cayton, the Stats Guy (@PJACaytonPhD) April 4, 2021
It seems that it's going back to zero because COVID-19 is getting worse than last year here in the country.
In just a week, there was an addition of more than 100,000 confirmed cases which is alarming. The hospitals are getting fully occupied, and the health workers are overwhelmed. If the cases continue to spike, the health sector might get collapse completely.
At present, the Filipino people are waiting for the Government's plan for the situation. The current protocols are not effective because the cases are not going down.
The Department of Health should double its efforts, and the Government must start referring to a scientific basis in combatting the pandemic. They should also speed up the vaccination, which is our only hope to get through this health crisis.
Since the pandemic started, the country already logged a total of 795K cases with 13,425 deaths.
Comments