In Senator Bong Go's speech during the commemoration of the quincentennial year celebration of the "Battle of Mactan"–he twisted Philippine history in his attempt to
glorify President Rodrigo Duterte.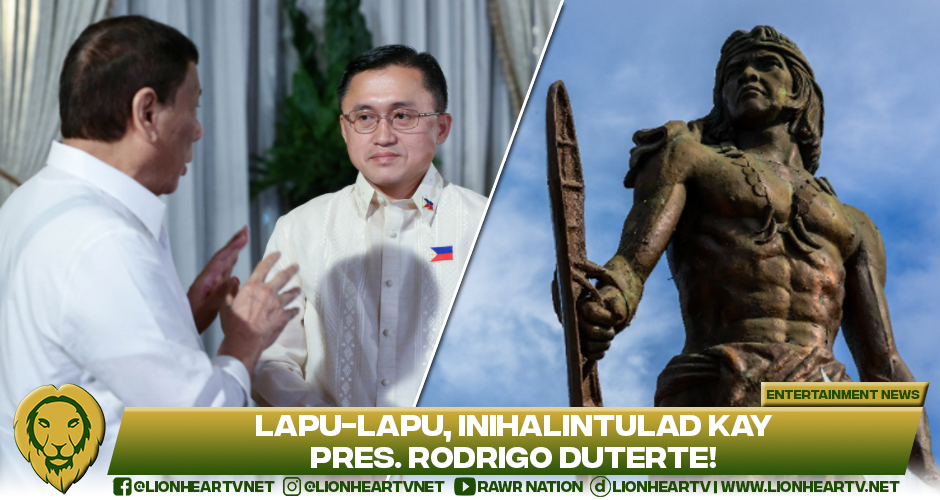 He said in his speech: "Ang East Kingdom of Sulu na siyang nagbabantay sa 707 islands ng buong Pilipinas ang nag-utos kay Lapu-Lapu na magmasid kung bakit may mga dayuhang dumaong sa ilang isla natin kasama na ang Mactan.
"Mula sa Sulu, nagsama ng maraming mandirigma ang Tausug na si Lapu-Lapu sakay ng bangka. Sinalubong sila ng mga tauhan ni Ferdinand Magellan na naganap ang Battle of Mactan kung saan namatay si Magellan. At itinanghal na bayani si Lapu-Lapu dahil sa pagtatanggol niya sa isla ng Pilipinas, kabahagi ang mga taga Mindanao sa tagumpay.
"Kaya hindi nakakapagtaka na ang minamahal nating Pangulong Duterte ay taos puso ang pagkilala kay Lapu-Lapu dahil hindi rin po niya ninanais ng ating mahal na Pangulo na patuloy tayong maapi."
Go's historical distortion, many personalities and Netizens berated him. As an elected public servant by the Filipino people–the senator does not know Philippine history.
The senator's mistake prompted journalist Alan Luigi Flores to call out the city of Lapu-Lapu to declare Bong Go a persona non grata for giving false information in his speech.
I challenge the city of Lapu-Lapu to declare Senator Bong Go persona non grata for his remarks on the 500th year of the Battle of Mactan.#BattleOfMactan #lapulapu

— Alan Luigi Flores (@luigi_flores) April 27, 2021
Blogger Max Limpag raised an eyebrow at Go's falsification of Lapu-Lapu's identity.
In the lawmaker's speech, he said that the chieftain was a Tausug and was sent to investigate the presence of foreigners. There he was met by Magellan, hence the Battle of Mactan occurred.
On a historic day, at a historic site, Sen. Bong Go shares wrong information about Lapulapu, that he was a Tausug sent to check presence of foreigners and was met by the forces of Magellan and thus the Battle of Mactan happened.

— Max Limpag (@maxlimpag) April 27, 2021
A Netizen even emphasized that grade school students know the history of the Battle of Mactan than the senator.
https://twitter.com/dalgoms0ft/status/1386987345740664833
A twitter personality was even shocked that the Philippine islands, as per Bong Go, were only 707. But the truth is, the country consists of 7, 641 islands, contrary to what the senator said during his speech.
Kinabahan ako s speech ni Bong Go.. bkit 707 nalang island ntin.. naubos n ata kapapamigay!

— Eyan  (@drahcirnai) April 27, 2021
A Netizen pointed out that Bong Go's knowledge about the Battle of Mactan came from Sangkay JanJan, a DDS influencer on Youtube.
Senator Bong Go just distorted Filipino history; this is a basic example of watching too much Sangkay Janjan YouTube historical scholarship, disgusting.

— Zuriel Domingo (@domingozuriel) April 27, 2021
Blogger Sinjin Pineda even called the senator "crazy" as Bong Go twisted a 500-year-old history.
Cray 😧 https://t.co/tpi7007SHr

— SINJIN GLORIOUSTV Pineda (@thesinjinpineda) April 27, 2021
With Bong Go's ignorance about Philippine history, journalist Noemi Dado even suggested that the senator should study more on the country's antiquity.
Senator whose name is not worth mentioning needs to brush up on Philippine History https://t.co/gFJhT6Hk8L

— Noemi L. Dado (@momblogger) April 27, 2021
A Netizen then concluded the reason why Bong Go was misinformed: his whisperer was not by his side.
Wala sa tabi niya yung taga whisper ng info? https://t.co/bxnN14dEcs

— 𝚁𝚎𝚝𝚌𝚑™ (@retch38c) April 27, 2021
Opposing Sen. Go's statement, Filipino Public Historian Prof. Xiao Chua clarified that Lapu-Lapu was not a Tausug nor a Muslim since he eats pork.
"The other things, na siya (Lapu-Lapu) ay Tausug daw na nagmula sa Sulu na nagpunta sa Cebu. (Doon sa mga nagsasabi na) siya ay isang Muslim are not true because in the Visayas, they were eating pork," shared Chua during the interview with PhilStar.
Another distortion with the historical Battle of Mactan was that Lapu-Lapu was sent by the East Kingdom of Sulu to check on Magellan.
Such information was also wrong. As a matter of fact, Chua clarified that Magellan made a pact with Rajah Humabon, who he promised that he would be a representative of King Phillip II of Spain, a king of kings in a way. However, Lapu-Lapu opposed such an idea.
"Gustong pakialaman ni Magellan, like in Europe, may emperador tapos hari siya ng mga hari. Humabon liked that idea to be king of kings in a way but Lapu-Lapu did not like it. So naningil ngayon because Humabon was very crafty," said Chua.
According to the historian, the reason why the Battle of Mactan happened was because of Magellan's boastfulness, that he and 49 of his crew can take on 1,500 battle-hardened warriors of Lapu-Lapu.
"The Battle of Mactan happened because Magellan said ipagtatanggol namin kayo sa mga kaaway ninyo, and so pinagtanggol nga niya. Magellan even said (to Humabon) to not help his crew, but just watch.
"Of course, Humabon did not at 'pag lumaban pa si Humabon doon, hindi siya makakapag-hugas ng kamay," he explained.
Comments