MANILA, 15 April 2021 – Spotify, the world's most popular audio streaming service, today unveiled its partnership with eight new Filipino podcasters, further expanding its localized audio offering in the country. Accessible to both Free and Premium users, these podcasts are available exclusively on Spotify as part of the 2.2+ million podcast titles available on the platform today.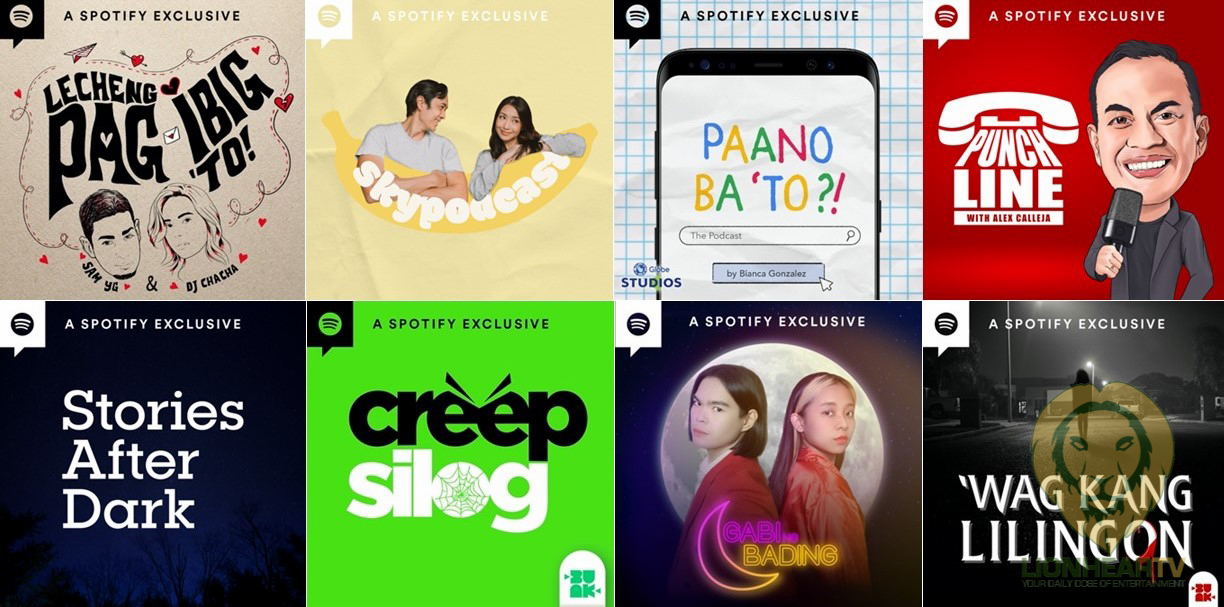 The introduction of the eight additional exclusive podcasts is part of Spotify's continued commitment to drive the growth of podcasts in the Philippines and connect audiences with their favorite local content creators. Expanding the range of homegrown Pinoy content, the newly signed Spotify Exclusive Podcasts made for Filipinos by Filipinos include new genres like true crime and horror—both up and coming categories of storytelling in the Philippines.
"We're seeing an increased demand for podcast content in the Philippines. Following our series of Spotify Originals launched in February this year, we are thrilled to expand our Exclusive podcast offering in the Philippines, working with more local podcasters to tell their stories, create content that matters, and connect with listeners in the most intimate way," said Carl Zuzarte, Spotify Head of Studios for Southeast Asia.
Starting from today, the eight new Filipino podcasts that are available exclusively and on-demand for free and premium listeners on Spotify are:
• skypodcast: Get to know celebrity couple Slater Young and Kryz Uy in unplugged and uncensored conversations about everything from life and relationships to family and memorable misadventures
• Wag Kang Lilingon: Grace Marcellana and Mimai Cabugnason, two girls with an enduring fascination for the weird and strange dive deep into a world of hair-raising and spine-tingling tales of horror, mystery, true crime, and suspense.
• Creepsilog: Hosted by Gideon Mendoza and Glenn Tabarejos – this podcast tackles a series of strange phenomena including creepy paranormal events and disturbing occurrences with a dash of true crime and classic Filipino light humour.
• Stories After Dark: Chilling and in-depth retelling of Filipinotrue crime stories from recent events to decade old unsolved mysteries – this narrative-based investigative podcast brings detailed and intimate storytelling to listeners.
• Paano Ba 'To: The Podcast: Filipino television host and model, Bianca Gonzalez, answers letters from listeners asking for advice on life, career, love or self, in the hopes of helping listeners make life's problems a bit more bearable.
• Punchline with Alex Calleja: Actor and stand-up comedian, Alex Calleja, discusses the world of comedy and showbiz alongside guests with their own funny stories to share.
• Gabi ng Bading: LGBTQ advocates and good friends AC Soriano and Yani Villarosa provide a fresh perspective on topics, stories, and current events that matter to the LGBTQ community in the Philippines.
• Lecheng Pag-ibig 'To! : Featuring Sam YG & DJ Chacha, the duo covers conversations on love, relationships, and everything in between, giving listeners honest advice that they can apply in their own love lives.
"We're very excited to be working with Spotify to provide Pinoys real-life relationship advice – covering everything from heartbreaks, relationship goals, to lessons around how to love again after you've been hurt. Now exclusively on Spotify, we're able to remind listeners that sometimes your heart needs more time to accept what your mind already knows," shared Sam YG, co-host of local podcast Lecheng Pag-Ibig 'To!.
For skypodcast's Kryz Uy, whose content creation journey has gone from blogging to, social media to vlogging, her podcast with husband Slater Young presents another channel for their followers to get to know them through unfiltered conversations between them and their guests.
"The best conversations are always spontaneous and that's how Slater and I want our podcast to be. It's like hearing your friends talk about everyday events. In a way, listeners get to know us a bit more intimately as we chat about life, relationships, careers. Sometimes, even the beauty of spacing out," Kryz said.
The launch of these new eight podcasts follow the introduction of seven Pinoy Spotify Podcast Originals in February 2021, and nine Pinoy Spotify Exclusive Podcasters in October 2020.
Listen to these podcasts on Spotify now.