Former broadcaster and now Foreign Affairs Secretary Teddy Boy Locsin who's always present on Twitter has thrown shade against ABS-CBN news concerning the incident that happened on the West Philippine Sea.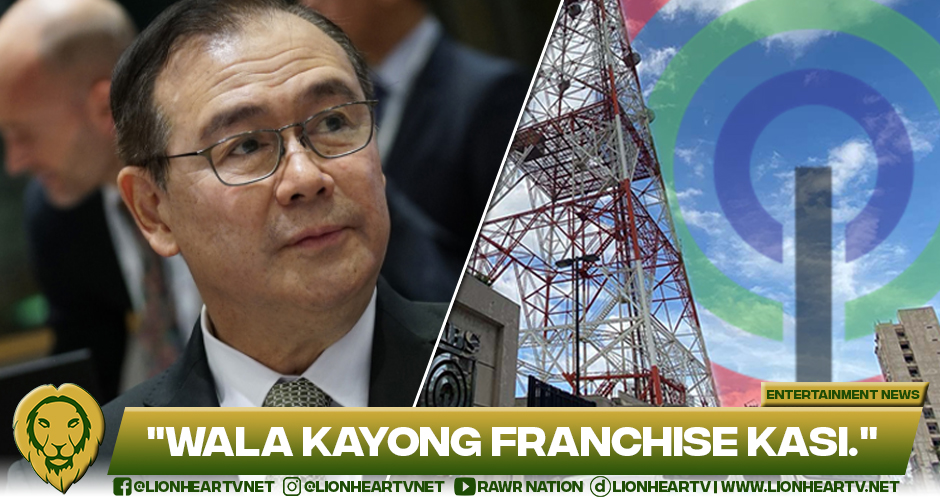 In a now-deleted tweet, Locsin scolded ABS-CBN over Chiara Zambrano's report from the WPS where they were chased by Chinese ships including those that carry missiles.
According to Locsin, the incident is a result of the network having no franchise. He even goes to the length of blaming ABS-CBN for not applying for the renewal of their franchise early on during the term of former President Gloria Macapagal-Arroyo where Locsin was then a Congressman of Makati and member of the Legislative Franchises Committee.
"Wala kayong franchise kasi. Sabi ko na, mag apply kayo in GMA time when she signed your giant Meralco franchise. I told you na, go for ABSCBN prangkisa too; we're on a roll; and I was in Committee on Franchises – an ex-ABSCBN talent. Wala, shy daw. Pasok si PNoy: NO!!" Locsin said.
On Thursday, Zambrano reported that her news team tried to go to the Ayungin shoal to gather news reports about the Filipino fishermen's state amidst hundreds of Chinese vessels stationed inside the Philippines Exclusive Economic Zone. But the news team wasn't able to push through after the Chinese coastguard blocked them and while they're on their way back to Palawan, they were chased by the Chinese vessels including two Type-22 (Houbei Class) Fast Attack Crafts.
Meanwhile, after leaving ABS-CBN and becoming part of the Duterte administration, Locsin on several occasions shared antagonistic sentiment against the Network especially about their franchise.
Locsin like in his latest tweet has always maintained that not only Duterte doesn't want to renew the Kapamilya network's franchise but also former President Noynoy Aquino.
In his January 1, 2020 tweet, Locsin insisted that PNoy also indicated opposition to renew ABS-CBN's franchise thus their 2015 franchise application didn't push through.
Oddly PNoy too indicated he would not renew ABSCBN's franchise; only Joma Sison wants to renew it but will he do it when he is president? Ok. Back to my spiritual retreat.

— Teddy Locsin Jr. (@teddyboylocsin) January 1, 2020
ABS-CBN has filed for renewal as early as 2015. However, according to House insiders, ABS-CBN failed to secure renewal at the time because of strong opposition from other cable operators.
House allies of President Aquino were also hesitant because of the Network's continuous criticism against the administration, which PNoy allegedly felt was too offensive and personal to the point of nitpicking.
There were also speculations that PNoy asked ABS-CBN to remove its news anchors Noli De Castro and Ted Failon in exchange for renewal because of their harsh criticisms against his administration.
Comments