Miss Universe Philippines 2020 candidate Rabiya Mateo reminded the Filipino pageant fans to refrain from throwing racist and hateful comments at her fellow Miss Universe candidates.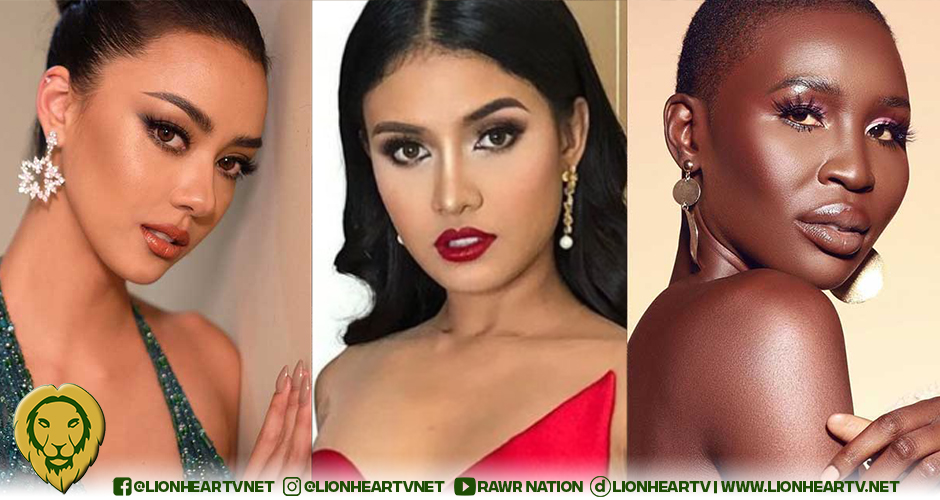 Among the candidates, Miss Universe Canada Nova Stevens and Miss Universe Thailand Amanda Obdam received such unruly comments.
Stevens and Obdam got affected by the bullying, and Mateo, too.
On May 4, Stevens exposed the comments she received from the Filipinos. Stevens got disappointed as her inbox got flooded with such hurtful words.
View this post on Instagram
Stevens's post did not generalize the Filipino pageant fans as complete racists but she highlighted the term "some."
In addition, she also stressed that Filipino pageant fans can support their delegate by either not pulling the other delegates down or degrading them.
Later that day, at a zoom online conference held on May 5, journalist Armin Adina of Philippine Daily Inquirer interviewed Rabiya Mateo about this matter.
Saddened by the unfortunate event, Mateo said, "You know what, it makes me really sad.
"I saw the post of Nova earlier today and I really feel sorry [for] her because nobody deserves to be in that position.
"I've been bashed, you know. And there was a moment that a lot of people would tell me, 'That's normal, you're a beauty queen.'
"But I've seen how… it affected not just me but also other candidates. We have a WhatsApp group and we would talk about it.
"Even Miss Chile would be very much open about the frustration that she's getting from reading her social media," she expressed her deep frustration.
According to Mateo, she has done plans and she sought help from her solid supporters to put an end to this seemingly racism as well as the toxicity.
"I would always… from time to time, I would ask a general meeting with my solid support group and I would tell them, 'Once you see somebody getting bashed, you report that account, you correct them.'
"And it doesn't feel good, it doesn't feel nice [to be bashed]. And I need to do something to stop it."
Mateo also said that she personally sent messages to Stevens and Obdam as an apology for the racist insults that the two received.
"And actually, I talked to several girls. I actually personally sent messages to Amanda, to Nova saying sorry.
"Because these hate speeches that we see online, this is not a reflection of who we are as Filipinos.
"I can say that we do love pageants, and we support girls.
"And with Miss Universe, the goal is to celebrate the differences and to be with the girls and the cause that they stand for."
Mateo then shared that she has plans to raise awareness about this matter by doing an anti-bullying campaign video.
"That's why this is a very emotional topic. And I would always campaign, as a person, I do not tolerate bullying in all forms and in always.
"That's why I'm actually planning to make a video, me and the organization is planning to make a video to make an appeal to the public to stop being rude. Because it costs nothing to be kind."
Other Netizens expressed their disappointment via twitter.
Twitter user Adrian Amores shared how disappointed he was due to the bullying that the Filipinos are doing against Stevens's complexion.
https://twitter.com/bryadriann/status/1389866563755413505?s=19
Twitter user Nikko Trinidad got furious because of the toxicity that the other Filipinos bring. He was concerned about Rabiya Mateo's chances of winning after some Pinoy racists wrote hateful comments against Stevens.
ang toxic ng ibang pinoy! nadadamay ung tsansa ni Rabiya dahil sa mga hateful comments nila sa ibang kandidata! Nagpost tuloy si Miss Canada! #MissUniverse2020 Nagapologize tuloy si Rabiya! HmpF

— ηιккσ тяιηι∂α∂ (@thegreatnikko3) May 5, 2021
Another user expressed that Filipino pageant fans can either be the best fans or the worst fans that one could ever encounter.
Some Filipinos are fond of throwing judgments on others as they assume to be perfect enough.
Filipinos are the best fans and the worst fans pag dating sa pageants!! Nakakahiya some Filipinos na nagcomment sa mga other candidates lalo na kay Ms.Canada!! Akala mo naman napaka perfect ng ibang pinoy grabeee lang, I hope di maka apekto ito sa laban ni rabiya huhuhu

— Diosa🌈👑 (@rovic_nicol) May 5, 2021
Diablita CINCO has a different perspective on Stevens's Instagram post about bullying.
For her, she thinks Stevens doesn't have to post much if all she wanted is to spread awareness regarding racism.
But she is also not proud of what the Filipinos have done.
Unpopular Opinion:
As a Filipino,I am not proud that some of our countrymen resulted to cyberbullying against Miss Canada.
But I feel like it was unecessary for her to screeenshot and post those particular mean comments if all she wanted was to spread awareness regarding racism.

— Diablita CINCO😈 (@callmekaiii) May 5, 2021
The same goes for Harley Davidson-Gonzales.
He finds Stevens's post as a publicity stunt. If Stevens aims to raise awareness about bullying, she should single out Filipinos alone. She should have put her focus on racists all over the world.
So in order to get enough attention, call out the bashers from Filipino Pagent Fans. I find this as a publicity stunt for Miss Canada. If she really wants to shed light to racism why not call out all countries doing this and not highlight only the PH. #missuniversecanada

— Harley Davidson-Gonzales (@mynameis_david) May 5, 2021
As for Frank Cimatu, ban all racist Filipinos from social media platforms to avoid bullying.
Social media platforms should ban all these Pinoys saying racist things against Miss Canada

— Frank Cimatu (@unholyhours) May 5, 2021
@Superbraxstar tweeted that racist comments did just come from Filipinos since other countries are doing the same thing.
i understand that the racist comments toward Miss Canada did not only come from people from our country, but did that change anything? are we not racist anymore bc other people from other countries also do it? NO.

bottomline is, RACISM IS WRONG.

— BRAX #SaveLumadSchools (@superbraxstar) May 6, 2021
Twitter user Shirtless Pinoy said that Mateo's apology is not needed since it is not her who did racist insults.
Hindi naman kailangan ni Rabiya na mag apologize sa ginawa ng mga toxic racist fans. Pero ako din, parang gusto ko din humingi ng paumanhin kay Miss Canada lalo, grabe, human race, este Filipino race, blessed kyo masyado no? Kyo lang pinagpala ng Diyos. So masaya ba naman kyo? https://t.co/2xMEBoZ5ef

— Shirtless Pinoy 🏳️‍🌈 (@PinoyShirtless) May 6, 2021
Mami Chary, a Netizen tweeted how disgusting racist Filipinos are as they insulted Stevens.
https://twitter.com/teanatsaran/status/1389749305058086916?s=19
Mateo, Obdam, and Stevens are among the 74 candidates competing for the Miss Universe 2020 crown.
The 69th Miss Universe is at Seminole Hard Rock Hotel & Casino in Hollywood, Florida, telecast live on May 16.
Comments