A national artist is currently earning flak after he likened Pres. Rodrigo Duterte to former President, Ramon Magsaysay, Monday, May 3.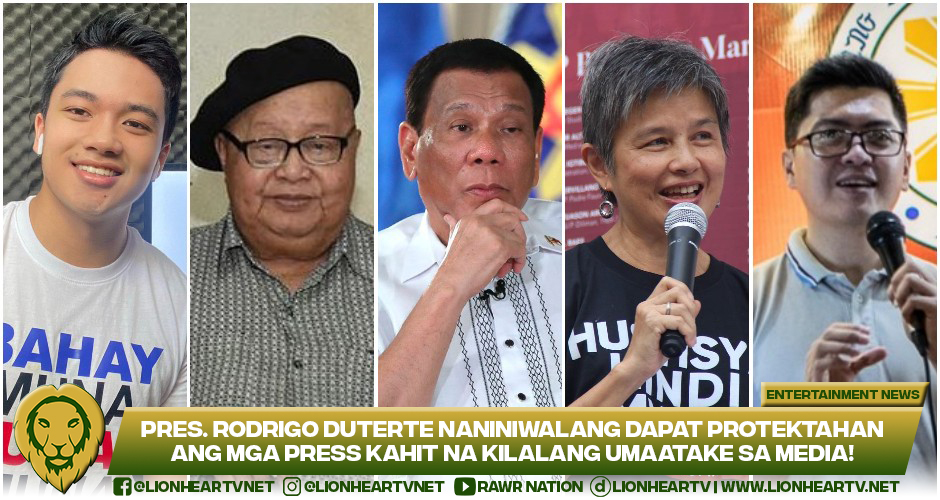 National Artist for Literature F. Sionil Jose in his column stated that "Rodrigo Roa Duterte may yet be, next to Magsaysay, the best president we ever had."
It can be recalled that during the height of the ABS-CBN franchise controversy, Sionil posted on his Facebook post that Filipinos "do not really need" the Network. His post earned flak and even received an open letter from a fellow writer.
Now, he claims that "the country is far safer now than at any other time."
However, such declaration coming from Sionil once again earned the ire of personalities and Netizens.
A Twitter personality named MrsHan contradicted Sionil for stating that the Philippines is "safer" with Duterte's leadership. She noted the million of Covid cases as well as the dispute along the West Philippine Sea where the Philippine President is silent about.
1M++ #COVID19 cases that's bringing the hospital system to the brink of a humanitarian crisis…

China's incursions into our territory/ abuse of our fisheries go without a peep from Duterte.

EWAN KO SAYO BUT THATS THE POLAR OPPOSITE OF "SAFE"!!!!!#DutertePalpak #Gaslighting https://t.co/50cqwddwuG

— MrsHan (@MoxieLi) May 3, 2021
Former PTV-4 host Jules Guiang criticized Sionil for "resting conveniently on his laurels" after he aligned Duterte next to Magsaysay. For Guiang, the National Artist should have considered the "realities on the ground" before declaring Duterte as the second-best Philippine president.
This national artist is resting conveniently on his laurels without aligning with the realities on ground. Of course he'd feel safer, he's a national artist. https://t.co/U8X8XF8oGI

— Jules Guiang (@julesguiang) May 3, 2021
Columnist Noemi Dado pointed out that the National Artist may be living in a bubble because of his claim.
F Sionil Jose could also be living in a bubble. https://t.co/j1RO5tGCY4

— Noemi L. Dado (@momblogger) May 3, 2021
Kristoffer Pasion, a Twitter personality even called Sionil "deaf" to the misery of the nation.
F. Sionil Jose has to answer the questions posed by his book titles now that we are in the pandemic:

Why are we poor???
Why are we hungry???

A national artist deaf to the misery of the nation.

— Kristoffer Pasion (@indiohistorian) May 3, 2021
Twitter personality Mia Magdalena Longid concluded that the "F" in Sionil's name stands for either "Forgetful", "Fanatical", or "F*cked up".
Does the F in F. Sionil Jose stand for forgetful? Or fanatical? Or f*cked up?

— Miss Maggie (@MiaMagdalena) May 3, 2021
Jaecee Lim, an online celebrity does not believe Sionil's claim that Duterte is the next best President next to Magsaysay.
Talaga ba? Hahaha

— Jaecee Lim (@jaeceelim) May 3, 2021
Freelance journalist Bryan Ezra Gonzales speculated that the national artist needed to praise Duterte since he has become "irrelevant".
Has he become so irrelevant that he needs to praise the President just to get into the news loop? https://t.co/ODCoqhOdkD

— Bry Gonzales (@brygonzales_ph) May 3, 2021
Comic artist and scriptwriter Noel Pascual pointed out that Sionil's name being ridiculed is due to the fact that he has not written anything memorable that can be used to mock him.
Imagine you're a writer and people want to ridicule you for saying some dumb shit but you haven't written anything memorable enough to be referenced so they just make fun of the F in your name. https://t.co/GgKpBwQrYM

— Noel Pascual (@noelvpascual) May 3, 2021
Journalist Atom Araullo's mother, Carol Araullo lost respect to Sionil as he claimed Duterte being as great as Ramon Magsaysay.
OMG! I just lost my respect for someone I thought was worth it. https://t.co/fbmaCqR2jy

— Carol Araullo (@carolparaullo) May 3, 2021
Duterte and Magsaysay
Former Philippine President Ramon Magsaysay was considered to be the "best president of the Philippines". He was even coined as "Champion of the Common Man," "Man of the Masses," or "The People's President." Magsaysay's traits loomed over Filipinos as being sincere, humble, simple, informal.
Meanwhile, the current Philippine President, Pres. Duterte, has shown simple life. He is also very informal, similar to the late Pres. Magsaysay.
Magsaysay did not like corruption. During his tenure, though short, he fired officials who were shown to have been involved with graft and corruption. However, Duterte appointed proven corrupt officials such as former Pres. Gloria Macapagal Arroyo, who was charged with plunder.
In terms of insurgents, Macapagal tried to eradicate those who fought the government through his countless social reforms. For the poor, Macapagal served as their voice after realizing that rebellion will not end if the government will not hear the cries from ordinary people. Duterte on the other hand created a task force to combat insurgents.
Comments