During the much-awaited 69th edition of the Miss Universe competition today on Monday, May 17 (Sunday, May 16 in the US), netizens criticized and poked fun at Olivia Culpo's meme-worthy behavior while hosting the finals of the said pageant.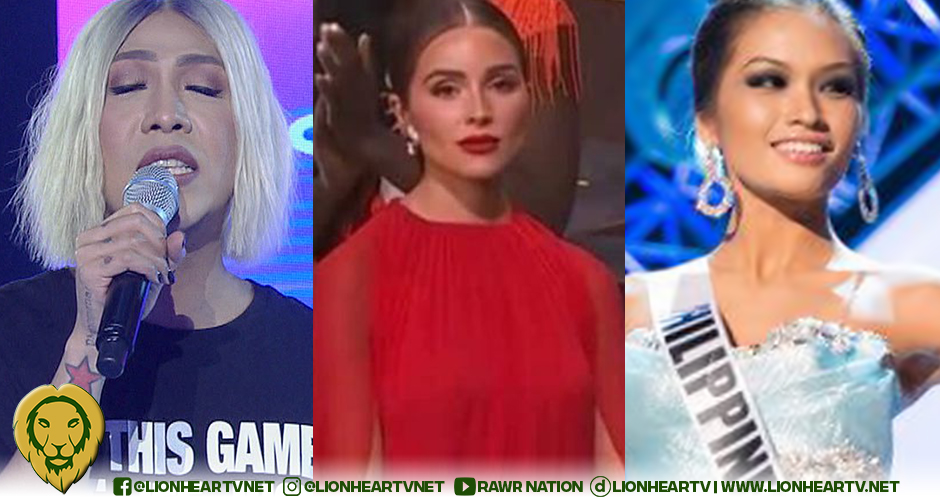 Some claimed that the former Miss Universe (2012) lacked energy as co-host to Mario Lopez.
On twitter, several local TV personalities and other Netizens gave their opinion about Culpo's hosting skills.
Some Netizens noted that Culpo was such a bore in announcing the reading out the spiels and announcing the winners.
Vice Ganda tweeted about Culpo's hosting saying, "Wala sa sarili si Olivia. Balisa! Bukas ba 3rd eye mo te?"
#MissUniverse#PHILIPPINES
Wala sa sarili si Olivia. Balisa! Bukas ba 3rd eye mo te?

— jose marie viceral (@vicegandako) May 17, 2021
MJ Lastimosa said that JT (Janine Tugonan), who was in the audience at the time, could replace Culpo in hosting the pageant.
Kaya mo pa siguro Miss Olivia, andito si JT kung indi na 🙂 🙁

— MJ Lastimosa (@MJ_Lastimosa) May 17, 2021
Other personalities like Kaladkaren and Macoy Dubs also gave their comment on Culpo's hosting.
Bakit parang hindi masaya si Olivia Culpo?! Smile ka naman sis… hello daw sabi ni Janine! Charot

— KaladKaren (@jervijervi) May 17, 2021
Konting energy naman diyan, Sis Olivia Culpo.
Mag Milo everyday. Chareng.

— Macoy Dubs #StopTheAttacks (@macoydubs1) May 17, 2021
Filmmaker JP Habac said, if Culpo was dealing with a personal problem, she should not bring it during that gig.
May problema ba 'tong si Olivia Culpo? Pakisabi sa kaniya hindi dapat dinadala sa trabaho ang problema.

— JP Habac (@jphabac) May 17, 2021
me to the hosts' way of announcing the winner:#MissUniverse #Rabiyaforthe5thcrown #PHILIPPINES pic.twitter.com/6YFy0bebis

— Val Ánjelito (@vrllamelo) May 17, 2021
olivia culpo did not understand the assignment pic.twitter.com/CDmdinbDoO

— josef (@arieIIesotto) May 17, 2021
We need this kind of energy Ms. Olivia Culpo #MissUniversepic.twitter.com/Ex5f9DgCEA

— ΛNGΞLO (@angeloistic_) May 17, 2021
everyone to olivia culpo rn:#MissUniverse #PHILIPPINES pic.twitter.com/NoLQhjNSx9

— miggy (@bergeronspol) May 17, 2021
Some netizens said that Miss Universe 2012 1st runner-up Janine Tugonon should take over since she's there in person–watching the show.
Culpo won the Miss Universe back in 2012, and the tension between the two got heightened [once] again as Netizens claimed that Tugonon was the rightful winner back then.
May nagcomment:

Nasa audience lang si Janine Tugonon, pwede sub as host kay Olivia Culpo? Kasi diba, if for any reason that the Miss Universe cannot fulfill her duties, the 1st runner up shall take over.#MissUniverse #AribaRabiya

— Jodilly Pendre (@jodigagaa) May 17, 2021
Olivia Culpo is hosting the show. Janine Tugonon is in the live audience. The universe will never forget what Olivia took away from Janine. #MissUniverse

— Rhussell Famy (@rhussellfamy) May 17, 2021
https://twitter.com/adiyongg/status/1394086566604140548
olivia culpo knowing janine tugonon is in the live audience and she should be the one hosting this show instead of her. 🤡#PHILIPPINES #MissUniversePhilippines #MissUniverse pic.twitter.com/m4vbKLxwJ4

— the girl named julius ♌ (@louise_naag) May 17, 2021
i bet olivia is botthered because janine tugonon is part of the audience but okAY OLIVIA CULPO GO GIRL GIVE US NOTHING
pic.twitter.com/VOBuEfaOj7

— a (@Iordjisoos) May 17, 2021
Culpo hosted the Miss Universe this year with Mario Lopez.
Some Netizens also noted that Steve Harvey should have been the one to host the event as the Emmy Award-winning comedian is known for his high energy in hosting.
He previously hosted Miss Universe 2015 and 2018–where Pia Wurtzbach and Catriona Gray, respectively, won the crown.
Miss universe without Steve Harvey is never the same. They say two is better than one but I kind of doubt that now. Olivia Culpo makes me want to go back to sleep. 😴
Please put some energy! #MissUniverse2020 #MissUniverse #PHILIPPINES#AribaRabiya

— Mark (@juanmarkus_) May 17, 2021
Pero bat ganun, ang boring nang #MissUniverse Ms #OliviaCulpo was too sluggish, you should do your job and make it alive.. #SteveHarvey still the best. Next time, host should eat first. 😁😂 pic.twitter.com/fp0YT65O4Z

— Suntte (@EzevSuntt) May 17, 2021
Bring Steve Harvey back! Olivia Culpo looks bored and does not want to be there! #MissUniverse

— Naomi Gray (@GraySpec4nay) May 17, 2021
Olivia Culpo and Mario Lopez have got to be the most boring hosts ever! Wasn't a big fan of Steve Harvey but he was a great announcer! #MissUniverse2020

— Lenor A (@LenorxXx) May 17, 2021
Meanwhile, netizens also made a funny meme about Olivia Culpo after her reaction of disbelief after announcing one of the runner-ups in the competition.
yung dinoble check mo sagot mo sa Test 1 and Test 3 after mo mangopya sa classmate https://t.co/KZwqIQf8EC

— Macoy Dubs #StopTheAttacks (@macoydubs1) May 17, 2021
Same Olivia, same. Ahahahahahahah pic.twitter.com/oFYxEACG7c

— Jorell (@jojojojooe) May 17, 2021
Potah, pano nanalo si Mexico? Modus ah. – Olivia Culpo#MissUniverse pic.twitter.com/t60JkouesZ

— g3 san diego (@g3cafe) May 17, 2021
We feel you @oliviaculpo https://t.co/PIY8FWoMYl

— JBL 🙂 (@JonasisYohan) May 17, 2021
Olivia culpo says Peru,Thailand and India deserves to be a winner😂🤣😘 pic.twitter.com/IV2xws2tKL

— Mary grace vhaneza (@MVhaneza) May 17, 2021
I'm so sorry Miss Mexico but Olivia Culpo is the real winner for tonight. Best in reaction from start to end, meme worthy! #MissUniverse pic.twitter.com/HtBBTuR9xL

— Zeke (@zekemartinx) May 17, 2021
Olivia Culpo is the high light of this year's miss universe. The energy, and her reaction is everything. #MissUniverse   #MissUniverse2021 pic.twitter.com/LmjgloujtO

— Rio (@sun__rio) May 17, 2021
When Olivia Culpo double checked the results was the best and genuine reaction we've seen right there at that moment. Whew! MISS PERU you're still the winner for us.

— Canary Sunglow 🌻🌄🌅🏜️ (@CncoMavis) May 17, 2021
People assured Culpo since they could relate to her reaction. They, too, are in disbelief over the results of the competition.
Miss Universe 2020 concluded with Miss Mexico Andrea Meza bringing home the crown. Her runners-up are Brazil's Julia Gama as the first runner-up, Peru's Janick Maceta for second runner-up, India's Adline Castelino as third runner-up, and Dominican Republic's Kimberly Perez as fourth runner-up.
Comments