On May 13 (May 14 Philippine time)–Pinoy pageant fans had mixed reactions over Rabiya Mateo's national costume, which made them revisit MJ Lastimosa's cake-inspired national costume back in 2014.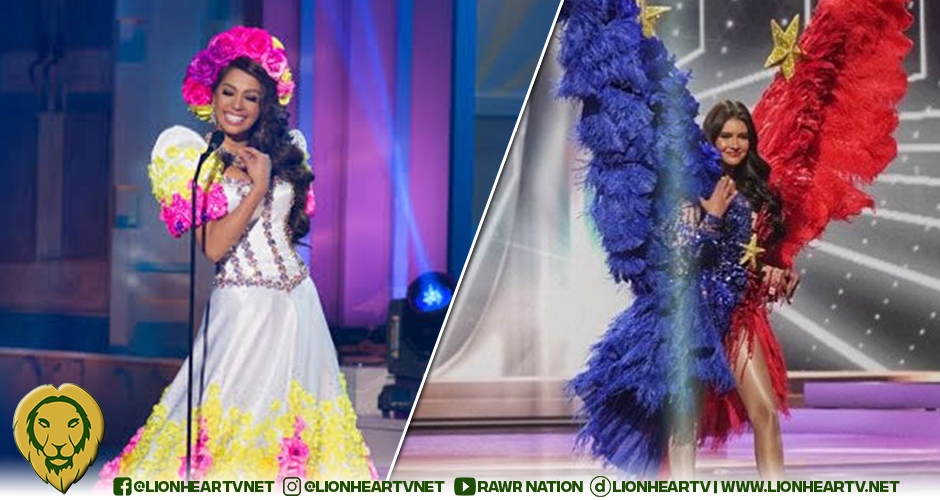 Some fans and Netizens appreciated Miss Universe 2020's Victoria Secret Angel-inspired costume designed by the famous and late Filipino designer Rocky Gathercole. However, to some, they got disappointed. Others perceived the latter's as far worse than the current costume.
Twitter user @morrisfrance greeted Lastimosa a good morning with a retweeted post of @mavewreak.
Goodmorning, mahal ko @MJ_Lastimosa! ❤️ https://t.co/5KrAjotmWu

— Morris France Liew (@morrisfrance) May 14, 2021
In @mavewreak's tweet, he shared a shot of Lastimosa's cake-inspired national costume and punned that he will never forget that scene in 2014.
He then recalled how Filipino pageant fans voiced out and demanded from the Binibining Pilipinas Organization and Stella Araneta to come up with better choices in providing national costumes for Filipina beauty queens.
https://twitter.com/mavewreak/status/1393008548028719105?s=19
https://twitter.com/mavewreak/status/1393031719440117765?s=19
Back then, Binibining Pilipinas chairperson Stella Araneta defended Lastimosa's national costume and clarified that since Miss Universe 1999 Miriam Quiambao placed the first runner-up, she utilizes the work of the Colombian designer Alfredo Barraza.
Lastimosa's national costume was inspired by the Panagbenga (Flower) Festival of Baguio City.
On the other hand, Lastimosa made a twitter thread to share her thoughts on Rabiya Mateo's national costume performance.
She repeatedly wrote "GV" which means "good vibes."
According to her, she clueless about the bashing of Mateo's national costume performance.
Lastimosa only knew about the issue when Mateo shared her apology video through an Instagram story. She reminded everyone to refrain from giving constructive criticisms because, for her, Mateo had enough of it from her team.
Good mooooorning!!! Haha! Gv gv na guys!!!! Sensya na sa tweets kagabi clueless kasi ako sa hanash until naiyak yung palangga naten kaya na trigger lang. okay na yun let's save our constructive criticisms na, I'm sure she's getting enough of those from her team, kaya nga andun

— MJ Lastimosa (@MJ_Lastimosa) May 14, 2021
sila with her in the bubble, considering it's their first year we know it'll be far from perfect but I can see the determination of the wholeph team. Let's show her our full support, positive energy only, because the real competition starts today, last night's show for me is more

— MJ Lastimosa (@MJ_Lastimosa) May 14, 2021
She also emphasized that the national costume performance was more like a tease and that the sole purpose of which was to appreciate the beauties of the different participating nations.
She thought Mateo has put up a good fight in the competition.
of patikim of what to expect tonight kaya siguro hindi sya scored is because its sole purpose is merely appreciation of different nations. And I genuinely think Rab was impeccable last night. Her confidence was oozing and I can definitely say malakas ang laban naten.
PS sorry

— MJ Lastimosa (@MJ_Lastimosa) May 14, 2021
talaga sa tili ko. Wala kasi pinoys maxado dun sa area namin, eh ang lapit ko sa judges kaya tinodo na ng mare nyo, may banko pa naman to for laters and the finals. HAHAHA nakakalokaaa I am sooo eggzoiteeeed!!!! GV GV NAAA ❤️❤️❤️❤️ let's send our representative all the

— MJ Lastimosa (@MJ_Lastimosa) May 14, 2021
https://twitter.com/MJ_Lastimosa/status/1393146605642162178?s=19
Before her tweet, she already defended Mateo against the bashers. She stressed that Mateo was carrying 21-kilo wings and reminded critical Pinoy pageant fans to remain calm because Mateo wore her heavyweight costume with such a breeze.
https://twitter.com/MJ_Lastimosa/status/1393030092687822850?s=19
According to Mateo, she had minor mishaps backstage. She was running out of time to retouch her makeup, got her finger cut, and had her stockings soaked with blood.
Blue and red feathery wings assembled with three golden stars to accentuate the Philippine flag inspiration of Mateo's costume. Though the sun-shaped headpiece crafted by Manny Halasan originally meant to complete her ensemble went missing.
MUPh national director Shamcey Supsup explained that they had to forego the heavy headpiece for it kept falling off Mateo's head and might affect the 24-year-old Ilongga beauty's performance.
Lastimosa added that the headpiece would only cause Mateo a stiff neck.
https://twitter.com/MJ_Lastimosa/status/1393019082853818368?s=19
On her Instagram, Mateo posted a photo of her national costume performance.
View this post on Instagram
Apart from Lastimosa, Filipina beauty queens–Miss Universe 2015 Pia Wurtzbach, Maxine Medina, Samantha Bernardo, Miss Supranational 2013 Mutya Datul, Miss International 2016 Kylie Versoza, Michele Gumabao, and Pauline Amelinckx showed their support to Mateo.
Mateo is aiming to win the 5th Miss Universe crown for the Philippines. Gloria Diaz, Margarita Moran, Pia Wurtzbach, and Catriona Gray were able to bring home the four Miss Universe crowns in 1969, 1973, 2015, and 2018, respectively. The coronation day will be broadcast live in the Philippines on A2Z Channel 11 on Monday, May 17 at 8 in the morning.