Netizens opposed Myanmar's issuance of a warrant of arrest for its Miss Universe candidate, Monday, May 17.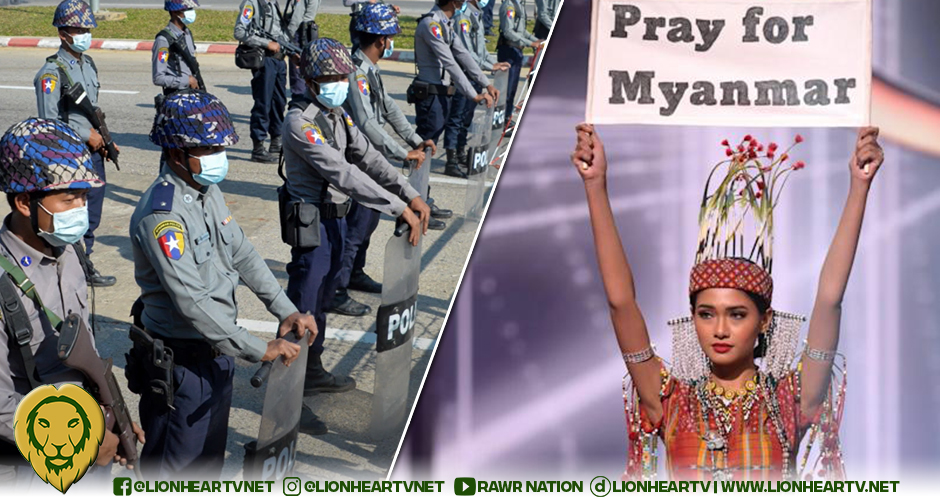 Miss Universe Myanmar, Ma Thuzar Wint Lwin, sent a chilling message through her walk during the Miss Universe national costume segment last Thursday, May 14. The message, "Pray for Myanmar" in hopes to appeal in freeing elected leaders who have been detained as well as the country's pro-democracy movement.
The costume of Ma Thuzar Wint Lwin was not the original design since the original was lost in the shipment. However, the substitute costume which she wore, hailed her the 69th Miss Universe National Costume winner after she captured the audience with her #PrayForMyanmar slogan.
But her message did not sit well with the military of Myanmar who had seized control over the country.  After she relayed her message, Ma Thuzar Wint Lwin's name has been added to the warrant of arrest list among other celebrities who were critical to the government. She now cannot return home and doesn't know where she'll go after the competition ended.
With what is going on in Myanmar, and the possible arrest of its representative by the country's military, netizens have urged the world to protect her at all cost.
Please protect and help Myanmar at all cost #PrayForMyanmar https://t.co/JeNhvg0ZdC

— Zyd Ric (@zysygy13) May 17, 2021
Protect her at all cost. https://t.co/egnbaULyL5

— Dominique (@icdominique) May 17, 2021
Others urged countries to help Myanmar with the dire situation that it is currently in.
Pls help Myanmar https://t.co/ZAkz8mtsme

— kokoy. (@Jan_Bandalariaa) May 17, 2021
A netizen lauded Ma Thuzar Wint Lwin's bravery to speak up regarding the crisis in her country. He says that Ms. Myanmar deserves political asylum, away from the criminals that took over her country.
She deserves political asylum. Save her from the criminal #SAC #MilitaryJunta in #Myanmar https://t.co/YBp46sbXzk

— Fredo Baggins (@Kid_Kilatis) May 17, 2021
Some also urged others to help Ms. Myanmar by making her message be heard even more.
She risked her life to put that message across… Let's help her voice be heard even more. 😢 https://t.co/UCYKWe2RC5

— Spaghetti (@spageytti) May 17, 2021
A netizen was shocked that a country would deny its citizen to speak the truth. She even said that the issuance of a warrant of arrest for Ma Thuzar Wint Lwin is a "moronic move" done by Myanmar.
Neeeeee? Why is that speaking the truth now is a crime?! She has a platform to make a change, and that's what she did! Issuing a warrant of arrest to her is a moronic move! https://t.co/PkHrD1U1T9

— Tin 🇵🇭 (@cuting20) May 17, 2021
A netizen expressed his concern regarding the safety of Ma Thuzar Wint Lwin since the junta (the military group that controls Myanmar) are brutally treating captured women as accounted by a Myanmar teen.
not to be confused it's the Myanmar military,which seized power through a coup on Feb1, which issued an arrest warrant for her on the day she departed for Florida. In the wake of how the junta treats women in detentions we r deeply worried for her safety when she comes back home

— h*nhtoo (@hnhtny) May 17, 2021
Meanwhile, comedienne Marietta Subong (Pokwang) expressed her sympathy towards Ms. Myanmar by welcoming Ma Thuzar Wint Lwin to her home. Pokwang also urged the beauty queen to stay at her place and eat her home-cooked roasted chicken and laing.
Bukas ang aking tahanan para sa iyo miss Myanmar 🙏🏼 halika muna sa aking bahay papakainin kita ng roasted chicken at laing ni Mamang 🙏🏼 https://t.co/K23yFFcyHE

— marietta subong (@pokwang27) May 17, 2021
Comments