Sen. Bong Go's attempt to renationalize two provincial hospitals he is sponsoring amid the COVID-19 pandemic received a whiplash, all because of Senator Franklin Drilon.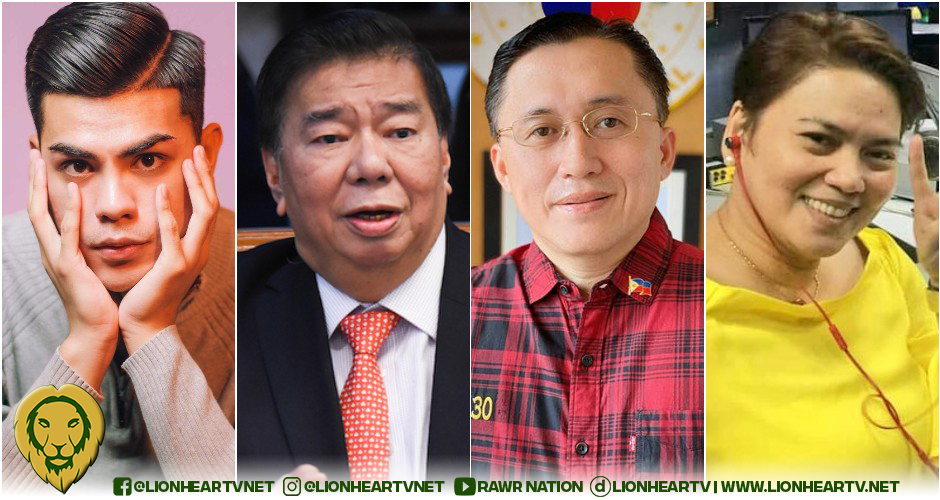 Over 15 bills, which he is trying to pass, Go pretended that these bills were only meant to increase the bed capacities of several hospitals nationwide. However, Sen. Franklin Drilon noticed that two of the measures would transfer the control over two hospitals—Benguet General Hospital and Lanao del Norte Provincial Hospital—from their respective localities to the national government instead.
Aside from the two, several bills also serve as permission to establish new hospitals in some towns and cities across the Philippines.
Drilon inquired from Go if he knew the Mandanas ruling and the latter agreed to it. Go got flustered and his staff hurriedly handed him notes.
Drilon also stressed that once the Mandanas ruling is put into effect in 2022, it will mean that the national government's financial capabilities are limited.
When he finally responded, Go answered that he agreed that the Mandanas ruling will heavily impact the financial capabilities of the national government.
"Yes, Mr. President. Malaki pong kawalan sa national government," said Go.
Since Go agreed with the Mandanas ruling, it meant that he backed the Senate's decision to not push with the internationalization of hospitals if LGUs can handle the costs anyway.
The 2018 Mandanas ruling implied that the Higher Court allows the Internal Revenue Allotment of local government units (LGUs) to originate from all national taxes, and not just those collected by the Bureau of Internal Revenue.
Over twitter, several personalities criticized Go for his lack of preparedness to defend the bills he is sponsoring, thus trying to look for an easy way out by ending the interpellation.
Broadcaster Weng Salvacion even concluded that the Senator was "not ready for battle."
when you're not ready for battle…

Frustrated Go moves to terminate Drilon's questions over local hospitals https://t.co/4M1S0bqExm via @gmanews

— Rowena L. Salvacion (@wengsalvacion) May 21, 2021
Twitter personality Mia Magdalena mocked the senator for getting caught with the real intention of the bills he is sponsoring.
IYAK. Bong Go caught on the wrong foot. Go was sponsoring bills to increase bed capacity in some hospitals. Sen. Drilon noticed that two of the measures would actually transfer the control over two hospitals – Benguet General Hospital and Lanao del Norte Provincial Hospital – pic.twitter.com/YeuJ2SseYf

— Miss Maggie (@MiaMagdalena) May 21, 2021
Business news editor Alan Luigi Flores even asserted that student leaders are better speakers than Go.
Student leaders speak better than this dakilang alalay https://t.co/unTeNq4Plk

— Alan Luigi Flores (@luigi_flores) May 21, 2021
TV writer Marlon Miguel even described the interpellation of Go as "hilarious" and "pathetic."
Hilarious. Pathetic. https://t.co/zwdX9U8ob7

— Kuya M (マロン。ミゲル) (@marlon_g_miguel) May 21, 2021
A TV personality Justin Dizon is disappointed with Go, noting that the Senator cannot even do his job right.
Yan ang problema kapag bumoboto ng mga tanga na wala man alam sa pinapasok nila.

Pumasok para sa posisyon, kapangyarihan, at pera—but when the actual job comes in, hindi alam at kino-coach pa ng staff.

Imagine yan ang pinapasahod natin—epal na nga, hindi pa marunong magtrabaho. https://t.co/V6CvP48OR5

— Justin Dizon (@iamjustindizon) May 21, 2021
A twitter personality also ridiculed Go for his epic drama where he tried to end the interpellation, which failed miserably.
He also threw some shade (obviously at Duterte) by saying, "Sadboi pala silang mag-jowa. Parehong-pareho."
Yung nag effort ka pang magdrama. Sadboi pala silang mag jowa. Parehong pareho. Di mo madadaan sa drama yang mga kasama mong totoong senador. https://t.co/w28BJnqb4u

— King (@KingNginamo1) May 21, 2021
Others also sneered at the Senator for his desire to run as President in the upcoming 2022 national election, highlighting that he is not even close to being ready to lead the Philippines.
Tapos hinog na daw para tumakbong presidente?

Putragis nman.#BongGoBobo https://t.co/jkMApswifF

— Leisbeth Recto (@leisbeth_recto) May 21, 2021
https://twitter.com/joketerte30/status/1395668610865979398
It is not the first time that Drilon and Go got into a heated exchange.
In June 2020, the two argued after Go refused to be interpellated by Drilon when he delivered a speech on the delay of compensation for the frontliners.