Filipinos really favored Pfizer-BioNTech over Sinovac as thousands have lined up to get a jab in a Manila vaccination site, Tuesday, May 18.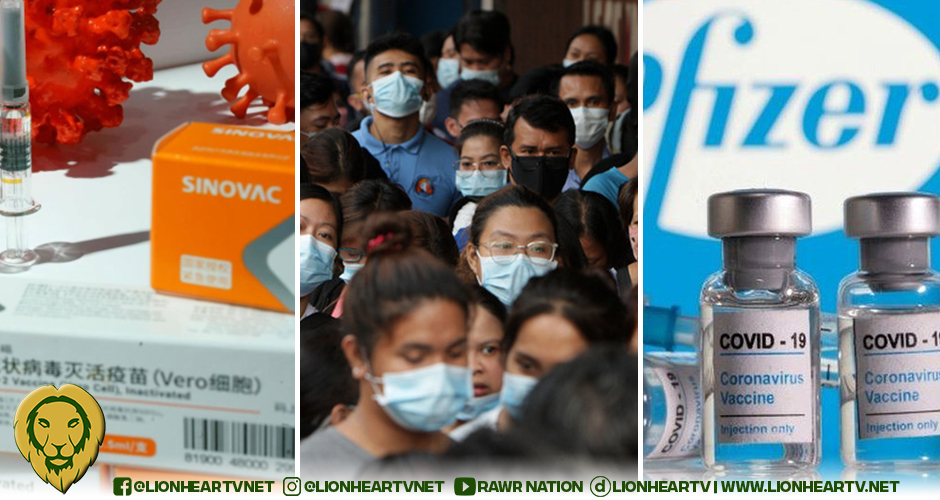 According to ABS-CBN reporter Jekki Pascual, 3,000 residents have gathered in hopes to get inoculated despite the vaccine supply only being 900 doses.
Dinagsa ang vaccination site sa Maynila kung saan Pfizer ang gagamitin. 900 doses lang meron, pero umabot sa 3,000 ang pumila. pic.twitter.com/5bvBf2q9iv

— Jekki Pascual (@jekkipascual) May 18, 2021
The gathering has proven that Filipinos prefer Pfizer over Sinovac. Pascual said that there were 18 Sinovac vaccination sites in Manila, with the Manila authority urging its citizens to accept the available vaccines.
The vaccine made by the American pharmaceutical Pfizer Inc. has an efficacy rate of about 95%. Its counterpart, Sinovac, has between 50% to 78%, which is much lower.
Several personalities and Netizens pointed the obvious—most of the public rejects Sinovac and prefers Pfizer.
this indirectly confirms people's rejection of Sinovac and preference for Pfizer. https://t.co/F3IZLcD58l

— WhatAWasteofAdMoney (@wawam) May 18, 2021
Paeng Lopez, a campaigner at non-profit Health Care Without Harm, speculated that Filipinos do not doubt vaccines, only the ones that Pres. Rodrigo Duterte pushes—Sinovac.
ito ang katunayan na hindi duda ang mga mamamayan sa bakuna kundi sa bakunang pinagtutulakan ni rodrigo.

kung hindi ito sagisag ng pagsadsad ng tiwala ng publiko sa kanya ay hindi ko na alam kung ano. pic.twitter.com/EJ0lniSPuj

— paeng lopez (@paengLopez) May 18, 2021
Journalist JC Punongbayan likewise agreed that many did not trust the Chinese vaccine due to a huge crowd gathering in a Pfizer vaccination site.
Andaming kay trust issue kay #DutertePalpak. 😅 https://t.co/BSfMIgZHcG

— JC Punongbayan (@jcpunongbayan) May 18, 2021
Some netizens also recognized that Filipinos doubt the efficacy of Sinovac as many waited to receive a Pfizer shot.
https://twitter.com/OhSoKRIZA/status/1394642762851446798
Hindi ayaw ng tao sa bakuna, sa kung anong klaseng bakuna ang inaalok sa kanila ang inaayawan nila https://t.co/sQwk9s568g

— Red (@reddikulusly) May 18, 2021
https://twitter.com/c_anne03/status/1394620725223329795
A netizen even shared that his relatives got vaccinated by Pfizer abroad, proving that it is effective. The high efficacy rate is one of the reasons people favor the US brand rather than the Chinese.
The netizen also hopes that the Moderna vaccine will soon arrive in the Philippines to boost the public's confidence regarding Covid-19 vaccines.
https://twitter.com/JKenneth101/status/1394643576265396228
Meanwhile, a netizen stressed that the Dengvaxia issue was not the problem why the public distrusts vaccines. More so, it is the brand—Sinovac—which the Administration insists that people take.
It only shows that Dengvaxia Issue is not the problem any more like what Administration say . It's about SINOVAC VACCINE assh0le more Filipino prefers Pfizer Vaccine . Kaya wag ng ituro ang Dengvaxia dahil ang talagang palpak ay KAYO mga dapungal !! #DutertePalpak https://t.co/5bz8OZWz1O

— FAFA VINZ (@abadvince2020) May 18, 2021
On May 10, Pfizer arrived in the Philippines and was distributed to major cities that can handle its required storage temperature of -70 degrees Celsius. The country has received 193,000 Covid-19 shots. It also signed the biggest Covid-19 vaccine order—40 million doses of Pfizer-BioNTech.
Comments