Leading automotive company Toyota Motor Philippines (TMP) recognizes the need for safe and reliable transportation in the delivery of essential goods and services. Vehicle sanitation has become more important to ensure the safety of the drivers and passengers by helping reduce the risk of virus transmission.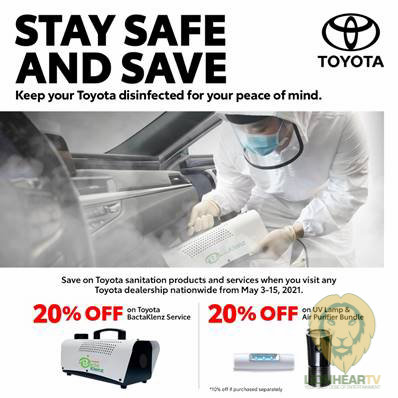 In order to help Filipinos move forward, Toyota is offering customers up to 20% in savings on selected sanitation products and services in all Toyota dealerships nationwide from May 3 to 15, 2021.
Included in the special promo is the Toyota BactaKlenz service, an anti-bacterial treatment proven to eliminate 99.99% of bacteria, molds, and fungi inside the vehicle. Once servicing is done, the sanitation process is performed just before the vehicle is turned over to the customer. Its effectiveness can last up to three (3) months.
Likewise, the UV Lamp is a Toyota genuine accessory designed to regularly sanitize the car interior from virus, bacteria, and harmful organisms using ultraviolet light. It is portable and safe to use with a 60 second delay function which allows the occupant to safely leave the car before disinfection starts.
The Air Purifier on the other hand, uses plasma cluster technology to deactivate airborne virus and bacteria by releasing positive and negative ions. It is a great companion for daily drives by keeping the cabin air always fresh and clean. It conveniently fits the cup holder and can be plugged via USB for power source. Owners just need to press power button and select from operation modes: low, medium, or turbo to start.
Toyota owners can take advantage of the following discounts by visiting any Toyota dealership nationwide during the promo period:
20% less on Toyota BactaKlenz Service
20% less on UV Lamp and Air Purifier Bundle
10% less on UV Lamp and Air Purifier if purchased separately
These timely offers intend to address the needs of the Filipino customers as we ease back to the daily routine, bringing a sense of joy and peace of mind in moving together.
You may visit https://toyota.com.ph/promos/vehicle-sanitation for the more details on the promo.
Comments