Infamous DDS lawyer Atty. Larry Gadon has again earned the ire of netizens after saying that former President Noynoy Aquino died from HIV.
On early Thursday morning, social media was shocked by the news of former President PNoy's untimely passing.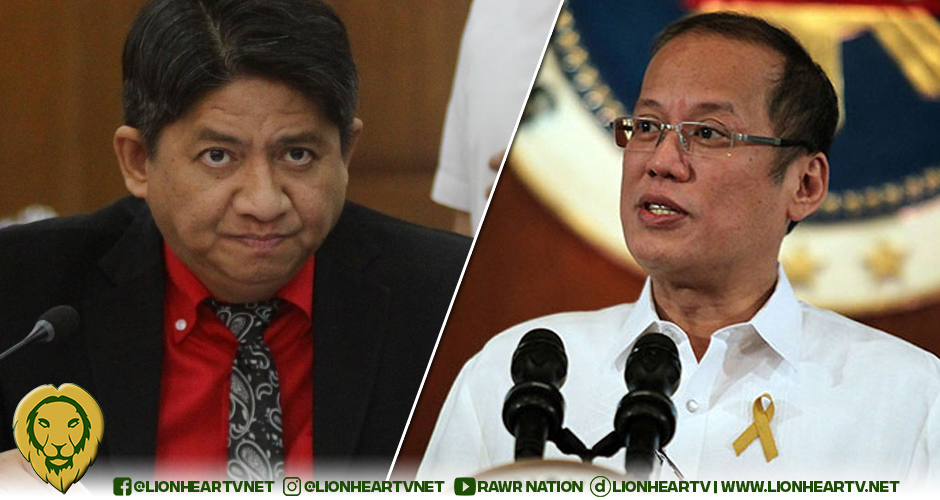 And just a few hours after the news broke out, DDS lawyer Larry Gadon proudly claimed that PNoy's death was caused by HIV.
During Thursday's episode of the radio program Karambola, Gadon made a pronouncement that PNoy died of complications from HIV.
"Pero may HIV sya, kaya yun hindi gumaling."
Gadon was then asked by his co-host if it is confirmed that PNoy died of HIV and Gadon stood by his statement saying it came from his friend who knew PNoy very well.
"Oo, according to my friend, na kilalang kilala [sya]"
The video clip of Gadon's statement then made rounds on social media with the majority of netizens slamming Gadon for his malicious claims.
Most of them also slammed Gadon for violating RA11166 with regards to the disclosure of a person's actual or perceived HIV status.
𝗠𝗔𝗟𝗜𝗡𝗔𝗪 𝗡𝗔 𝗜𝗧𝗢 𝗔𝗬 𝗣𝗔𝗚𝗟𝗔𝗕𝗔𝗚 𝗦𝗔 𝗕𝗔𝗧𝗔𝗦.
𝗔𝗧 𝗗𝗔𝗣𝗔𝗧 𝗠𝗔𝗬 𝗠𝗔𝗡𝗔𝗚𝗢𝗧 !!!!

Hindi maaari at labag sa batas ang pag disclose ng status ng 𝗛𝗜𝗩 𝗦𝗧𝗔𝗧𝗨𝗦 ibang tao, CONFIRMED man o HINDI.#AtorningBobo

@CouragePinas @JJhumantorch @moya_jovit pic.twitter.com/bJbODNWwUM

— 𝐊𝐚𝐞𝐥 𝐌𝐚𝐭𝐚 (@KaelMata) June 24, 2021
Nag aral ba yan si Gadon,, Bawal na bawal mag disclose nang HIV status nang isang tao. Unless mayroong consent sa mismong tao. Napaka bobo no Gadon.. at bakit ba naturingan yan na Abogado!?

— Bikolanong Manoy (@BikolanongM) June 24, 2021
According to RA 11166, Section 44b, "It shall be unlawful for any editor, publisher, reporter or columnist, in case of printed materials, or any announcer or producer in case of television and radio broadcasting, or any producer or director of films in case of the movie industry, or any other individual or organization in case of social media, to disclose the name, picture, or any information that would reasonably identify persons living with HIV and AIDS, or any confidential HIV and AIDS information, without the prior written consent of their subjects except when the persons waive said confidentiality through their own acts and omissions under Section 4(a) of Republic Act No. 10175, Otherwise known as the "Cybercrime Prevention Act of 2012" and Section 25 of Republic Act No. 10173, "Data Privacy Act of 2012″."
Network to Stop AIDS-Philippines, in their Facebook post, also called out Gadon for his clear violation of the law.
Same with LoveYourself Inc which tweeted about the law protecting individuals against disclosure of their HIV status in public.
Your HIV status is protected!

No matter who you are, your HIV status should be protected following RA 11166. You hold the narrative on how you come out with your HIV status. Be it reactive or non-reactive, the decision is yours, because U Matter.#LoveYourselfPh pic.twitter.com/mbosxhcKG2

— LoveYourself Inc. (@LoveYourselfPh) June 24, 2021
That's why many netizens are calling for the filing of a disbarment case against the infamous DDS lawyer.
Okay, let's put RA 11166 to the test. Tapos na ang finals exam ko. Let's file a disbarment case against Gadon for violation of RA 11166.

— Ben Bernabe (@yogawithben) June 24, 2021
Is someone going to file a case against Gadon for violating RA 11166? This can also be a disbarment case. I hope someone does.

Heard in this vid – Gadon saying that the former President died because of complications attributed to HIV. pic.twitter.com/WiSM71vGl9

— ricci (@ricci_richy) June 24, 2021
DISBAR LARRY GADON FOR VIOLATION OF RA 11166!

Under Sec. 44 of RA 11166, disclosing information regarding a person's HIV status is UNLAWFUL.

We condemn this act of privacy violation and misinformation committed by Larry Gadon, a lawyer who should know better!#DisbarGadon

— UP Babaylan 🏳️‍🌈🏳️‍⚧️ #SOGIEEqualityNow (@upbabaylan) June 24, 2021
CONFIDENTIALITY, regardless of status.
We are coming after you, Atty. Larry Gadon.

Hindi kailangang abogado para maintindihan ang RA 11166 Philippine HIV and AIDS Policy Act lalo na ang salitang "confidentiality".

DWIZ should be held accountable as well. https://t.co/lkLDcmQMFm pic.twitter.com/RJPQcbSLNM

— Ruben #VaccinesWork (@rubenvlza) June 24, 2021
They called on the Integrated Bar of the Philipines and the Philippine National AIDS Council to take action against Gadon's utter disrespect and clear violation of the law.
I call on the IBP and the Philippine National AIDS Council to take action against Atty. Larry Gadon for disclosing the HIV status of an individual – whether perceived, actual or suspected – in a televised radio show in violation of RA 11166.

— GemCabreros #PLHIV #AngatBuhay (@G_A_Cabreros) June 24, 2021
https://twitter.com/Sher_Win1234/status/1408051104932237315
Hello @IntegratedBarPH please take action against Atty. Larry Gadon.

— Maurice Joseph Maglaquí Almadrones 🧠🫀🎀 (@TheCatSaysMao) June 24, 2021
https://twitter.com/pozeffect/status/1407958977682370560
Comments