Philippine President Rodrigo Duterte congratulated the country's first Olympic gold medalist Hidilyn Diaz via a virtual courtesy call on Wednesday, July 28.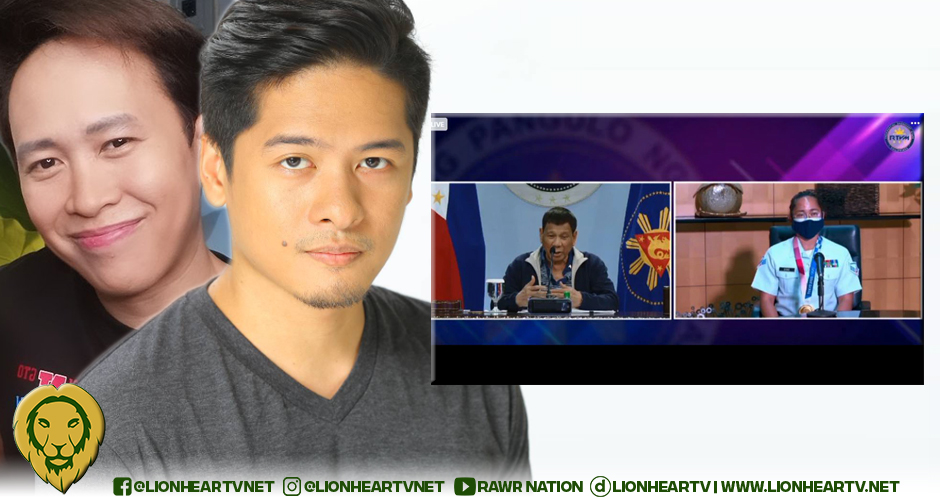 During the courtesy call, President Duterte remarked that she should let bygones be bygones.
"You already have the gold. Gold is gold. It can be good for you to just let bygones be bygones and dwell solely on your victory together with your family and, of course, with the nation."
As a result, celebrities, personalities, and netizens shared their reaction regarding Pres. Duterte's piece of advice on Diaz's historic achievement.
Actor Alex Medina compared Duterte to a rude uncle.
Bastos na tito hahah https://t.co/94wtloQ2gP

— Alex (@alexvincentm) July 28, 2021
ABS-CBN Entertainment news reporter MJ Felipe questioned Pres. Duterte's remark.
Hahahaaha. HA???? https://t.co/slgC9On61G

— MJ Felipe (@mjfelipe) July 28, 2021
Social media personality and scriptwriter, G3 San Diego questioned the courtesy call itself.
— g3 san diego (@g3cafe) July 28, 2021
Journalist Barnaby Lo highlighted the lack of apology on Pres. Duterte's remark.
President Duterte tells Hidilyn Diaz to move on, presumably from being accused of helping to plot his ouster among other things, without apologizing. https://t.co/Hiahxjmd24

— Barnaby Lo 吳宗鴻 (@barnabychuck) July 28, 2021
Netizens also shared their opinions on Pres. Duterte comment, calling him out for not apologizing to the Olympic Gold Medalist.
Duterte to Hidilyn: "Let bygones be bygones."

Me as Hidilyn: "Baygon mo mukha mo!"

Kidding aside. This is probably as close an admission as we'll get from the admin about how badly it treated Hidilyn. But it's nowhere near the apology she deserves.

— TheEmperor (@Eric_Cabahug) July 28, 2021
Let bygones be bygones? But we should not forget, how can we burn the memories of bygones when you made AN EYE FOR EYE accusations and didn't even say sorry.

I find Duterte's lack of sincerity disturbing.

— Tisay (@Tessavelino) July 28, 2021
The President who can't forget his usual tirades to ABS CBN, to Leni and the critics saying to Olympic Champion Hidilyn: "Let bygones be bygones.. " Bygones eme, Bye!

— Rodel Taton (@rodelriddle) July 28, 2021
https://twitter.com/jmglatayan_/status/1420385148659408907
What in the gaslight girlboss gatekeep bs is this https://t.co/5MCqVMs0tQ

— Kara #RegiToVote (@kangsilogs) July 28, 2021
Omg hidilyn u dont deserve this disrespect what the actual fuck https://t.co/9HucrZuMYM

— regina (@reginabuco) July 28, 2021
In 2019, President Duterte's team, lead by then-House Speaker Salvador Panelo, included her in the administration's 'oust Duterte' matrix.
Diaz denied the allegations thrown at her due to the 'Oust Duterte' matrix and focused on her training.
In an interview with Kapamilya reporter Karen Davila, Diaz said she doesn't need an apology from Malacañang after including her in the said matrix. Diaz said she chooses to move forward for her peace of mind.
"I CHOSE TO MOVE FORWARD FOR MY PEACE OF MIND"

Olympic Gold Medalist @diaz_hidilyn says she doesn't need an apology from Malacanang after including her in the #OustDuterteMatrix in 2019. Diaz admits how that affected her mentally, but has chosen to forgive. #ANCHeadstart pic.twitter.com/K1nPGqTS6x

— Karen Davila (@iamkarendavila) July 29, 2021
Comments