Kapamilya young actress and The Gold Squad member Francine Diaz expressed her realizations from her recent crime thriller film Tenement 66 in a virtual media conference of their movie.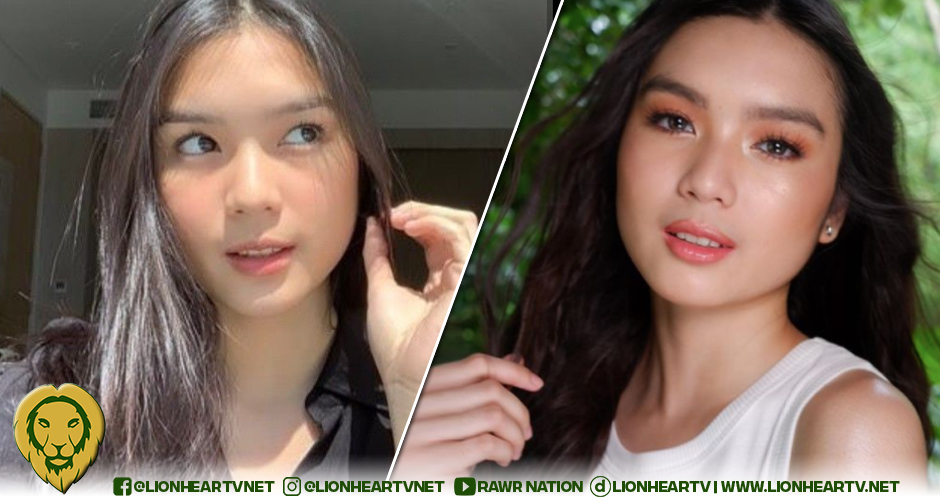 When asked about her take-away on the movie's storyline, Diaz mentioned choosing kindness over hate and her stand on ruthless criticism and judgment.
"Wag tayo agad mang-judge sa mga nakikita natin sa panlabas lang na anyo ng mga tao…kasi…You'll never know kung ano 'yung pinagdadaanan nila, kung bakit nila nagawa 'yung isang bagay na yun," Francine shared.
"And for me 'yun po 'yung lesson talaga na masasabi kong pwede kong mai-share sa lahat and also sa mga kabataan ngayon and sa mga mas bata sa amin na 'wag kang mangjujudge agad… Mas maging kind ka sa mga unkind people kasi mas kailangan nila 'yun," she added.
The Gold Squad members recently went into issues concerning netizens' bashing and ruthless criticism because of viral YouTube content uploaded on their Squad Plus channel.
The online community went clamorous when the supporters of the Gold Squad expressed their sentiments, and worst, their ruthless criticism and unnecessary behavior towards Andrea Brillantes, Kyle Echarri, Francine Diaz, and Seth Fedelin.
On their respective Twitter accounts, Francine's Gold Squadmates posted their side of the story, where some of the netizens still feast on as if the discussion is an endless tunnel of controversies.
Brillantes tweeted her stand against bashing and ruthless criticism from netizens and her group's supporters with Francine Diaz, Kyle Echarri, and Seth Fedelin.
— 🌻 Andrea Brillantes 🌻 (@iamandrea_b) July 8, 2021
There i made it easier for you to comprehend na pic.twitter.com/yWBk7Cvyax

— 🌻 Andrea Brillantes 🌻 (@iamandrea_b) July 8, 2021
Sa mga nag sasabing " okay na sana kaso " " mas lalo lang kitang inayawan "

I mean.. i didn't tweet all that just to please you cause i know very damn well that there are minds who can't accept and see the truth so they blame whoever they want to blame

— 💖Andrea Brillantes💖 (@iamandrea_b) July 8, 2021
There's nothing wrong with being confident and being comfortable on your own skin!! Embrace it and own it!!Spread the love to everyone & ESP TO YOURSELF ❤️‍🔥❤️‍🔥🥰🥰 pic.twitter.com/20MK5KW35M

— 💖Andrea Brillantes💖 (@iamandrea_b) July 8, 2021
Echarri re-tweeted Blythe's post. Not knowing the effect, Kyle gained mixed reactions from their fans.
— 💖Andrea Brillantes💖 (@iamandrea_b) July 8, 2021
Some of their avid followers did not buy his justification, knowing that both Echarri and Andrea went this far without even mentioning Francine Diaz, known as Chin's name, directly in their posts with the ongoing buzz online.
https://twitter.com/NadeirDaud/status/1413018174526681092
Passing the bucket or turning the tables? 😭 You could've reworded this as it will make a huge difference in its context✌️☮️🕊 pic.twitter.com/s8yjA7m8an

— Lauren🇵🇭🇺🇸 (@chillwildlife02) July 8, 2021
If it's long ago na pala. Why didn't you say so kay chin? Why now, publicly? And you are squad right? diba dapat you're all defending each other? It's unfair kasi what's happening now so I'm speaking up for my sister.

— F (@Talshiii) July 8, 2021
On the other hand, Seth Fedelin only re-tweeted Blythe's stand against the issue without even saying a word in the caption.
— 💖Andrea Brillantes💖 (@iamandrea_b) July 8, 2021
Days after the boom of the issue, some fans of 'The Gold Squad' still seemed to be on fire with the talk.
Kyle Echarri, in his post, shared about the ruthless behavior of some adherents who made unnecessary trouble to food delivery drivers by faking accounts using his identity to order food online without paying in revenge for Francine Diaz.
Huwag po ninyong idamay ang mga riders / food delivery dahil sila po ang nakakaawa. pic.twitter.com/ZpwS9LZ6Z2

— Kyle Echarri (@kyle_echarri) July 9, 2021
God Bless You & your family. pic.twitter.com/v5TmhUG5Md

— Kyle Echarri (@kyle_echarri) July 9, 2021
With the gravity of the ongoing division, Francine stood and broke her silence to stop some of their supporters who faked accounts of Echarri without even thinking about the effect it may take on other people.
In her Twitter post, Diaz expressed her disappointment to some fans who became heartless with their action.
I can't believe how heartless people can be nowadays, if you're a true fan of mine, alam niyong hindi ko gugustuhin yung ginawa niyo.

Huwag niyo po idamay yung mga taong nag hahanap buhay please lang.

Be kind, please?

— Francine Diaz (@francinecarreld) July 9, 2021
Jayda Avanzado (daughter of Jessa Zaragoza and Dingdong Avanzado) came to the rescue by posting a tweet protecting her best friend, Chin, from the issue at hand.
love youu @francinecarreld ❤️ i've always got your back!! you've got me in your corner! https://t.co/D6IHEimmjX pic.twitter.com/RyvruJNXhq

— jayda (@jaydaavanzado) July 8, 2021
Meanwhile, in her newest project, Francine plays the character of Lea, who finds herself doing the wrong things for the sake of her freedom from her father, who abuses and beats her.
Diaz defended the character she portrays to justify the deeds she has to do to survive.
"Base sa ginawa ng character ko, ng characters naming sa story… hinde porket nakagawa 'yung tao ng masamang bagay, masamang tao na siya. Minsan nagagawa niya yun dahil… like 'yung sakin kasi gusto niya makaalis sa… dun sa tinitirahan nila, dun sa kasama niya na tatay niya kasi inaabuso siya, sinasaktan siya.
"So 'yung only way out ng character ko dun which is si Lea ay 'yung gumawa ng masama. Wala na siyang ibang option kundi 'yun na lang 'yung gawin niya. Pero hindi naman talaga siya masamang tao," Francine described her portrayal and suffering in the story.
The young actress is happy to share her recent achievement with her fans and supporters as she stars in the film Tenement 66, directed by Rae Red, under Dreamscape Entertainment and Epic Media.
Francis Magundayao, Noel Comia Jr., and Francine Diaz appear in the suspense thriller as three teenagers ruthlessly held captive after breaking into an older man's residence.
Beginning July 23, the frightening story of three adolescent robbers in "Tenement 66," representing the Philippines at the Bucheon International Fantastic Film Festival in South Korea, will be streamed worldwide on iWantTFC, KTX.ph, and TFC IPTV. For Filipino viewers, it will be accessible on SKY Pay-Per-View and Cignal Cable Pay-Per-View.
Comments