Brace yourselves, co-entrepreneur!
Our most awaited webinar will be happening tomorrow!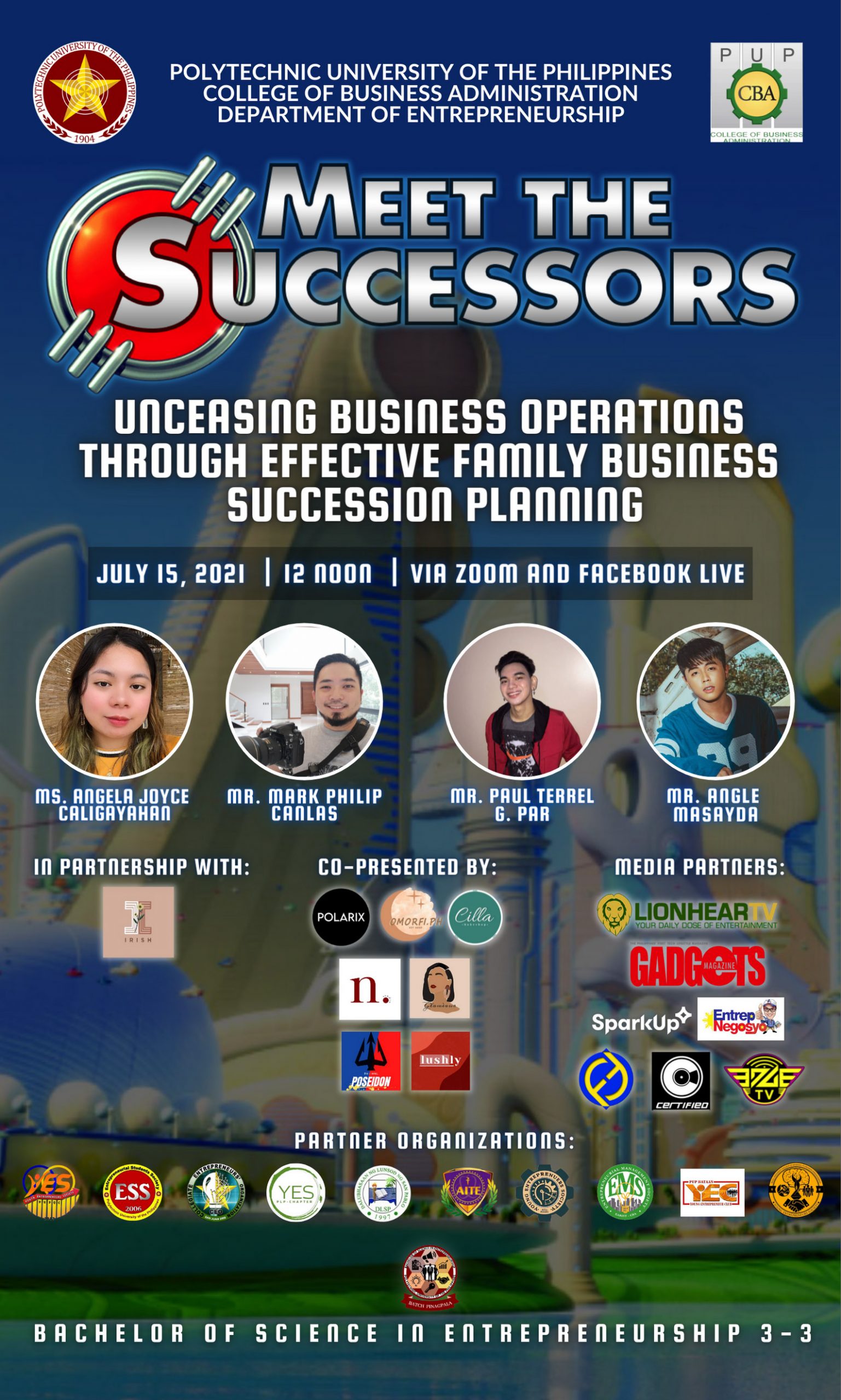 Join us in a rollercoaster ride that you will surely enjoy, as this event is full of wisdom, inspiration and entertainment!
"MEET THE SUCCESSORS: Unceasing Business Operations through Effective Family Business Succession" this upcoming July 15, 2021 via ZOOM and will be streamed exclusively here on our official Facebook page.
We are proudly presenting you our outstanding speakers: Mark Philip Canlas and Angela Joyce Caligayahan
You will surely love our iconic performers: Angle Masayda Terrel Par
Aside from the insightful talk and incredible performances, we have prepared something special for our participants in collaboration with our dearest sponsors!
This event would not be possible without the help of the following sponsors:
In Partnership With:
Ayeysthetic
Co-Presented by:
Cilla Bakeshop
Glamèaur
Lushly Studio
Omorfi PH
Polarix
Poseidon.MNL
 Media Partners:
Certified Productions
Edge TV Philippines
EntrepNegosyo
Global Business Community
Forever Full Training Services
Gadgets Magazine
LionhearTV
SparkUp
In addition, we would like to express our heartfelt gratitude to our partner organizations for their participation in this highly anticipated event!
We are extremely thankful to have you as a part of this memorable event:
DLSP-CBHM (College of Business and Hospitality Management)
Young Entrepreneurs Society – Pamantasang Lungsod ng Pasig
Young Entrepreneurs Society – Rizal Technological University
PUP QC – Youth Entrepreneurs Society
PUP Bataan -Young Entrepreneurs Club PUP
Entrepreneurial Student Society PUP San Juan – Collegiate Entrepreneurs Organization
Asian Institute of Technology and Education – Tiaong Campus
Entrepreneurial Management Society – EARIST Manila
See you there!
#MeetTheSuccessors2021 #BSEntrepreneurship3Webinar2021
Comments