On Tuesday, August 24, celebrities and personalities were outraged after President Rodrigo Duterte finally confirmed his decision to run as vice-president in the 2022 national elections.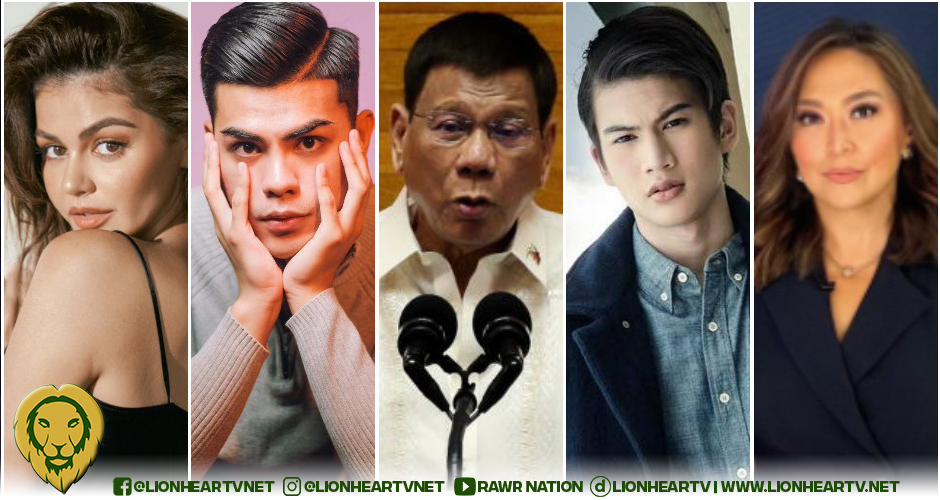 According to Energy Secretary Alfonso Cusi, Pres. Duterte will be Partido Demokratiko Pilipino-Laban's (PDP Laban) candidate for vice president in the coming elections.
"It's a go for PRRD (President Rodrigo Roa Duterte) to run for VP in 2022."
But this decision from the Philippine President was not favored by many.
Over twitter, many were shocked, concerned, and outraged by Pres. Duterte's prospect of becoming the next VP.
Kapamilya actress Janine Gutierrez could only tweet, 'Oh God x 100' upon hearing the news that Duterte is running as VP.
Oh God x 100 https://t.co/RgyXb1cr80

— JANINE (@janinegutierrez) August 24, 2021
Filipino-Spanish model-turned Kapuso star Gil Cuerva threw some shade and tweeted, "The biggest enemy of a Filipino, is a Filipino." 
It is about the great Antonio Luna's words, "Brothers, our greatest enemy is ourselves."
The biggest enemy of a Filipino, is a Filipino.

— Gil Cuerva (@gilcuerva) August 24, 2021
TV personalities Justin Dizon and Kiko Rustia got disgusted by the audacity of Duterte to run as VP.
NAKAKADIRI. https://t.co/lEhYJnurqP

— Justin Dizon (@iamjustindizon) August 24, 2021
Kapal talaga ng mukha https://t.co/8bfBY7veuv

— kiko rustia (@kikorustia) August 24, 2021
ABS-CBN screenwriter Hyro P. Aguinaldo described Duterte's decision to run as VP as 'impunity,' even called the President 'shameless' and 'disgusting' at the same time.
Culture of impunity po talaga. Shameless. Disgusting. https://t.co/j3ghQfRPJO

— Hyro P. Aguinaldo (@heyrow) August 24, 2021
Meanwhile, established broadcaster Karen Davila posed the question "What's next for our country?" after Duterte's VP run is a go.
What's next for our country?

— Karen Davila (@iamkarendavila) August 24, 2021
A former consultant for the Presidential Communications Operations Office (PCOO) Cocoy Dayao, hoped that Vice President Leni Robredo would consider running for the highest office given that Duterte is now after her position in the upcoming election.
I hope VP Leni finally decides to run for President. @lenirobredo is correct. Our nation can't survive another 6 years of this. I hope Filipinos would set aside cynicism and stand for a better Philippines. There is much trial ahead. We can't afford a Philippines run by cynicism.

— Cocoy Dayao (@cocoy) August 24, 2021
MYX Philippines VJ Samm Alvero warned Filipinos not to vote for Duterte in the coming election given how he handled the pandemic.
https://twitter.com/sammalvero/status/1430043976933920772
A twitter personality even mocked Duterte for deciding to run for VP since he was not able to provide his Statement of Assets, Liabilities, and Net Worth (SALN) during his term.
Mabigat na sakripisyo ang tumakbo bilang VP, pero kailangan talagang maitago ang SALN. https://t.co/ht3mJAJQ6a

— Jon Limjap 🇵🇭 (@LaTtEX) August 24, 2021
Filmmaker JP Habac also ridiculed Duterte as he stressed that Filipinos did not offer him to run for vice president.
Bakit may pag-accept? Nag-offer ba kami? https://t.co/PwXldBABdA

— JP Habac (@jphabac) August 24, 2021
ABS-CBN advertising and promotions head Vaughn Hautea likewise poked fun at Duterte as he tweeted: "Hindi na nga makalakad tatakbo pa? Tay naman!"
Hndi na nga makalakad tatakbo pa? Tay naman! https://t.co/sUEa3Qkpfr

— Vaughn Hautea (@vaughnic) August 24, 2021
On the other hand, film director Gino M. Santos urged the public to vote and not allow Duterte to take the VP position.
Guys fucken VOTE!!!! We cannot let this happen! Putaaaa, kapal ng mukha sheeet.. i cannot!

— Gino M. Santos (@ginomsantos) August 24, 2021
Reluctant?
Back in June 2021, Duterte, during an exclusive interview with Sonshine Media Network International (SMNI), expressed his reluctance to run for vice president in the 2022 election, saying that he is "ready" to retire after his presidential term ends next year.
"Mahirap iyan kasi mag-retire na ako tapos this time ako ang mamili ng presidente," said Duterte.
He then insisted that he will "resist" those who will urge him to run for VP and instead return to his hometown in Davao City.
"Sabihin nila, ano ko lang iyan, perpetuate yourself in power so magre-resist ako," he declared.
No legal problem if ever Duterte runs
According to the Department of Justice (DOJ), there is no legal impediment that bars the President from seeking the vice presidency.
"From a strictly legal point of view, the Constitution does not prohibit an incumbent elected president from running for vice president in a subsequent election," explained Justice Secretary Menardo Guevarra, July 11.
What is prohibited as per the Constitution, specifically Section 4, Article 7, is for a sitting President to seek reelection.
"Reelection means election to exactly the same office. If the framers of the constitution intended to make the sitting president ineligible to assume the presidency again by succession after his six-year term has expired, it would have been quite easy for them to expressly say so in the constitution," he continued.
Furthermore, Guevarra perceives the possibility of Duterte taking the vice president position as a "constitutional succession" and not of reelection.
"If, hypothetically, PRRD is elected vice president and any of the above-mentioned contingencies occurs, then PRRD will assume the presidency not by virtue of a reelection but on account of a constitutional succession."
To add, the one-term limit applies to "only to the presidency by election."
"Since the framers of the constitution did not prohibit a former president from assuming the presidency again by succession when they could have easily said so in the constitution, the ineluctable conclusion is that the same is constitutionally permissible. If that was not the true intention, the remedy is to amend the relevant constitutional provision," stated Guevarra.
However, election lawyer Romulo Macalintal, though acknowledging the eligibility of Duterte to run as vice president, insisted that it was not 'politically correct' since it will be seen as a sign of weakness within the ruling PDP-Laban party.