Fun and charm blossom in Daig Kayo ng Lola Ko's latest offering, where a young policeman's dream of helping the needy got granted when he transforms into the pink superheroine 'Captain Barbie'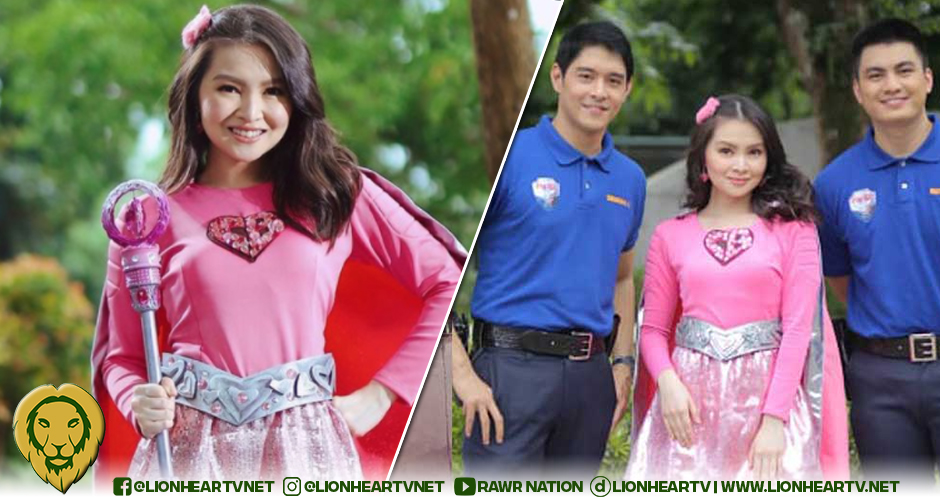 GMA Network
Actors: Barbie Forteza, Jeric Gonzales, Lianne Valentin, Anjo Damiles, Thou Reyes, Kimson Tan, Glenda Garcia
Genre: Fantasy, Comedy
Premise: A magical baton (batuta) that makes its wielder into 'Captain Barbie' is handed to a man by a mysterious lady, as a token of gratitude.
Running Time: 27 minutes (avg.)
Time slot: Sundays, 7:00 PM
Why You Should See It:
The thought of a young handsome policeman transforming into a female superhero would surely generate some laughter; but that's exactly the reason why the new episodes under GMA Network's long-running fantasy-drama anthology, Daig Kayo ng Lola Ko, is teeming with irresistible charm.
GMA Network continues its streak of inspiring fantasy stories with its newest title, 'Captain Barbie' where Barbie Forteza, takes on the title role.
In this brand new adventure, Jeric Gonzales is Bruce, a young policeman who dreams of performing his job of protecting people, really well. 
That dream got granted one day, when a grateful woman, handed him a pink policeman baton (batuta). 
The mysterious woman who is played by Glenda Garcia would eventually reveal herself as the 'Big Lady', keeper of the pink baton, or the 'tagapag-alaga ng batutang kulay rosas.' 
The batuta is a magical item with secretly inscribed phrases, that transforms the reader into the superheroine 'Captain Barbie.'
Although hesitant at first to accept his new responsibility, Bruce inevitably finds the purpose of transforming into the pink-costumed superheroine.
He finally recognized it as the answer to his life-long dream of defending the oppressed and the poor.
Thou Reyes is Captain Barbie's nemeses, Goldino, leader of a crime syndicate that distributes and sells fake luxury items in the country.
Captain Barbie will have to bring him down and his minions–the 'gold diggers'. Lianne Valentin and Anjo Damiles play as Bruce's housemates, Isabel and Andrew, who are also both policemen.
The pilot episode abounds with fun and charm. Of course, that Bruce transforms into Captain Barbie is funny enough, but other than that, the show's overall tone is just light. 
The next episodes are expected to showcase Barbie Forteza's quirk and energy, in full display, and that's something to look forward to. But perhaps, as it has been with the anthology's past stories, the beauty in Captain Barbie's story, is that it inspires. 
Bruce having to hesitate first in accepting the pink baton, is a nod to gender equality. Anybody can be a superhero, and anyone, regardless of their gender, can take the role of protecting those in need of protection and help.
Daig Kayo Ng Lola Ko airs on GMA Network's Sunday primetime block. Watch the teaser of its new offering 'Captain Barbie' below:
Comments