Celebrities and personalities on Friday, September 3, criticized Pres. Rodrigo Duterte after wanting to audit the Philippine Red Cross (PRC), a non-government organization (NGO).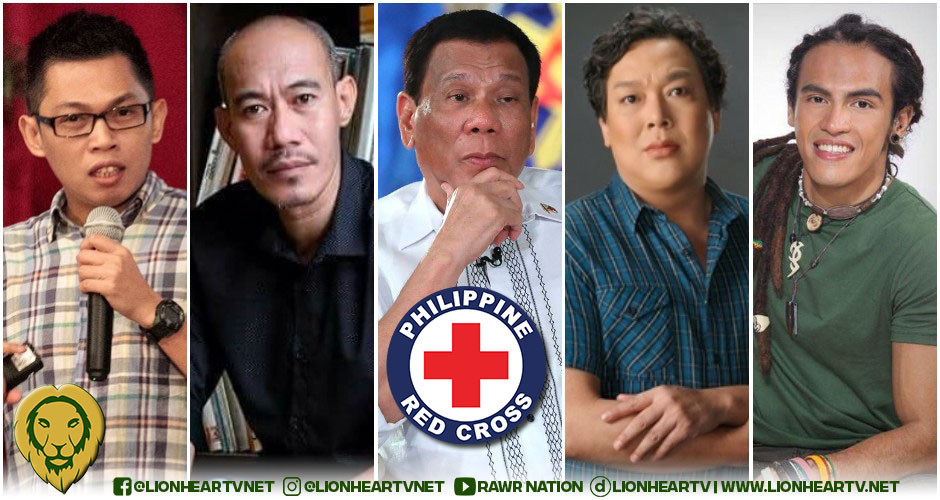 Duterte earlier said that he will demand the Commission on Audit (COA) to audit the organization after a heated exchange with Senator Richard Gordon, the chairman of the PRC.
"The money that you have accumulated all these years would run into billions at ang gusto kong makita ko ang audit talaga na totoo ng Red Cross.
"I will demand, the Executive Department will demand that we be furnished the copies of your audit taken by COA, and COA to give us the copies so that we can review also what you have audited at tignan ba namin kung tama o hindi," said Duterte.
However, COA, being an independent constitutional commission, has no power to do what the President demands.
"We do not have jurisdiction to audit the organization, yung Philippine National Red Cross," COA chairperson Michael Aguinaldo said during the deliberations on the proposed 2022 budget of the COA at the House of Representatives.
Celebrities lambasted Duterte for not knowing such a fact, called him derogatory names.
Hahaha Bobo! https://t.co/q0SRYAU17I

— John Lapus (@KorekKaJohn) September 2, 2021
Dumbass https://t.co/R30cgDuVSj

— kiko rustia (@kikorustia) September 2, 2021
Ang shunga talaga. Kawawang Pilipinas 🙁

— Jaecee Lim (@jaeceelim) September 2, 2021
Gustong ipa-audit ni Duterte ang Red Cross sa COA, e hindi naman government entity ang Red Cross, muntanga.

— Jerry B. Grácio (@JerryGracio) September 2, 2021
A social media personality, Juan Sergio, described the President's latest remark as not [really] the sharpest knife in the drawer.
Digong's really not the sharpest knife in the drawer. He proves this every single day. https://t.co/WKWne6h8pm

— Papa Jisas 🇵🇭 (@jownuss) September 2, 2021
Blogger Tonyo Cruz shared the explanation of Rudolf Philip Jurado, the former Office of the Government Corporate Counsel Chief, pointing that Duterte, being a lawyer, should know the scope and limitations of COA's power.
Ansabe ng Jurado? https://t.co/U9aZkcxfZ7

— Tonyo Cruz (@tonyocruz) September 3, 2021
Musician Jim Paredes shared CNN Philippines' tweet, and wrote, "Posting as is" as the news outlet noted that PRC is an "independent, non-government organization."
POSTING as is. 🙂 pic.twitter.com/vSzSDahYre

— Jim (@Jimparedes) September 3, 2021
A twitter personality even mocked Duterte for his statement, including the Presidential Communications Office (PCCO), for allowing the unedited version and released it to the public.
He doesn't want COA to audit govt depts and yet wants the Red Cross audited? Where are his advisers? At the twilight of his term, he is not getting good advice. And the video is supposedly edited, why did the PCOO included that part? The best and the brightest, indeed.

— Mac Zamora (@MackinleyZamora) September 2, 2021
Duterte's supporters, the ever-loyal Duterte Diehard Supporters (DDS) used R.A. 10072 or the Philippine Red Cross Act of 2009 to argue that the President has the power to audit the organization.
However, the law only allows Duterte to demand the submission of its financial condition, nothing more.
https://twitter.com/helterskelltr/status/1433628055126220803?s=20
A Netizen even took a swipe at the DDS for defending Duterte, a lawyer, who does not understand what COA is for.
Paano yan mga Ka-DDS. Tatay niyo parang "abogado ako", wala namang alam. Inutil talaga to the highest level. https://t.co/dJ46Z6AAeg

— Dan Matutina (@danmatutina) September 3, 2021
Duterte's most recent remark against the Philippine Red Cross made the former PCCO Asec. JR Santiago suggested to the public that in the upcoming elections, Filipinos should vote for a leader who understands the duties and responsibilities of government agencies, including COA.
In 2022, let's vote for a President who understands what COA does. Someone who understands that a President cannot tell COA what to do, that COA cannot audit NGOs, and that a VP cannot audit government agencies.

In other words, a President who understands the 1987 Constitution.

— JR Santiago (@oslecjunior) September 3, 2021
Previously, Duterte expressed his desire to run for Vice President in the 2022 election. And if he wins, he promised to 'personally' audit COA.