TFC adds an extra dose of sunshine for the long sunny days ahead in this part of the globe with the first major draw for TFC Win from Home season 2, happening on September 10.
This year's promo has bigger prizes and offers more chances of winning for Kapamilya all over the world as there are now two (2) major draws compared to last year where there was only one.
ABS-CBN Global Managing Director for Europe, Middle East, and Africa Joseph Arnie Garcia is pleased with the turnout of participants for TFC Win from Home Season 2. Garcia shares that "the stories and testimonials from previous winners are so heartwarming, and we are just so glad that, together with our partners and sponsors, TFC is able to provide these moments of joy for our Kapamilya."
Annie Bayonito, who is in Saudi Arabia for nine years now, could not believe her luck when she won the cash prize in last month's draw. She will send her prize money to be divided between her parents in Bicol and her husband who is in Quezon Province.
Ricky Serrado, now two years in Riyadh, considers his cash prize as a blessing and will send it back home to his parents to pay for the tuition of his other siblings.
First Major Draw this Friday
The exciting announcement will be held this Friday, September 10. It will be livestreamed on the Facebook pages of TFC Middle East, TFC Europe, and Kapamilya TFC. It will also be streamed on the Kapamilya TFC YouTube page and on TFCX on Kumu.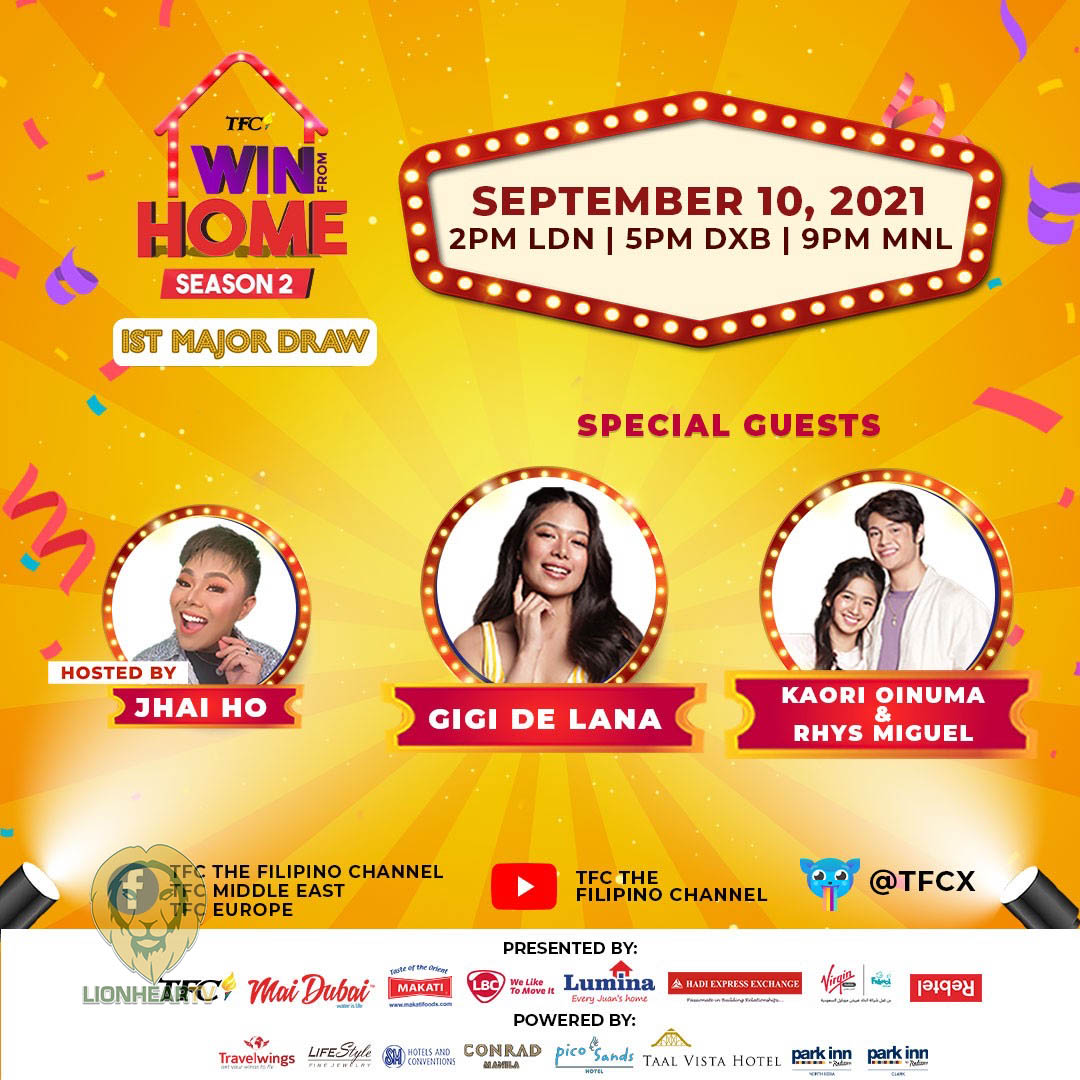 DJ Jhai Ho will be hosting, while Gigi De Lana, Kaori Oinuma, and Rhys Miguel are the featured guest celebrities during the TFC Win from Home season 2 major draw on September 10.
Philippines' hottest singing sensation Gigi De Lana of ABS-CBN's Rise Artists Studio, together with the onscreen love team of Kaori Oinuma and Rhys Miguel are the special guest celebrities. DJ Jhai Ho will be hosting the major draw where the following will be drawn:
(1 winner) Php 200k
(7 winners) Php 50k
(14 winners) Php 5k
Special prizes include a AED 2500 travel voucher from Travelwings, a wristwatch from Lifestyle Fine Jewelry, and six (6) hotel accommodation vouchers from SM Hotels and Conventions Corp.
Winnings are Shared with Loved Ones
Winners during the August draw are the following: Php 50k: Jocelyn Babiera (UAE); Php 25k: Sherryl Mapare (Kuwait); Php 5k from TFC: Justino Songalia (Saudi Arabia) and Merlina Carlos (Austria); Php 5k from Lumina Homes: Julie Ann Asis (UAE) and Romeo Rebanal, Jr.(Saudi Arabia); Php 5k from LBC: Joan Lovino (UAE) and Lorna Mayuga (Italy); Php 5k from Friendi: Ruban Altez and Maria Eliza Ciubal (both from Saudi Arabia); Php 5k from Mai Dubai: Rhoan Joy Pacubat and Irene Abratiguin (both from UAE)
Those who won travel accommodation vouchers are Virgilio Mendoza (Kuwait), Noreen Joyce Tanedo and Jesieca Picadizo (UAE), and Rochelle Rose (UK). Rhoan Joy Pacubat (UAE) won a wristwatch from Lifestyle Fine Jewelry, while Noreen Babiera (UAE) won AED 2500 travel voucher from Travelwings.
First-prize winner Jocelyn Babiera will be sharing her prize with family. According to Babiera, "alam natin na mahirap ang buhay dun sa Pinas kaya magpapadala po ako sa kanila. Balak ko din po mag-enroll for master's degree, kaya may pang enroll na po ako." (We know that life in the Philippines is hard, so I will send some to my family. I'm also planning to enroll in a master's degree, so I now have money for enrolment.)
An LBC agent who picked up her balikbayan box convinced Lorna Mayuga to join the promo. Mayuga has been residing in Italy for 30 years now. She did not know she won until she got a text notification. She is grateful for winning and will be sending her prize money to family in the Philippines.
Mayuga shares, "Mahirap ang nasa malayo, kahit nandito ang pamilya ko. Siyempre iniisip ko rin yung mga kapatid ko doon, mga pamangkin tsaka mga ibang kamag-anak sa nangyaring Pandemya, hikaos na hikaos. Itong napanalunan ko ay para sa inyo." (It's hard to be away from family. I am worried about my siblings and my other relatives, especially during this time of the pandemic. Everyone is struggling. My winnings are for you.)
You Could Be the Next Lucky Winner
Monthly draws will be on: September 10, October 16, and November 13. The grand draw is on December 11, for a house and lot in the Philippines and a 50-thousand-peso voucher for furnishing.
TFC Win from Home season 2 is made possible by Mai Dubai, Lumina Homes, LBC Express, Friendi Mobile, Makati Foods, Hadi Express Exchange, Rebtel, and WorldRemit.
Promo is ongoing until December 5, 2021. Go to myTFC.com for more details.
Comments