Veteran actor Jaime Fábregas warned the public on Tuesday, September 21, to be wary of a number of politicians who were in "sheep's clothing."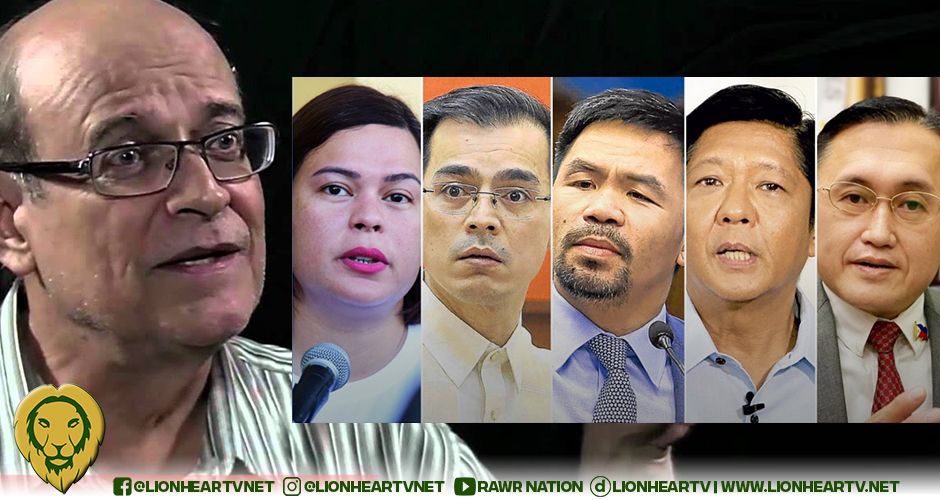 In a tweet, Fábregas said that those who currently oppose Philippine President Rodrigo Duterte such as Senators Ping Lacson, Tito Sotto, Manny Pacquiao, Dick Gordon, Alan Peter Cayetano, and even Manila City Mayor Franciso "Isko" Moreno, were "enablers" given that they were in cohorts with Duterte before his term comes to an end in 2022.
Hindi OPPOSITION si Ping Lacson, si Tito Sotto, si Manny Pacquiao, si Dick Gordon, si Isko Moreno, si Alan Peter Cayetano. Puro enablers ang mga yan. Pagaralan niyo ang track record para makapagpili tayo ng karapatdapat na taong mamumuno sa atin sa 2022.

— Jaime Fábregas (@fabre_jaime) September 21, 2021
The actor's statement weights it since Moreno and Pacquaio were candidates of the Duterte Administration in the upcoming Presidential elections.
Based on GMA Network's Ian Cruz report, Duterte would have to choose between the two if his daughter, Davao City Mayor Sara Duterte, and his aide, Sen. Bong Go, if they decide not to run for President.
"In the end, kapag hindi tumakbo si Sara, hindi tumakbo si Bong Go, because he will only run for president if the president will run for vice president, the president will have to choose who has the number," Cruz said.
To add, Moreno, in 2018, was appointed by Duterte as an undersecretary in the Department of Social Welfare and Development (DSWD) prior to him being elected as Manila's mayor.
Meanwhile, Pacquiao is the president of Partido Demokratiko Pilipino-Lakas ng Bayan with Duterte being its chairperson. The Filipino boxing champ also stood by the President during his bloody anti-drug war, among other issues he faced.
Lacson, who has been called Mr. Expose after exposing the alleged corruption in the Bureau of Corrections (BuCor), was discovered in 2019 that he was hanging out with Cris Mahilac, a small-town mayor in Mindanao. Mahilac was included in Duterte's narco list which he released to the public.
Gordon, who is now all for the check and balance of government branches, was at some time, at the side of the President, protecting his interests.
It can be recalled that Duterte wished former Senator Leila De Lima's imprisonment, which Gordon followed by threatening that he would file another ethics complaint against her after Abelardo de Jesus first filed such a case.
When Arturo Lascañas, a former member of the infamous Davao Death Squad, testified against Duterte, Gordon defended the President as he accused Lascañas of being a mercenary.
It can also be recalled that Senate tried to re-open the DDS investigations based on the Lascañas' testimony. However, Gordon rejected the idea as he, alongside Koko Pimentel, Sherwin Gatchalian, Gregorio Honasan II, Juan Miguel Zubiri, Cynthia Villar, and Presidential aspirant Pacquiao, voted no.
Sotto is similar to Gordon as well. In 2020, amid the onslaught of typhoon Rolly, he defended Duterte, who was missing during a crisis. In 2018, when Duterte was criticized for taking 'power naps' in Singapore instead of attending some events with his fellow regional leaders, Sotto defended the President.
Now the Senate President, Sotto, also backed up Duterte when he opposed the Hague ruling amid the conflict between the Philippines and China on who has ownership of the West Philippine Sea.
Cayetano, who is also seeking a government position in 2022, orchestrated ABS-CBN's shutdown in 2021.
These are just some of the 'red flags' that Fábregas would want people to remember when voting in the upcoming elections.